I recently wrote an article about Isle of Wight Distillery's triumph, the Mighty HMS Victory Navy Strength Gin. Whilst the gin itself is something special, I was left extremely curious as to how the whole project would turn out. You see, as well as the gin there was also an ambitious endeavour to age the gin in casks made including staves of wood and copper from the ship itself. These casks would be aged briefly for 4 months, then 1 year, 3 years and 5 years, known as the first-forth release respectively. The concept is that the gin would take on the colour and flavours of the cask, recreating a taste something like what it would have tasted like in the days it was carried by barrel.
The ceremony of presentation of bottles from the first cask was on Tuesday 18th October, well timed during Trafalgar week, the day itself being the 21st. I was lucky enough to secure an invite into an intimate evening and went with keen interest to see how the gin was working out.
The attendees were a mixture of people at varying levels of involvement in the project. We began by taking a quick tour of the ship. Led by Max, we were led around key areas of the ship, the quarterdeck, captain's cabin, galley, guns and shot. It was a beautiful evening and the colourful sunset of golden oranges and pinks lit up the wood with a wonderful glow. It felt serene, quiet and peaceful, far away from the chaos that would have been there
After the tour we were given a glass of the standard Victory gin, complete with Fever Tree tonic and pink grapefruit. As in my previous article, it's a very good gin. Boadecian Hops, rock samphire and elderflower give a nice twist on standard gin recipes. The spirit is of a very high calibre with the hearts being cut off a little early to boost the quality.
Whilst sipping we listened to a talk from gin historian David Smith. David is a local man who himself had a relative on the Victory at Trafalger, which is such a fantastic link. He explained that on hearing about the project he was keen to get involved and told us a little about the history of Navy Strength Gin. Gin was transported at 57%, it was only in the 1850's that Plymouth gin used this as a commercial idea. He's a very knowledgeable man and as a result I am taking a little expedition to visit him at his HQ and gin den to learn more on historical gins early December, write up to follow.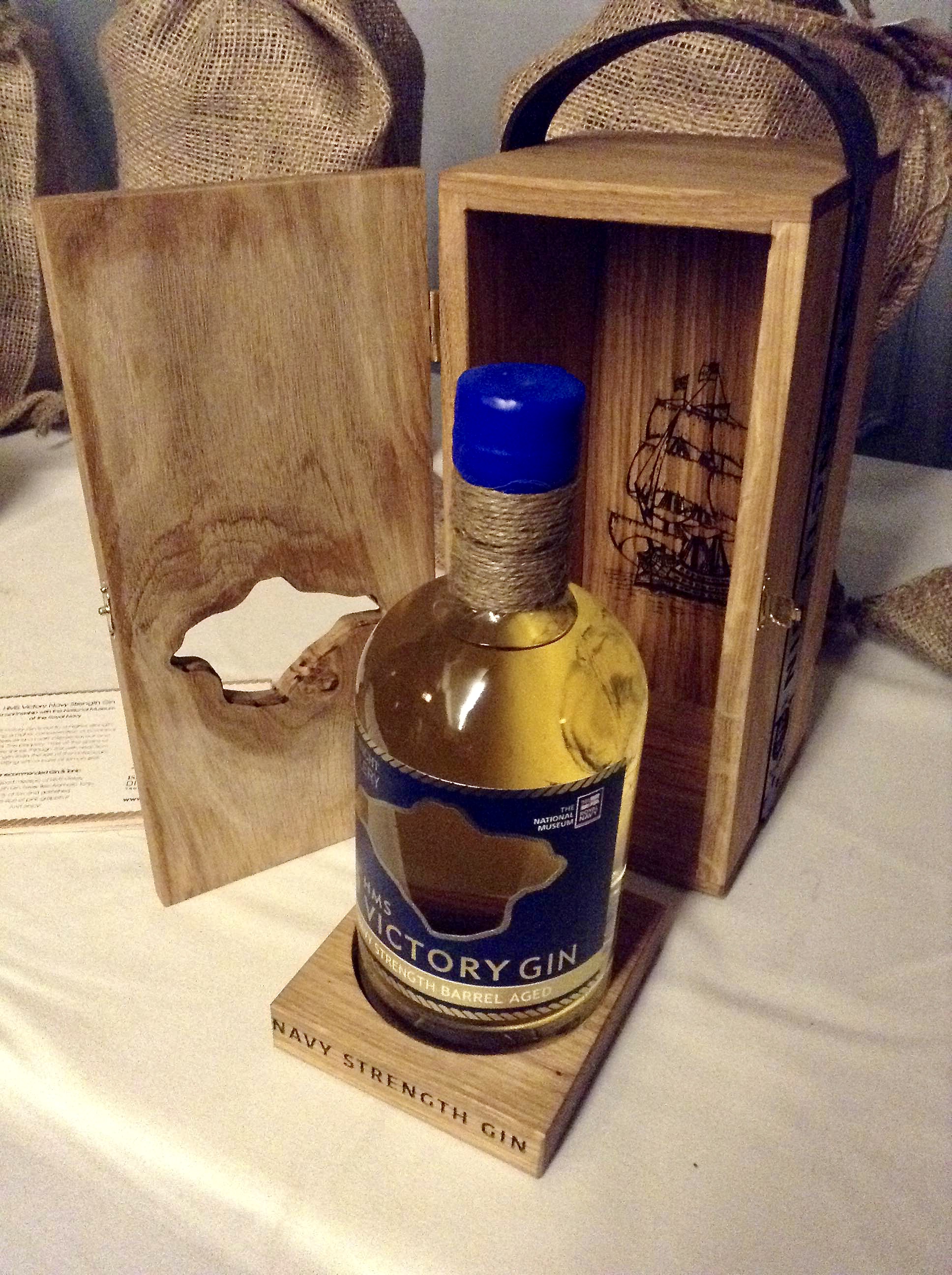 And with that, we were all presented with a glass of the freshly bottled, 4 month cask gin. No tonic needed, it was to be sipped and tasted bare, with nothing to change the flavour. I was all aquiver as I took a deep breath and sipped. The taste was rounded, almost marmalade like in flavour. There was a slight mustiness to the smell and a yellow brown tinge to the colour. This was an interesting progression for the brief period of ageing and I'm more than curious as to what the next batch will be like. I savoured every sip, being well aware that I was consuming 250 years worth of history. It's a pretty special feeling.
After the tasting we moved into the Captains Cabin for the formal presentation. Everyone involved was presented with a bottle of Batch No 1, complete with wooden cask and a miniature, a keepsake worth keeping. I am sure that almost all of these will remain unopened on shelves, gaining value over the years. What an investment!
The remaining bottles are now on sale through the IOW Distillery website and the Royal Navy Website with a price tag reflective of the rarity of this project. It's difficult to know how it will all go but my gut instinct tells me that this is something worth paying for. Any gin collector will know that this is a very unique gin indeed and of great interest to both the discerning collector and any gin drinking historian.
So all that follows now is to wait patiently until the 1, 3 and 5 year aged is open. It's not that far away and I've got my fingers and toes crossed that I'll be there to taste the difference that these extra years make to both the flavour and the colour. Although I guess we'll never know exactly how alike to the original flavour it is, what a rare and fantastic opportunity to create something akin to it. Also, on a personal note, to taste and consume elements of a ship as incredible as the Victory has been very special to me indeed.
---