Summer holidays. The chance to travel. To escape the everyday. Post pandemic 2021, never has the choices for travel seemed so limited and restricted this season. There remains an ever-changing headache of traffic light system for securing trips abroad. Airbnb accommodation, and glamping hot spots like Cornwall, & Devon have either booked up months ago or have been overpriced with the influx of tourists. Working from home has meant physically staying at home for a break just doesn't cut it this year.
However, for Portsmouth the pandemic has given the city a massive opportunity to host a brand-new cruise line at its port, prior to its official launch in Miami; Virgin Voyages. The striking seventeen-deck 'Scarlet Lady' debut ship, the first of four of its class offers passengers or 'sailors' wishing to leave our shores, a 'Summer Soiree' this August and experience a revolutionary way of cruising; that challenges and exceeds all expectations of what a cruise should be.
It was interesting to see first-hand the facilities available for all passengers and Portsmouth Port, having invested in new terminal building and extended their capacity for larger cruise ships. Virgin Voyages had their own separate check in building, but again process was seamless, and we were onboard sipping cocktails within 20 minutes of arrival. For locals' disembarkation is too easy, no soulless waits at luggage carousels stands or jet lag. A five-minute taxi ride and we were home wondering if it had all been a dream, and eagerly planning our next cruise!
A big concern for all travellers currently is having to declare Covid 19 status, and how that affects any break away. All Virgin passengers, are dropped at the Park & Ride at Tipner to be tested prior to boarding. Although we had heard of long queues, the process was slick and passengers need to allow approximately an extra hour where passport, vaccination status and live testing is done before sitting in waiting room to get result. A waiting coach then takes us the 5 mins to Portsmouth Port.
Tech leads the way in the visitor experience before you even set foot on board with Virgin Voyages Sailor App and Bracelet. Although there were teething troubles due to Wi-fi connectivity, when working it is impressive how everything is delivered to you personally from a wallet section to preload credit and monitor spends, the booking of all activities/restaurants and guides to all the ship can offer. Although paper copies were available from the Chart Room on Deck 7, what was great with Virgin was the lack of the 'hard sell' that's often felt on other ships. With the App you are in control of what you wish to experience onboard and the bracelet allows you to access your room, interact with what's on offer, pay for anything without the need to take cash or a wallet out.
It was very notable during my stay, and chatting with other staff members that the 'RockStar' service on offer was not just a buzzword but was about giving that personal hospitality to each guest whilst also allowing the personalities of the crew to be celebrated whether through their tattoos, performances or different uniforms. Also, in the restaurants and at the bars – service was seamless and unobtrusive, cocktails were made from scratch, detailed knowledge of food ingredients were given and it was obvious that the crew worked well together and enjoyed being onboard.
RockStar Quarter Cabins Great highlights of the accommodation were in the little quirks. Mood lighting and playlists were pre-set for the room, hammocks were hung on the balconies although it was too chilly to take full advantage in UK waters and the monsoon style power shower in the ensuite was a spa experience in itself! There was also a feature to move the bed around to create a day room with a sofa bed which was a neat touch.
It was very notable during my stay, and chatting with other staff members that the 'RockStar' service on offer was not just a buzzword but was about giving that personal hospitality to each guest whilst also allowing the personalities of the crew to be celebrated whether through their tattoos, performances or different uniforms.
With a total of over 20 eateries on board, the restaurants were definitely a highlight of the trip for many and inclusive of the price catering for all tastes and interests. We managed to book all but one of the restaurants running out of days in the week to try the Gunbae Korean BBQ. There is no buffet on ship, instead, a central food hall-style Galley on Deck 15 offers everything from Tacos to all-day breakfast and complimentary water, tea and coffee for the length of your stay. This worked well on check out day or times when a quick meal was needed, with grab and go fruit and healthy lunch salad boxes perfect for after a gym class or sunbathing on the upper deck. Sustainability is also well promoted, no plastics onboard and everything is recyclable including the mandatory take out hangover coffee cups and lids (take note Starbucks) the future has arrived and should be celebrated.
My personal favourite restaurants include Razzle Dazzle (picture below right). Inspired by the camouflages pattern painted on WW1 & WWII warships this trendy restaurant is a predominately vegetarian/vegan fare that offers everything from 'Impossible meat-free burgers' to my wife's favourite naughty Fairy Toast made from condensed milk and sprinkles and churros with Ube ice-cream (a purple Yam) which was insanely good and made for a crazy brunch.
The Test Kitchen Set (above right) is out like a laboratory, this was a memorable night with a tasting menu and wine paring that was both educational and entertaining. It was fun watching the chefs assemble the meal, while attentive waiters bring out dishes fusing flavours in a unique way using ingredients such as mushroom, egg and chocolate.
The Mexican themed restaurant, Pink Agave, the stylish décor matched a similar menu of recognisable food like mini chicken enchiladas, stuffed peppers, accompanied by traditional cocktails.
The two main entertainment spaces onboard were the Red Room Theatre and The Manor nightclub named after Richard Branson's first Virgin music studio. The Red room was an adaptable space that can be tailored for the more intimate stage show or for an impromptu 'Touch of Scarlet' party. For the Manor, making an entrance was practically encouraged as visitors walked through an Instagram envy wall of mirrors and starlight to access the two-story club. Music is also a vital artery that serves the beating heart of the ship; although I brought my headphones, they weren't needed as carefully crafted playlists compliment every space onboard from Sinatra and jazz beats at Sip bar to Ibiza chill out in your room. You need to love your music on this cruise which is all fine by me.
Dual Reality is unlike other cruise offerings that go big on Broadway slick shows, this Romeo and Juliet inspired circus show was visceral, raw, immersive theatre that combined acrobatics, contemporary dance, and improvisation. The audience felt part of the show and it was a thrill to be so close to the death defying acts.
Tailored for a UK audience, 'The Lottery Winners' were a perfect fit for Virgin Voyages, with their Northern swagger, and Britpop style banter. They opened the pool party as we sailed out on Monday night and closed the week in style at the Manor club winning over a new audience of fans with their eclectic mix of guitars, harmonies and gags. Being my first live gig back in eighteen months it was an emotional end to the cruise and a new favourite band who also played Victorious on Friday afternoon.
A great nod to the past was Voyage Vinyl Record Store, where it all started for the Virgin brand, a journey full circle for audiophiles with the chance to browse, play and buy classic vinyl, with limited onboard releases planned alongside live DJ sets at the Roundabout, midships on Deck 7.
In addition to all that's offered, it wouldn't be a Virgin cruise without expecting the unexpected:
The Squid Ink Tattoo Studio seemed bizarre that has taken this long for the first offering at sea on a cruise for tattoos, piercings, and permanent makeup given its nautical history was the sailors who brought it back to the UK but it's another great link to all mariners who have gone before. Four days wasn't enough to factor in time to book an appointment but on a longer trip, it could be a lasting souvenir of your time onboard.
Stargazing Storytelling was our first evening's entertainment onboard curated by The Hostess and combined music, mood lighting and telling the history of the heavens whilst lying back with cocktails on sunbeds at Deck 6. Although when we looked out could still see Spinnaker Tower in the distance which showed we weren't in the Caribbean!
The Fitness & Wellness was the big plus from me being someone who loves their fitness, a cruise that cares about wellbeing, and offers a dizzying array of facilities, classes and workshops to cater for every need. I tried the Roll-Out and Recover Class, the addictive On the Upswing Bungee Class, and the ridiculously good fun VHS Workout, although my body was feeling the pain the next day! It also extends outside with The Runway running track, along with yoga stretching spaces and pods that would all work well in hotter climes.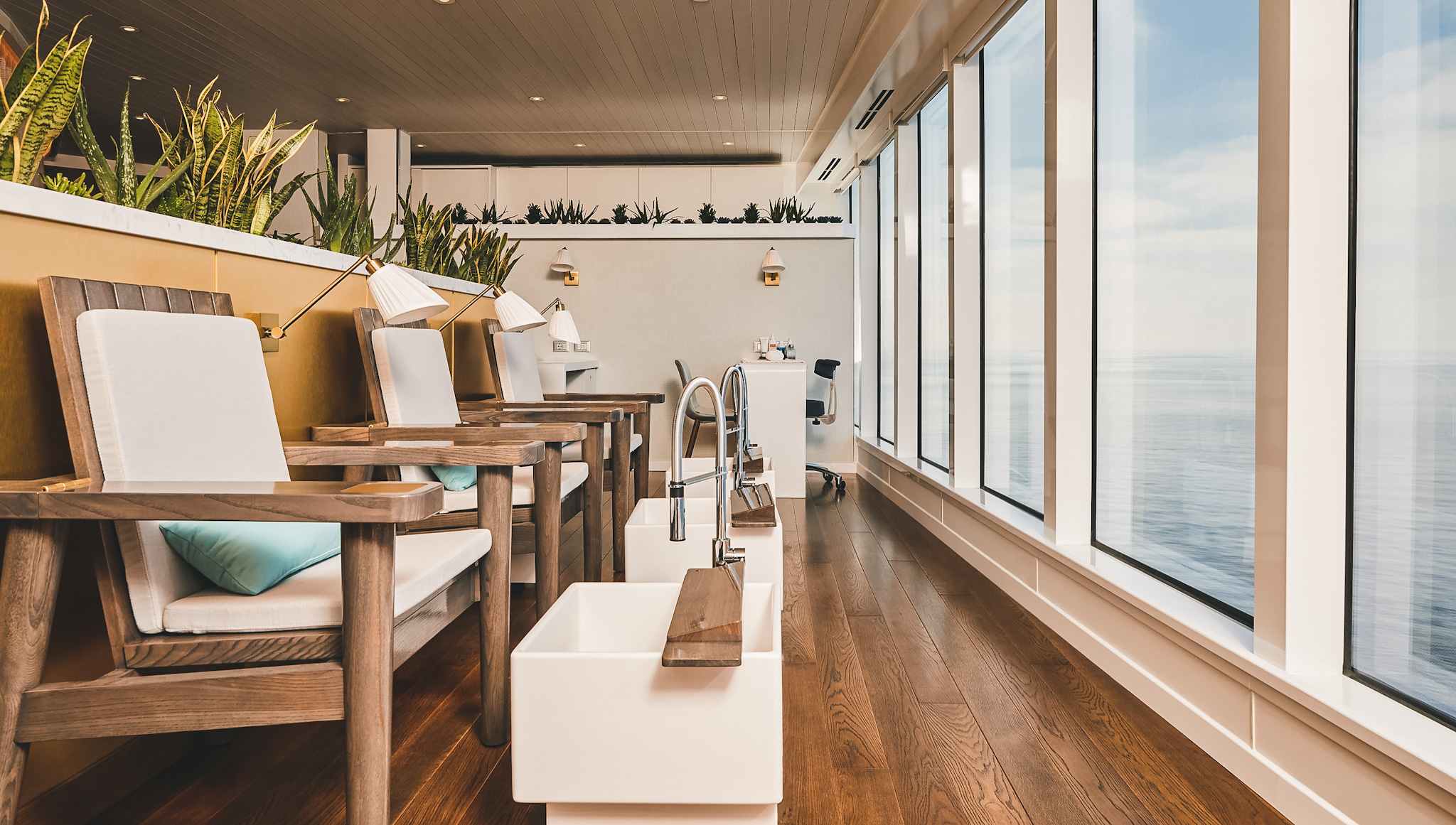 A long overdue addition for the high seas aimed at a cruise market for individual sailors who don't want to compromise on service, quality or choice, but equally want to celebrate the quirky and memorable over the stuffy and luxury offered with other ships. It is everything we have come to expect from the iconic Virgin brand. It is not for everyone as they unapologetically stand for being different, for being disrupters, but this is only a good thing.
Teething troubles aside for the App, and an unnecessary daily charge to use Redemption Spa – we couldn't fault the service, the food or the entertainment. Unfortunately, we couldn't take full advantage of all the outside spaces like the sunbeds, cabanas. Several of the large-scale events were cancelled or moved inside due to the weather; the main swimming pool felt small but the ship is obviously designed for warmer climes which will be addressed when it relocates to Miami.
For those that are interested the second in its class – Valliant Lady is due into Portsmouth in March 22 offering trips down to Portugal and Spain.
Although we had no foreign stopovers, great holiday memories were made. I tried food I'd never heard of, did workouts I'd always wanted to, gained new perspectives, friends and favourite bands all crammed into five days proving that for Virgin Voyages; the journey really is the destination.
Words: Graham Brown
Photos: Strong Island Media (feature), Graham Brown (record shop) and  all others Virgin Press
---