HUGE STREET ART MURAL IN THE CENTRE DESIGNED WITH CARE LEAVERS AND SOCIAL WORKERS
World Social Work Day is today (the 16th of March) and to celebrate the incredible work done by Portsmouth's social workers during the pandemic local street artists Fark and My Dog Sighs have completed a huge mural at Charles Dickens Centre. The design was done with the help of care leavers, social workers, and centre users and the completed mural gives a vibrant and inspiring 360-degree experience. The artwork touches on themes of togetherness and overcoming adversity and alongside the mural there are case studies from social workers as they express what World Social Work Day means to them.
…touches on themes of togetherness and overcoming adversity…
…World Social Work Day is a celebration of our profession as well as recognising the hard work and dedication that goes into making sure families feel connected…
Across our city, social workers for children and adults have been working tirelessly throughout the pandemic to make sure those in need continue to receive support, be it: providing guidance to families, assisting people who've just come out of hospital, helping older people to get back on their feet after a fall, or providing that bit of support that means an individual can stay in their own home and keep their independence.
Before the paint hit the wall, a virtual information event was held with care leavers, social workers and those who use the centre giving them the chance to explain what social work means to them. My Dog Sighs and Fark heard service users talk about their experiences and took on board the feedback for their final design.
"This has been a real team effort all around. World Social Work Day is an opportunity for social workers and others in the sector to celebrate the work they do. We are really proud of our workforce across adult and children's social care.
"The theme of togetherness resonates with colleagues and partner organisations across Portsmouth as we continue to support local residents when they need us most. The mural is a visual representation of social solidarity and the need for communities to work together to improve outcomes for all." – Sarah Daly, deputy director for children and families at Portsmouth City Council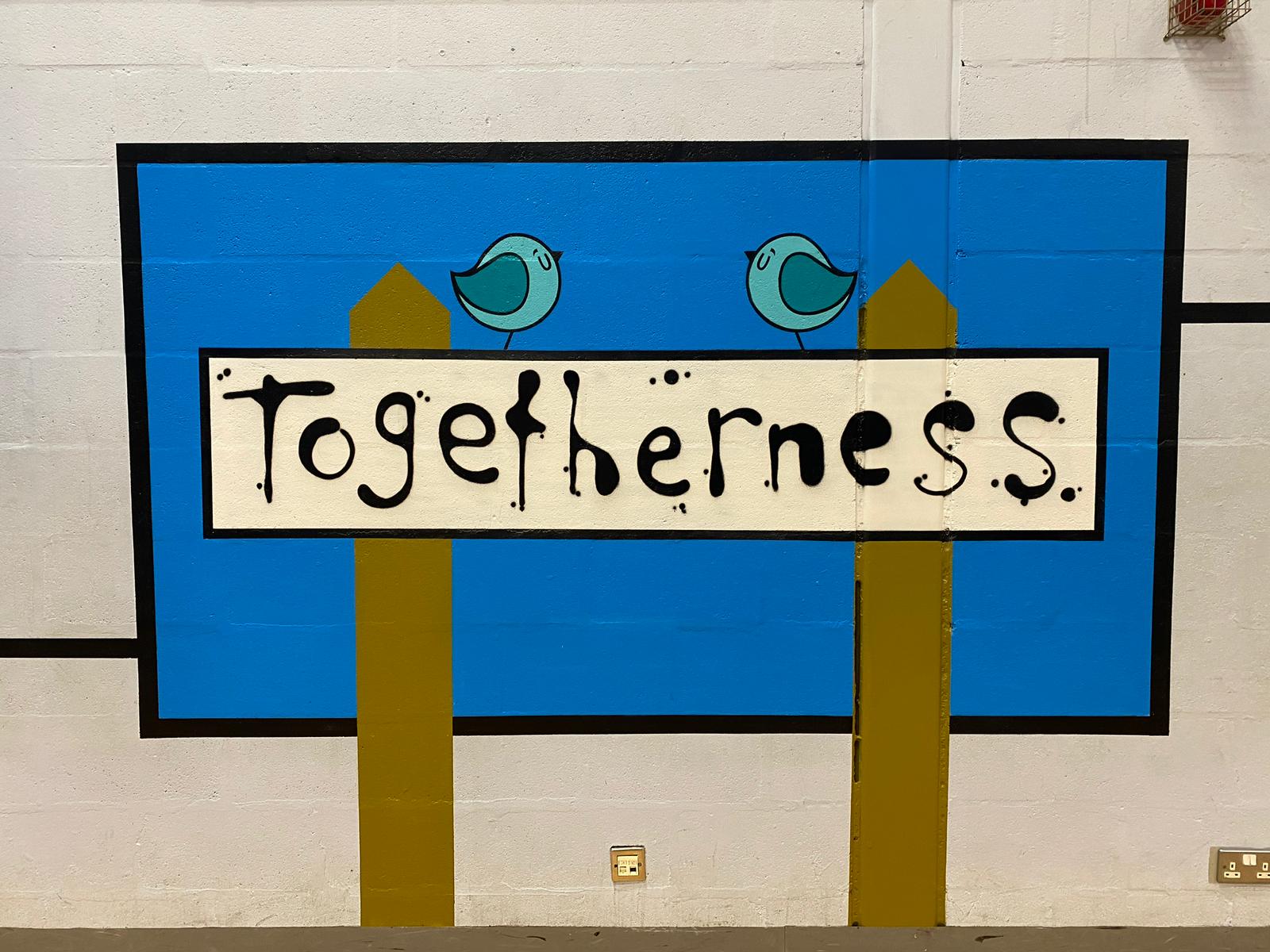 People will be able to visit this new mural once restrictions have been relaxed and the Charles Dickens Centre is open to the public again. Looking forward to seeing it in the flesh soon.
People are encouraged to take part in World Social Work Day with their own messages of support on social media using the hashtag #WSWDPortsmouth. More information on World Social Work Day can be found on the Portsmouth City Council website here: www.portsmouth.gov.uk/wswd.
Written by: Paul Gonella
Photography by: My Dog Sighs and PCC
---