Last Thursday saw Kate Nash play to a sold out Wedgewood Rooms. After a brilliant Sonic Youth like warm up from support band, gaygirl, Kate stormed the stage to 'Play' in a beautiful, baby pink, princess dress, green hair tied back, and a punk rock energy that didn't stop for 90 minutes.
It was all eyes on Kate as she broke into 'Life In Pink'  followed by a mix of tracks from her previous albums, the most familiar being 'Foundations' from her number one debut album 'Made of Bricks' (which gave Kate mainstream success in 2007, reaching the number two spot in the UK singles charts).
Gone are the vintage dresses and pianos and, in their place, a new, heavier sound, reminiscent of grunge and riot grrrl. Mixing it up, Kate even performed acoustic versions of 'We Get On' and 'Birds to add contrast to the set, which was all very well received.
Between tracks, Kate took time to highlight mental health issues, with an open and moving plea to the ladies in the crowd to not be so hard on themselves when it comes to appearance and, not to leave out the boys, urged them to never be afraid to reach out if they're struggling because of masculinity or pressures of social conditioning.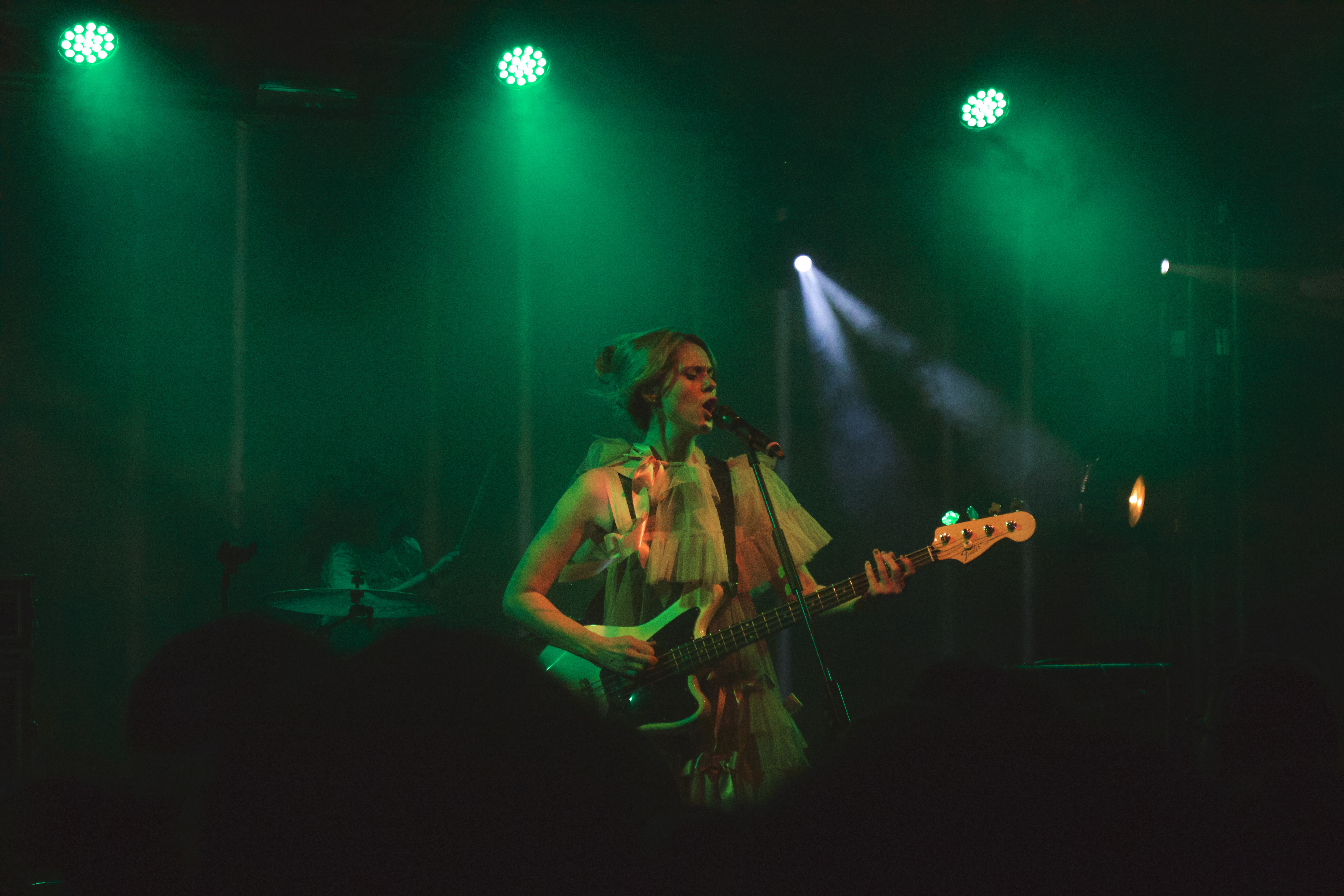 For the encore, Kate belted out a punkier, harder version of 'Dickhead', asking everyone to dedicate the song to someone they had a bad experiences with, even giving audience members a chance to shout out on the microphone who they were aiming their displeasure at before finishing with Kate rolling around on the floor screaming the words, "Why you being a dickhead?"
Needless to say, it was a highlight of the night and the crowd loved it. As the set drew to a close, Kate played acoustic guitar to "Birds" with everyone singing along, leaving us all wanting more.
As the lights came on and the crowd started to leave, you could tell Kate wanted the night to carry on and after her band had left the stage, she remained to mine 'Time Of Our Life' as it played over the Wedgewood Room speakers, getting everyone singing and dancing on their way out. I think she had as much fun as we did watching her.
I wanted to mention a little more about Kate Nash as I think it's important to understand and really appreciate just how much Kate loves music and performing. Over the last few years, Kate has had an extremely turbulent time within the music industry and, after changing her musical direction, was let go from her record label. Her sheer determination and love for music kept her going and her story is highlighted in the brilliant BBC documentary, 'Underestimate the Girl' which gives a deeply person insight into Kate's recent struggles both personally and professionally – I'd advise anyone who hasn't seen it to check it out.
Luckily her fans were there to support her, allowing Kate to continue her dream. Kate's most recent album, 'Yesterday Was Forever' was self-released and crowdfunded and, during the gig, Kate made time to sincerely thank the audience for their support, expressing her gratitude and explaining that, if it wasn't for us, she wouldn't be here creating and performing her music.
I'm glad she never gave up, because it would have been a tragedy to have not heard more from the one and only, Kate Nash.
Written by Nicole Kelly Seal
Photos by Angelo Tirotto
---