Like everyone else in Portsmouth, the announcement a little over a month ago that BAE were ceasing shipbuilding in Portsmouth hit hard at Strong Island (you can read our article after the news was announced HERE). With over 500 years of history, shipbuilding in the Dockyard is part of the city's identity and cultural DNA, ship maintenance is not the same as shipbuilding and it looked like a literal end of an era. The day after the news was announced we began working with local marine & defence consultancy Stanton Burdett Ltd on Portsmouth Shipbuilding, shaping a proposal that could make shipbuilding in Portsmouth viable and sustainable.
In the past month Portsmouth Shipbuilding has met with every stakeholder relating to this issue from UKTI to the shipbuilders themselves and today Portsmouth Shipbuilding is happy to announce the release of the proposal presentation, containing the details on how and why shipbuilding could continue. The key aim is to utilise the existing skills, facility and management expertise to create a successful and sustainable shipbuilding company, operating within Portsmouth Dockyard to deliver small and medium commercial/naval vessels for the domestic and export markets. Portsmouth Shipbuilding would be a social enterprise engaging with the local community and supporting the development of skills for 12-18 years olds & will also work with colleges, universities, businesses, councils and industry alike to create a collaborative programme of engagement, training, apprenticeships and mentoring to support grass roots Maritime working and Naval heritage for Portsmouth and the local region.
To find out much more The News today announced the proposal with the front page and a detailed two page article and interview (you can read online HERE) and the proposal presentation is now available to download from the updated Portsmouth Shipbuilding website.
We hope that with this proposal to be tabled to the city and the Government, the first real alternative to the closure, we can get the support of the people of Portsmouth and show that the city as a whole (and people further afield too) wish to continue 500 years of shipbuilding in the city.
If you could show your support initially by spreading the word to your friends & family it would be really appreciated and a like and a follow on the Portsmouth Shipbuilding Facebook page and Twitter account would not only lodge that support but also mean you will find out about the developments in the coming weeks straight away.
www.portsmouthshipbuilding.org
www.facebook.com/portsmouthshipbuilding
@PortsShipBuild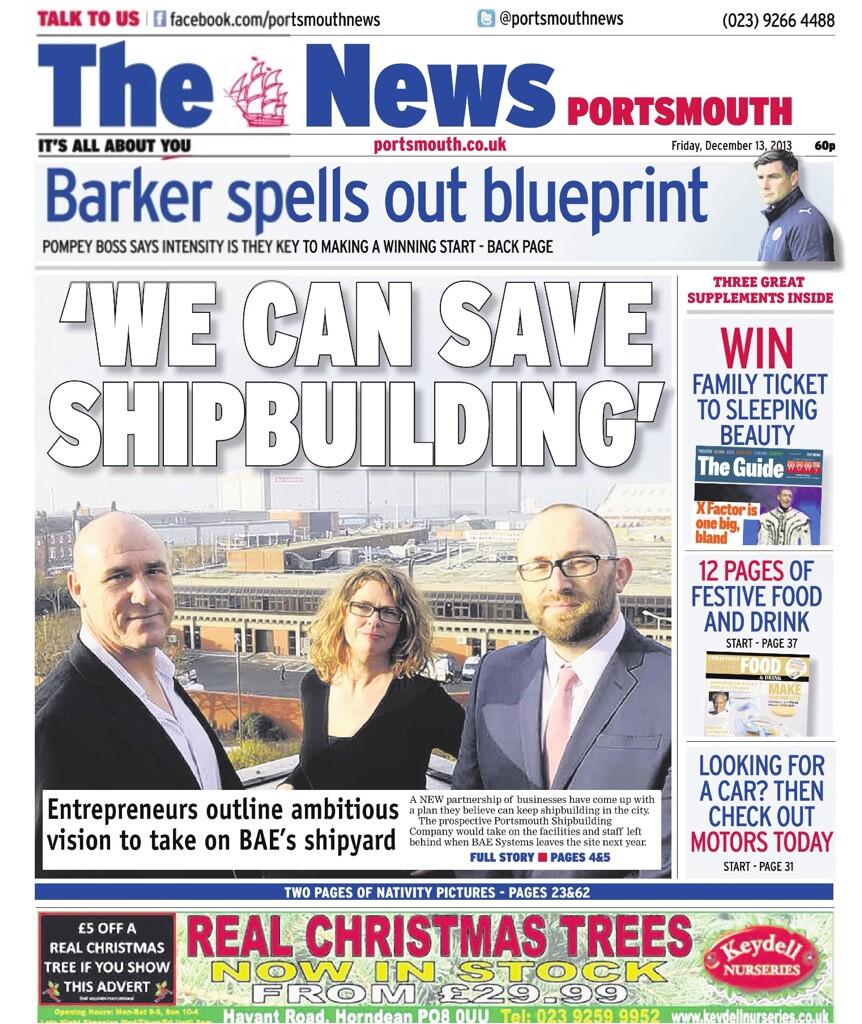 ---