In October, Southsea saw the latest addition to the local cuisine scene in the form of Sweetie Pie, a gluten-free, vegan bakery located in Southsea. Sweetie Pie specialise in baking sweet pies, cookies and slices, all of which are 100% Gluten-Free & Vegan. Their current range includes lovely Lemon Cream Pie, Chocolate Cream Pie, Merry Mince Pies, Salted Date Caramel & Pecan Slices (a raw product) and Peanut Chocolate Chunk Cookies…check the photos below to make you hungry. All orders also include free delivery in the Southsea area and all orders come gift wrapped free of charge.
Sweetie Pie primarily take private orders through their Sweetie Pie Facebook page but last week fellow local business friends Southsea Pie & Vinyl also began stocking their sweet pies as part of their own expanding menu, now offering both delicious sweet and savoury pies in store. A new range of sweet pies will be launched in the new year, including traditional favourites and refreshing new Sweet Pie flavours, all 100% Gluten-Free and Vegan.
For Strong Islanders Sweetie Pie have an exclusive 10% offer for all online orders for delivery on or before the 24th December 2013. To claim your exclusive offer simply visit their Facebook page to see the gallery of photos of their menu and also their price list or you can download their price list HERE. Pick what you would like to order and then order with Sweetie Pie through their Facebook page or via email at sweetiepiesouthsea@gmail.com, quoting the offer code shown below.
To keep up to date with their menu be sure to follow Sweetie Pie on Instagram too (@sweetiepiesouthsea).
www.facebook.com/sweetiepiesouthsea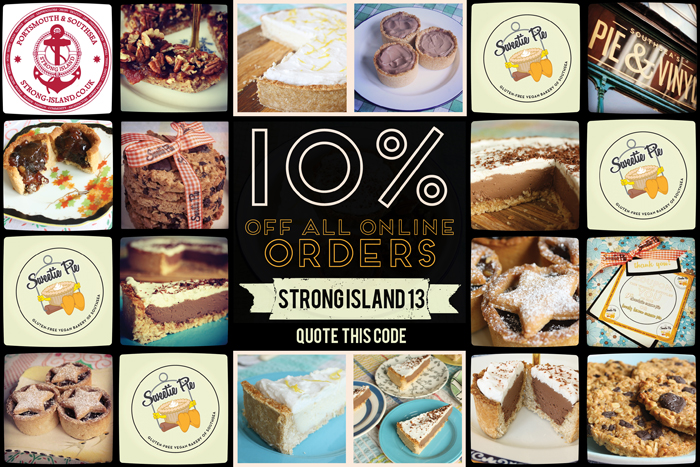 ---