A quick reminder that Thursday evening is the opening night of the Creating Balance London Exhibition with Anglepoise® at Speakeasy Espresso & Brew Bar, just off of Carnaby Street. The event is part of the London Design Festival and one of the 100 events selected to be part of the part of the Icon Magazine's influential Icon Design Trail, a highly regarded and independent list of the must see sights of the festival.
The exhibition is free entry and you'll get to see the final photos by the photographers, see the modified lamps in person, watch all of the collaboration films and meet the artists and photographers involved. You'll also be able to pick up a free promo pack including a booklet on the project, a set of 10 postcards with all of the final images plus other bits and bobs. During the night there will be a special 'Creating Balance' coffee, Eristoff Vodka and Vodka Coffee (really), Irving Brewery Beers, 'Creating Balance' Lager by Brighton Blonde Lager and Joe and Seph's Popcorn.
Photographer Russell Squires, one of the participants in the Creating Balance project, will be taking photographs from 5pm outside Speakeasy Expresso Bar with a giant Anglepoise – trying to capture people during the Carnaby 20% Style Night event with GQ which also happens on Thursday and of course visitors to the exhibition.
As the exhibition is also part of the Carnaby 20% Style Night event if you register for their 20% Discount code when you come to the Creating Balance exhibition you can get 20% off an Anglepoise® Type75 Mini, designed by Sir Kenneth Grange. On top of that Anglepoise® will also throw in Sir Kenneth Grange's fantastic book 'Making Britain Modern', worth £20.
If you can't make Thursday night's opening then the exhibition runs until the 22nd, open at the following times: Open Monday – Friday: 07.30 – 19.00, Saturday: 10.00 – 20.00, Sunday: 10.00 – 18.00. We will also be bringing the project home in January with at exhibition at Aspex Gallery between 10th January and 16th February 2014 and we'll be doing some special events to go with it too.
We're hoping this might be one of the highest profile events featuring work by Portsmouth creatives in a very, very long time and are proud to take just a taste of the creativity Portsmouth has and show it on a national level. Looking forward to seeing Portsmouth heavily representing in the capital!
Find out more about the project and who was involved at:
www.creatingbalanceproject.co.uk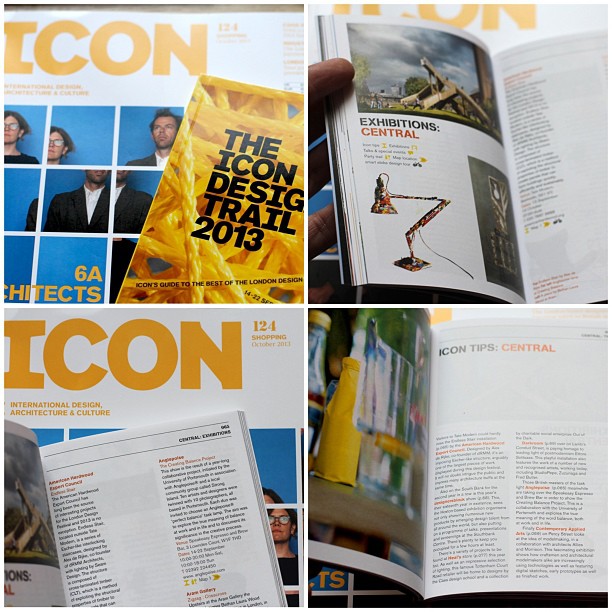 ---