For all your support over the last 4 years we'd like to say a big thanks and invite you to our 4th Birthday Party on the 4th of October. Our good friends at The Belle Isle have agreed to let us hold another little social at their bar on Osborne Road and we'd be stoked if you could join us.
There will be a Charity Raffle with prizes from a variety of local artists, photographers, retailers, friends and much more besides, as well as a few freebies. If you came to the 2nd and 3rd Birthday Raffles you'll know they were a huge success, and we have raised over £1400 for the Portsmouth RNLI and Portsmouth Autism with over 200 people in attendance each time.
There will be raffle tickets for sale on the night for £1 each, or £8 for 10 and ALL proceeds will go towards the Portsmouth RNLI and Portsmouth Autism, with the winning numbers being drawn at the end of the night.
As always there will be a limited supply of free Strong Island Ice Teas on arrival as well as a background playlist supplied by Pet Sounds. Have a peek at last year's very successful event HERE.
We would like to say a huge thank you to everyone that helps & contributes to Strong Island in one way or another. We really couldn't have made it this far without our readers, friends, contributors & the people who make Portsmouth and Southsea what it is. It's hard to believe we've have been going since 2008. So much has happened in such a short space of time. Juggling our day jobs whilst trying to keep Strong Island growing isn't an easy task but with the support we've had over the years it always works out. From putting on our Raffle and Christmas parties, to setting up exhibitions and events, running competitions and even setting up a small clothing line, the help we've received over the years is immensely appreciated. We hope in some way that doing these little events shows our debt of gratitude to everyone.
We have already had some outstanding prizes donated and here's a list of what's on the table so far:
Heather Walters-Pierce – Strong Island Hand Made Bunting
Malcom at Irving Brewery – 36 Pint Box Beer Voucher
Caroline at The New Theatre Royal – Family Theatre Tickets
Caleigh Ill – Illustrated Coaster Set
Garbos Hairdressing – Free Cut & Style
Diana Goss – Photography Tutorial Voucher
Anglepoise – Anglepoise Lamp
The Library Barbers Club – A Year of Hair Cuts
Pie & Vinyl – Tee Shirt & Pie & Mash Meal Vocuher
Shoal on ALbert Road – Gift Wrapped Goodie Parcel
Geoff at The Wedgewood Rooms – Comedy Club Tickets
Abar Bistro – Lunch for Two
Pyramids Centre – Family Swimming Voucher
Sant Yago – £50 Dining Voucher
Stuart Trett at Ye Old Bike Shoppe – Exclusive One Off Custom Bike for Strong Island
Mydogsighs – Exclusive One Off Framed Can Man for Strong Island
Elle Sexton at Broken Arrow – Custom 'Amigos' Jewellery
Flo & Stans – Mermaid Collage
Jay at UK Flyers – A3 Mounted Print
James Batchelor at Jobsite – X2 Pompey Tickets – Home Game VS Crewe Alexander
ilovedust – Limited Edition 1800 Tequila
Matt Howarth (hello matt & ilovedust) – Limited Edition Print
The Boat Deck – Dinner for 2
Dan at Mayhem – Hotel Chocolat Goodie Bag
Lou Bush – £150 Sewing Lesson Voucher
Lou & Angelo at The Gold Room – X2 Tickets Movie Screening 29th October
Southsea Greenhouse – Local Veg Hamper
Jodie Silsby – Albert Road Pub Prints
Matt at The Festing – £15 Bar Tab
Alex Borton at Herbal Skateboards – Decks & Tees
Josh Knill – Framed Prints
Jill Gate at M&C Saatchi – Coke Beats Headphones
Helen Young at The Kings Theatre – Grease Tickets
Mikey Ayling – Limited Edition Prints
Alyson Watts at Groundlings Theatre – Beer Festival Tickets
Angelo at Room 237 – Graphic Novels (Walking Dead vol 1, Fables vol 1 & Batman
Angelo at Room 237 – Comic Books (4 sets of 'No Place Like Home' comic issue 1-4)
Angelo at Room 237 – Books (Thrasher: 30 years of Thrasher)
Tommy at Sopranos – Meal Voucher
Ami Lowman – Mia Mai Prints
Southsea Gallery – Albert Road Print
Paul Thurlow – Studio or Outdoors Photoshoot & Images
Gareth at Aspex – Bug Cushions & Plates
Love Southsea – Goodie Bag
Josie Young – Cycle Caps
Stuart Barker – x3 Strong Island 2013 Calendars
The Belle Isle – Meal for Two
Little Johnny Russells – X2 Bottles of Wine
Little Johnny Russells – Free Gig Entry for Two
…we are hoping there will be lots more besides and I'll be posting photos as and when I get each prize to show you all the great things you could possibly win. Plenty of art, prints, meals, drinks, tickets, odds, sods and all sorts. So fill your pockets with cash and dig deep to raise money for the Portsmouth RNLI and Portsmouth Autism.
The Belle isle will be running their normal menu as well as their top notch £6 Nacho and beer deal. Delicious.
Alex at Herbal Skateboards – Tees, Hat and a Deck

Lots of Vouchers

Josh Knill – Framed Southsea Prints

Tina Kerslake at Earth Wool & Fire – 1960's Teapot and Custom Cosy

Anglepoise – Type 75 Mini

Jodie Silsby – Albert Road Pubs Prints

Strong Island – Primary Posters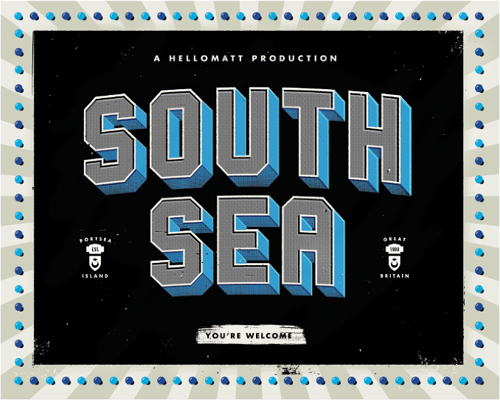 Hello Matt – Southsea Print

Strong Island – Branded Tee

Strong Island – Branded Premium Bag

Flo & Stans – Saucy Southsea Collage

Pie & Vinyl – Tee Shirt

Sopranos, Abarbistro, Portsmouth Council and Kings Theatre – Vouchers

Angelo at Room 237 – No Place Like Home Series

Room 237 – Graphic Novels

Mydogsighs – Exclusive Framed Can Man

Elle Sexton – Broken Arrow

ilovedust – 1800 Tequila

Mikey Made – Limited Edition Prints

Ye Olde Bike Shoppe – Custom Bike

Velo Couture – Custom Cycle Caps

Belle Isle – Good Food

LJR's – Booooooze
---