Our PRIMARY phoneography exhibition opened the other day at Bonzo Studio in Albert Road. During the day before the exhibition opened we managed to wallpaper the three main walls in the right half of Bonzo, covering the walls with well over 500 photo submissions by well over 100 local photographers. It was our first time wallpapering but we managed to get it done with the invaluable help of James Porter and Bill, who both saved the day.
The show opened in the evening and we were stoked with the turn out, the place was packed with lots of people checking the photos individually and also how the photos worked as a whole – a colourful, mobile phone snapshot of our city and the people who live within it.
The winners of the competition were unveiled to be:
1st. Andrew Whyte
2nd. Catherine Taylor
3rd. Lisa Gomer
The exhibition runs through to the end of the month, after which we will upload them to a specially designed online gallery on Strong Island.
We want to thank everyone who contributed photos to the exhibition, all of you helped make this in to one of the largest community participation arts projects in Portsmouth and certainly the biggest independently funded project. We also want to thank James and Bill for helping make it all happen, Bonzo for being our kind hosts, the winners and the runners up, Southsea Gallery, suppliers of the winner's prizes (Caravan Gallery, ETCH, S0mething Interesting, University of Portsmouth and Nevercenter), caterers Leaves Cuisine (amazing food!), everyone who helped promote the project and getting the word out there and finally everyone who came down to visit the exhibition.
P.S. Posters are still available from Bonzo, priced at only £6 each or all three colours for £15. These will go on sale online here in the next day or two. All money raised from poster sales goes towards covering the costs of the exhibition.
P.S. We would love to hear people's thoughts and opinions on the project, individual photos, the exhibition layout, etc, etc. Please email us at primary@strong-island.co.uk.
Photos by Claire Sambrook & Paul Gonella.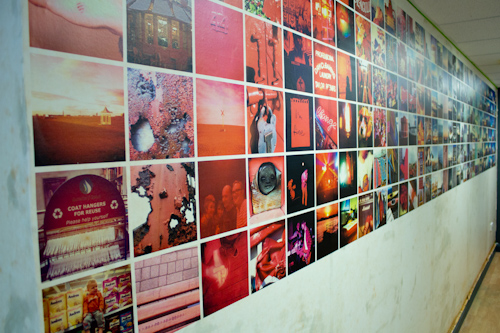 ---