Skinny Lister are known for their live performances, they don't just turn up and go through the motions, they bounce on stage, they sing, they dance, they play a multitude of instruments, they jump into the crowd, they often pass around a flagon of rum to the fans (not tonight, Covid has taken it's toll on this too) they are a live band and they entertain to the max!
Tonight was no exception, even with Covid restrictions in place.
Arriving at The 1865 (a new venue for me) to find a long queue waiting for doors to open, I had a feeling this would be a lively night and its clear that Skinny Lister have a very loyal following (lots of Shanty Punk t-shirts on show!)
This was the penultimate date of a 12 show tour following fresh on the heels of their 5th studio album, A Matter of Life & Love, that was released in October.
Support for the tour came in the way of The Longest Johns, 4 guys out of Bristol performing Folk music and Sea Shanties. They were a perfect fit for support on this tour, with a singalong vibe that got everyone going, the whole venue was full of voice. Go and check these guys out if you get the chance (they also have a new album, Smoke & Oakum, due for release in January)
As the lights went down and Skinny Lister burst up onto the stage the whole venue erupted in a raucous welcome and immediately the band launched headfirst into 'Wanted', a fast & furious belter to open the show and set the scene for what was to come, with the whole venue bouncing along with the band.
The early part of the set showcased two or three tracks from their new album (Life at a Loose End, Bavaria Area and A Matter of Life & Love) mixed in with some classics from their back catalogue, this was a theme that continued through the evening as the band weaved their way through new & old songs in a massive 26 song setlist that was lapped up by the crowd.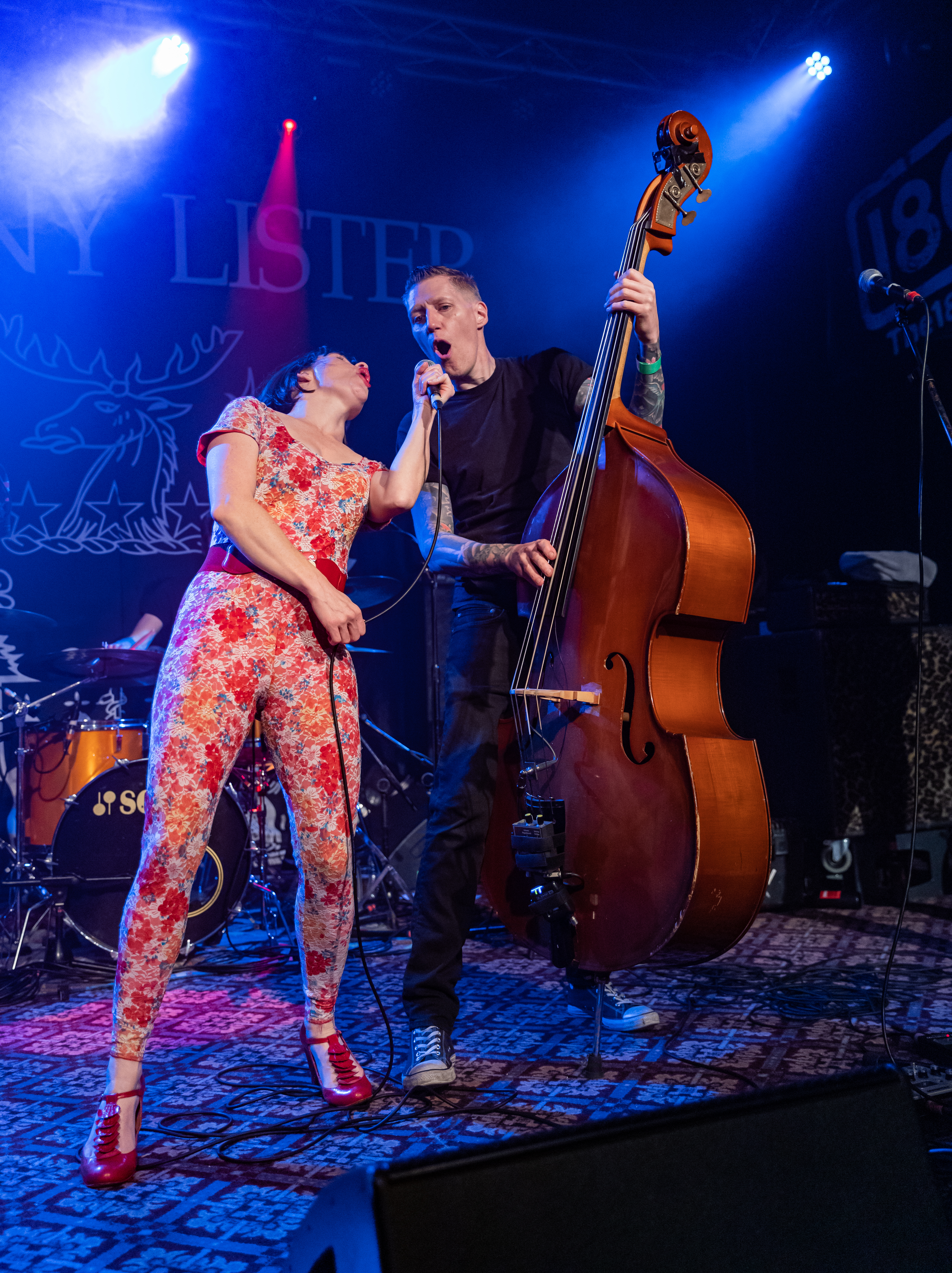 Lorna described the night as "a bloody good venue and a great big party," the energy was relentless from start to finish. The throat throttling start to 'John Konaka' was received with a vociferous response from the crowd, singing every word back at the band who led them like musical conductors. During which Lorna poured many (plastic) cups of whisky that she duly handed out to the crowd (to make up for the loss of the flagon).
The band returned for one final hurray, a 3 song mass singalong encore of 'Raise a Wreck', 'Hamburg Drunk' and 'Six Whiskies' for which they were joined on stage by the guys from The Longest Johns.
As with all gigs I have been too post-pandemic, or at least since we were allowed to go to gigs again last summer, there was a real sense of coming together at this gig. From the queue of loyal fans at the door, to people buying lots of merch to support the bands even further (for both acts), to the whole venue bouncing together, Lorna getting on the shoulders of a fan to be paraded around the venue and the sharing of a few whiskies, this was very much an occasion not just another gig.
With Lorna summing it the evening up with a message to their fans, 'thank you for reminding us what we do and why we do it'.
Skinny Lister are without a doubt a must-see live band, they never fail to 'bring it' with their high energy shanty punk!
---