This coming Sunday at 7:30pm the House of Burlesque returns to the Kings Theatre on Albert Road. The masterful Joe Black will be accompanied by a cast of the weird and wonderful to entertain us all.
"Expect vaudevillian high jinks, burlesque beauties, unexpected illusions, big voices and even bigger personalities. At the heart of it, it's a comedy show. We're all there to have a fantastic time, to laugh, scream and cheer. Most importantly, we're all there to spend an evening forgetting whats going on in the outside world. So come get immersed in the cabaret. You won't regret it!" Joe Black.
Beau Rocks – Glamour with a heart-warming pinch of girl next door calamity! Effervescently raunchy and unmistakably classy.
Mysti Vine – Burlesque innovator! Graceful, tongue-in-cheek charisma and beautifully bold! A marvellous maven of burlesque!
Luna Rosa – Gorgeous purveyor of the exotic, erotic and hypnotic! Exotica goddess and burlesque powerhouse.
Laura Nixon – Marilyn Monroe returns from the afterlife! Shimmying, seducing and absolutely flawless!
Abigail Collins – Hilarious and utterly filthy! There can be no other like her. Circus, skills and comedy triple threat!
Cinebra – Movie lovers and cinematic enthusiasts! Sharing the joy of the silver screen with the world of cabaret!
Arran Shurvinton – Who's that creepin' at the window? Who's that creeping' at the door? Loveable monster maker and nightmarish comedy impersonator.
Terms Of Unnervement – Resident double act! Double act parodists and impersonators! Strange! Surreal! Ridiculous!
Tickets are available from £18 (concessions £2 off) and are available from the Kings Theatre website – www.kingsportsmouth.co.uk or at the box office 023 9282 8282.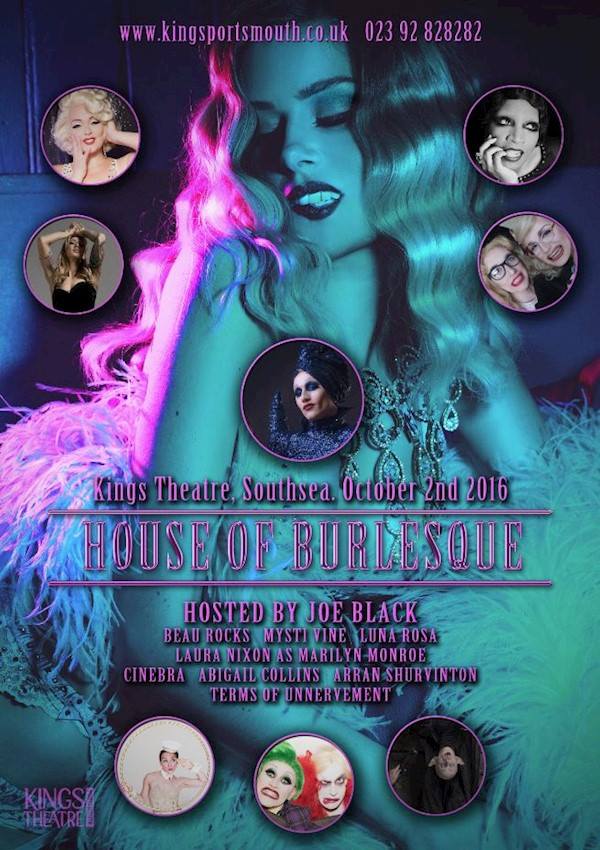 ---