Saturday saw the inaugural Dials Festival take place across Southsea and what a day it was! It was humbling to see so many people fill up the venues of our new community-run festival and the touching, positive response we have had for our first year has been truly amazing. Kicking off from the early afternoon to evening Dials featured forty plus acts from across the day to evening in five different venues across Albert Road. Being the co-booker, also running the social media and also being an organiser of the festival I managed to catch a fair few across from across the day so here's my diary of the day at Dials minus all the boring bits.
After a swigging one of those disgusting, suspiciously cheap 35p energy drinks it was time to jog from the station to the debrief of the day in the morning at Edge of the Wedge. After this and making sure all venues were well equipped it was approaching time for wristband collection. During this brief calm before the storm, I decided it was probably time for some mid-day breakfast where I quickly managed to neck a burrito at Al Burrito but unfortunately the storm arrived promptly during my "breakfast" and it was time to metaphorically put out many fires. Portsmouth football traffic amongst other events going on meant acts were waiting for their taxis for nearly an hour which caused a lot of chaos first thing and we wondered if the festival was going to run behind with immediate effect.
Luckily everything worked out and we managed to remain punctual so the first venue I headed off to was The Loft for Jimmy Stuart of Is Bliss who was playing a solo set. Jimmy proved to be a one man psych machine bringing a whirling, wonderful, colorful racket that was in the vein of Morgan Delt and Jacco Gardner. Guitars being thrown on the floor, a guitar strings breaking, it was beautiful chaos and I really can't wait to see how Jimmy Stuart's solo material progresses. Staying at the Loft for Strong Island Recordings' Melt Dunes the quartet brought their brand of heavy acid/psych rock to Southsea. Their nightmarish, doom-laden, visceral sound was perfect for the psychedelic sweat-pit that is The Loft and their potential is frightening. Biased or not, they're one of the most exciting acts to emerge from the south-coast in a while.
I'd already seen a lot of doom psych and spent a lot of time in a dark, sweaty room so I decided to have a break at head over the road for the naturally lit Little Johnny Russells. Sam McCarthy managed to hop out of the taxi straight onto the stage, his summer tinted, acoustic folk was perfect for a warm sunny day in the afternoon.  Next up I managed to catch Fever (albeit very briefly until I was called for some errands). They sounded wonderful at Edge of the Wedge with their fuzz tinted, grungy, indie-pop. After running around for a bit I managed to head back to LJR's for an act I have been a fan of for a while being Dog in the Snow. Playing to a full house the duo charmed the crowd with their dreamy, haunting art-pop and went down very well which was is always great to see. Their new EP is out now on Brighton's Love Thy Neighbor label.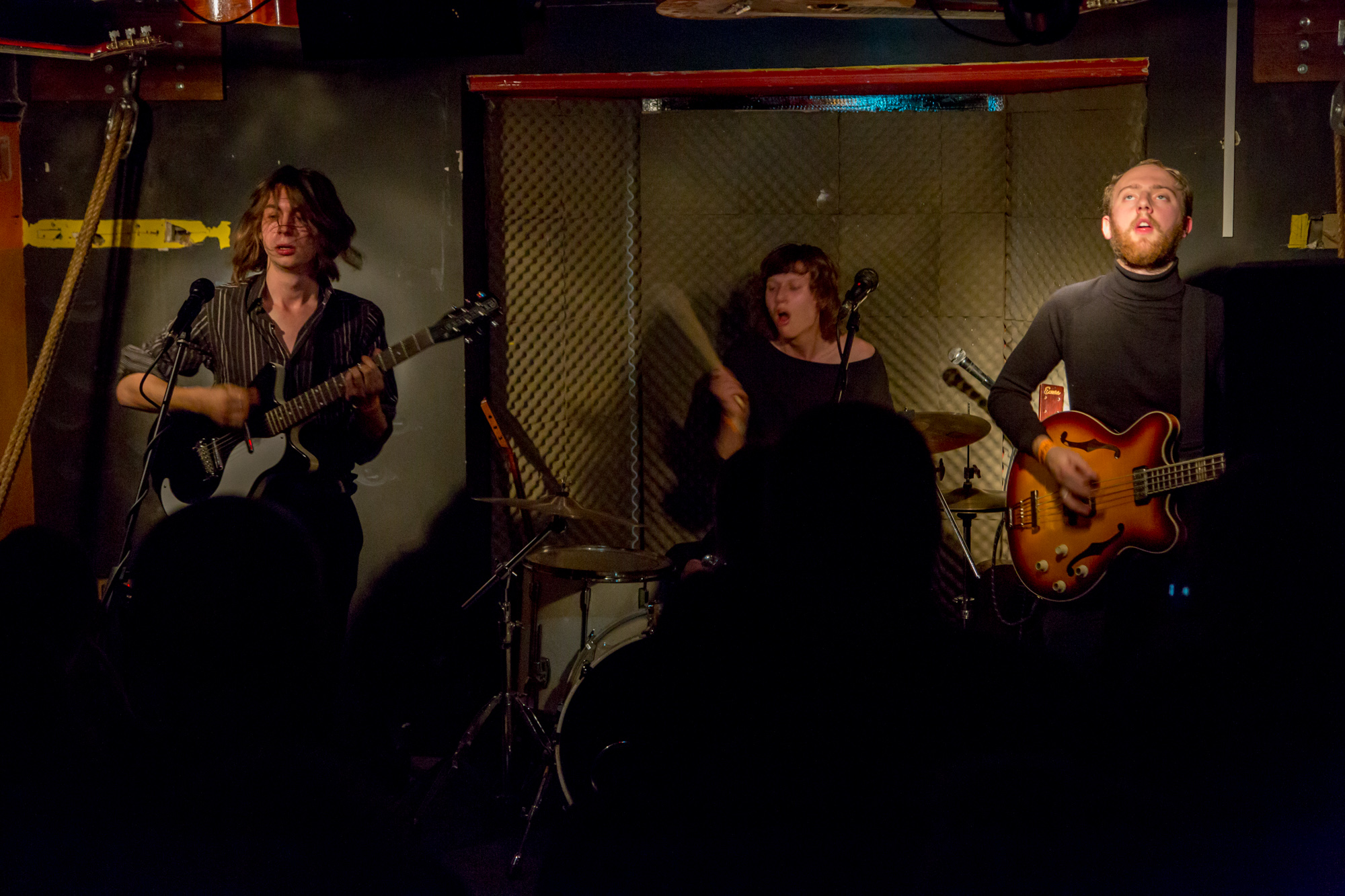 After Dog in the Snow and running around like a madman once more it was time for Strange Cages at Al Burrito. It's fair to say many weren't ready for the sheer heat of the venue and Strange Cages sounded perfect in it with their heavy snotty garage punk meets surf and psych rock sounding like a cross between the likes of Coachwhips, The Cramps and King Gizzard & the Lizard Wizard. Al Burrito was fully packed out with one in one out and Strange Cages delivered a mind-blowing, raucous set to the sweaty audience. After Strange Cages it was time to run to the Wedgewood Rooms to catch Wyldest. Walking in to see a fully packed out Wedgewood Rooms crowd watching Wyldest was a pretty great moment from the perspective of booking the festival and seeing our good friends play to such a large amount of people. The now quartet delivered a truly wonderful set in front of such a crowd delving from their dream pop sound to shoegaze that sounded massive in the Wedge.
After some much needed fresh air it was back into The Wedgewood Rooms to watch Strong Island Recordings' Curxes who's set sounded enormous in the Wedge. The frenetic, blitz-pop trio played a blistering set with a number of favourites from their debut album 'Verxes' sounding incredible on the Wedge PA. Immediately as Curxes' set concluded next door in the Edge of the Wedge saw another from the Strong Island Recordings family being Gang bring down the house with one of the sets of the day. Bringing their grunge ridden, doom laden pop, Gang's set melted minds across the Edge of the Wedge proving they're one of the finest live acts in the UK at the moment. The trio's slacker like showmanship on stage is on level with their scolding sound and many in the fully packed out Edge of the Wedge who hadn't seen Gang were probably not anticipating such tinnitus inducing brilliance.
After witnessing Gang and needing a double Jack Daniels to get my brain back in sync with what was happening it was back up the road for Peluche at LJRs. It's hard to describe Peluche to be honest which is a very good thing. They're somewhat shimmering dreamy, avant-garde pop meets jazz. dub, psychedelia and world music that's perfect for a summers evening and it's fair to say Peluche smashed it. Hopefully Peluche are given some summer festival slots next year as they're perfect for dancing in a field especially with songs such as 'Ohio' and 'The Guy With The Gammy Eye'.  I had done a lot of walking (and running) during the day so I decided to stay put at LJR's for Jerry Williams who I had seen a number of times but never with a full band set-up. It was brilliant funky-disco pop and Jerry's charm ridden vocals sounded perfect coated with a full band set-up making tracks such as 'Boy Oh Boy' and 'Cold Beer' sound as ace live as they do on record.
Straight after Jerry Williams, it was off to the Wedge and Edge for the rest of the evening. I managed to catch some of Kagoule's set and it was amazing to see them play in front of such a large crowd especially as last year at our Southsea Fest stage they played to about 50 people. The Wedgewood Rooms managed to capture the post-punk meets scuzzed out melodic grunge trio's sound perfectly. Next door Rickyfitts were gearing up for their set and what was about to occur was utter chaos and mayhem. The thrash twosome played in front of a near riot out in front of them with mosh-pits and crowd surfing from the fully packed out crowd. They themselves sounded as great as always with Thom Dalmut-Rudd bringing a monsoon of riffs and Max Goulding smashing up his drum kit to pieces. It was a great, rare homecoming for the duo who now live in Bristol and London.
After Rickyfitts, back in the Wedgewood Rooms things were somewhat more calmer but just as great with special guests Fickle Friends bringing their incredible indie/electro-synth pop to the Wedgewood Rooms. Tracks such as 'For You' and 'Swim' showed why the Brightonians have such immense potential and why they should probably be MASSIVE soon. It was joyous, danceable pop at it's best. Back in the Edge of the Wedge Black Honey played their first ever Portsmouth show and probably last here in such a small venue. Bringing the surf doom/grunge akin to The Wytches but laced in oozing noise pop goodness Black Honey were incredible. Lead singer Izzy's charisma on stage is rather infectious and with tracks like 'Spinning Wheel' and 'Teenager' show Black Honey's potential to be the next big thing was evident.
After Black Honey I realised I hadn't eaten for hours so I had to find somewhere to sit and reflect on the day knowing that I could leave and everything would be okay which meant a trip to get some food and crash. Overall the response and turnout was incredible and with such a great atmosphere from everyone who attended I and the Dials team cannot thank everyone enough for making the first ever Dials Festival a very special and memorable one.
---