It has taken a few days to process the whole of last weekend, but now the majority of Blissfields festival is slowly coming back to me. We were blessed with glorious sunshine, high temperatures all weekend. On Friday night we even witnessed a lightening storm aluminate the night skies without a drop of rain following behind, proving that it really never rains at Blissfields.
I arrived on site Thursday afternoon with some of Portsmouth's finest. Some lovely faces from Blissfields past were on hand to greet me and that fellowship and community spirit can be felt all over the festival.
Another local band Popobawa were the first band booked for the festival so it was only appropriate that they officially opened the festival on Thursday lunchtime. This was the first time I'd seen Popobawa since they played their first ever live show together as a band at the Road To Blissfields 2014. They didn't win on the night but were booked for this years event on the strength of their debut live performance.
Portsmouth was well represented over the weekend with performances on the Thursday evening from ska and reggae band Bigtopp who had the large crowd dancing and even demanding an encore which the band enthusiastically delivered. Big Child Man Child continued with the dancing theme and even surprised the crowd with dancers of their own to entertain the audience.
On Thursday night two large tents turned up next to mine belonging to Brighton based band Mok. They all seemed like a nice bunch so I went to check out their set in the Now and Den tent. They put on a top show performance with a style that I wouldn't know how to describe, Lee from the band explained to me they like to think of it as New Wave Rap. It's always nice to come back from a festival and finding new musical gems. Hopefully they will come join us in Portsmouth in the near future!
The Larch Stage had familiar faces taking over on the Friday with Floella Grace, Sam McCarthy, Luke Ferre, The Boy I Used To Be and our Strong Island Recording's Curxes performing. It was great to hear Sam's rendition of 'Deep Blue Sea' which he admits was inspired by our tee of the same name. Floella opened the Larch Stage and put on a mesmerising performance. Later on in the day she met her namesake and fellow singer songwriter Flo Morrissey who had on a lovely performance opening the Singularity (Main) Stage.
Later on the Singularity Stage Blissfields veterans the Dub Pistols were greeted by the kind of boisterous crowd we have come to expect during their performances and they loved the Pistols typical high energy performance. For me the main stage was the place to be for Friday evening because of performances from Ghostpoet, Public Service Broadcasting and the Horrors who headlined the evening with a cracking performance and an equally impressive lightshow.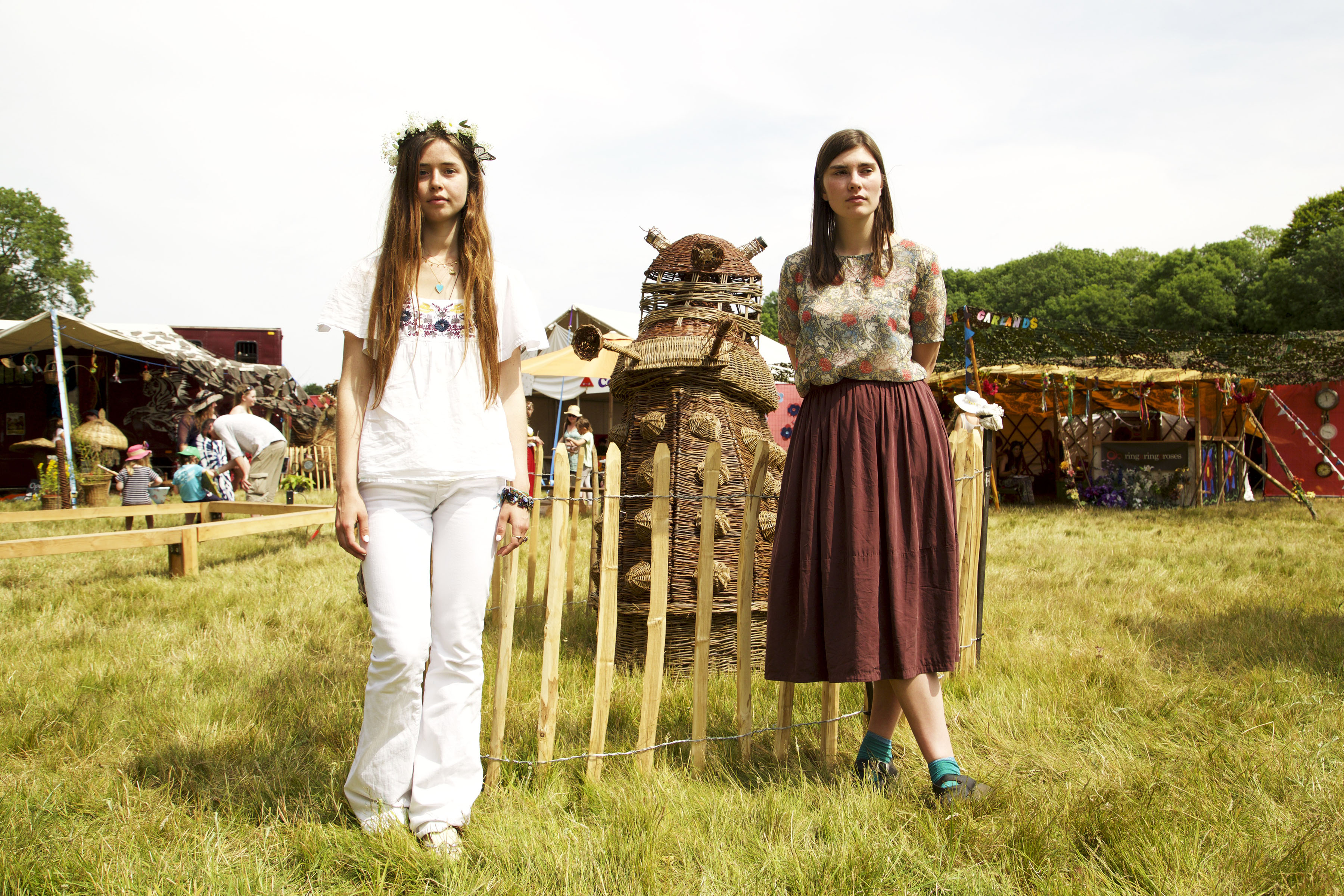 For me Friday night was a late one spent at the Blisscotheque with the lovely press team who took a rare moment off work to let their hair down.
Most of the festival goers were up and about nice and early, mainly because by 7am most tents were already turning into mini saunas! The previous evening I was blown away by the Original Fry Up Material's burgers, so I thought that I would try their breakfast muffins and I was not disappointed, they were equally awesome and just what I needed to prepare myself for the day. This van was certainly the culinary highlight of the weekend, keep an eye out for them at a festival near you.
After spending some time with friends relaxing in the craft area I witnessed Cosmo Sheldrake work his magic on the Singularity Stage. I was lucky enough to meet him afterwards, they say never meet your heroes but on this occasion that expression was proved wrong, what a nice guy! During his set you would struggle to find someone in the crowd who wasn't tapping their foot or nodding their head to Cosmo's infectious tunes.
Local highlights of the day were the boys from the Kassassin Street who battled through technical difficulties to wow the crowd with signature anthems 'Centre Straight Atom' and 'To Be Young'. They were followed by Isle of Wight band Plastic Mermaids who succinctly proved why they are the most exciting band on the planet at this precise moment in time!
While everyone was being wowed by the Plastic Mermaids in the Now and Den Stage, Grandmaster Flash was playing some classic Hip-Hop on the Singularity Stage. He was followed by DJ Will Chump who continued the hits playing with great aplomb after suffering a nightmare journey getting to the festival. The perfect way for me to end the festival was with Glass Animals and John Grant. Glass Animals are a band I've only recently been introduced to and in my opinion their new album 'Zaba' is one of the best the year so far. If you are a fan of the xx and Friendly Fires then I suggest you get involved!
Over the weekend I was asked to curate the Spoken Word event in the A-Z Tent. If I am honest I knew very little about spoken word at first but the more I researched and the more I spoke to those involved the bigger fan I became. I would like to thank Selby, Craft D, Rex Domino, Blizzard, Roya Shadamand, Toby Campion, Spike Zephaniah Stephenson and the A-Z stage team for helping to make the event a huge success. Special mention has to go to Rex Domino, the general consensus of the audience was that he was arguably the strongest performance of the whole festival and if that isn't a statement to do Portsmouth proud I don't know what is.
Last of all I wanted say a huge thank you to everyone involved in making Blissfields the best small festival on the festival circuit! Now I will be resting for a few days before I start getting excited and beginning the Strong Island build up to Victorious and Bestival.
---