Strong Island Recordings and Champagne Justice! have plotted and planned together to bring you their night of raw music, going down on Thursday 15th August at the One Eyed Dog. Celebrating three of the best new bands around they bring you Brighton's Boneyards plus Theo Verney and Portsmouth's own Is Bliss all for a mere £3 as well.
Is Bliss (Strong Island Recordings)
Not only one of Portsmouth's but also Champagne Justice! and Strong Island Recordings' favourite bands, Is Bliss return to pound our ears into submission. Is Bliss mix some of the finest elements of grunge and shoegaze, they play loud and fully justify the MBV Comparisons. They have recently returned to being a four piece, further cementing the incredible wall of sound they were creating as a three piece. If you have not yet had the pleasure of witnessing Is Bliss in action you need to get involved sharpish. Have a listen HERE.
Boneyards (Strong Island Recordings)
So it's summer, what do your ears want to hear?? They want to hear Thee oh Sees, they want to hear the Jacuzzi Boys. They also want to hear Boneyards. A highlight of Brighton's recent Alternative Great Escape on Southsea Fest's stage, Boneyards' perfect fusion of garage-punk and surf will have you dancing into a stupefied summer stun. Also with a new release Rest in Beach E.P out now on Strong Island Recordings to wet your whistle. See and hear more on Tumblr and SoundCloud.
Theo Verney (Art Is Hard Records/Italian Beach Babes Records)
Brighton's Theo Verney is the soundtrack to a million summer nights. Sitting on a sun drenched balcony, drinking cocktails and listening to Theo Verney, can't be bad. A garage pop delight that will have you reaching for your wayfarers and getting in the pit. Theo's new EP 'T.V.E.P' out now on Italian Beach Babes records sits nicely positioned alongside garage stalwarts such as TY Segall or The Black lips. Theo was also recently featured as the 1st pick in NME's The Buzz, their pick of the underground each week (see below). Have a listen on SoundCloud and find out more at: www.theo-verney.com
Don't forget that Boneyards have just dropped a new EP on the Strong Island Recordings label too, if you want to support our little label and these dudes you can buy it on iTunes and Amazon. Cheers!
Thanks!
CJ! & SIR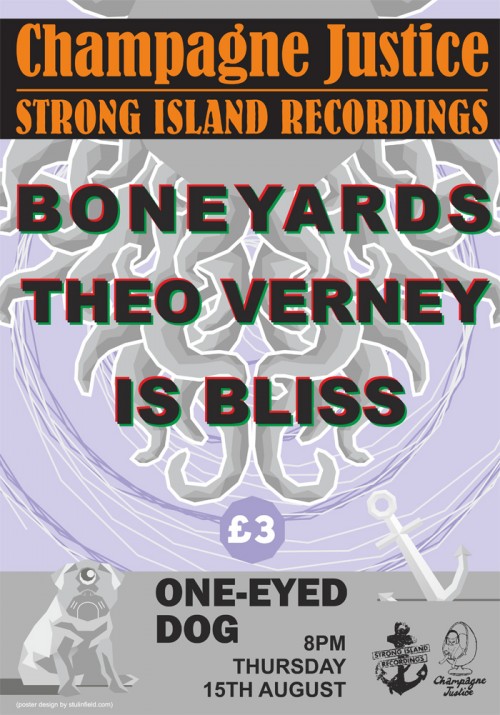 We've posted this a couple of times but, to be honest, it is amazing and needs an airing at every opportunity:
---