You have to wonder where he finds the time or energy but Portsmouth & Southsea street artist MyDogSighs keeps on keeping on from his London Solo exhibition at the West Bank Gallery (you can see photos from the exhibition HERE and see the video HERE) & work in the PCM Exhibition at White Elephant (photo HERE) by featuring in the group exhibition Four20 in Mayfair, London. The exhibition and gallery space is a popup in Maddox Street in Mayfair in collaboration with the highly respected Ivory & Black and features work by artists including Banksy, Pedro Matos, Sickboy, Robi Walters, Gerald Jenkins, Bue The Warrior, Anthony Lister, Faile, Insa, Kron, Ben Levy, Ryan Travis Christian, Hiro Kurata, Rowan Newton, Paul don Smith, Moustache Man, Danielle Hodson, Born To Kiln and contributions from many more artists. Serious business!
Due to it's pop up nature the exhibition is only open to the public until tomorrow afternoon so to catch it you have to be quick. You can find out more at the Four20 website:
On hand to photograph the launch event last night was local photographer Paul Thurlow.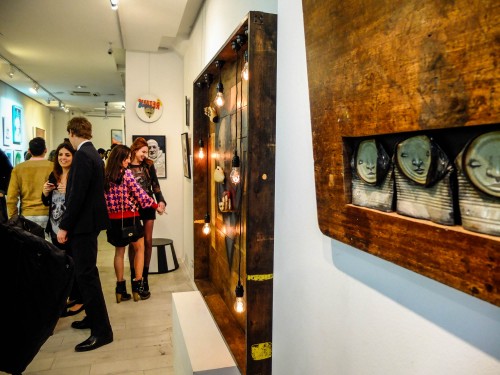 ---