Saturday evening saw the preview show for the current Portsmouth Creative Movement exhibition 'No Place Like Home' located at new arts venue and vintage store White Elephant. The exhibition was curated by Kate Smith and includes paintings, mixed media, photography and more by local artists including Matt Maber, MyDogSighs, Stu Linfield, Ooberla, M-One, Midge, Andrew Whyte, Aimee Pitassi, Angus Day, Dominique Kalume (Kalif), Jane Athron, Ely A, Duncan Allen, Lou Bush.
White Elephant is a new arts and vintage retail venue in Portsmouth, located on Cromwell Road in Eastney. The venue had just had a new lick of paint on the front and the first half of the space is full of vintage & up-cycled furniture and items. The exhibition fills in the back half of the space (which used to be home to a used car salesroom) and Southsea and Portsmouth represented well with a really good turn out of local people. Items were viewed, wine was drunk, red dots stuck on the wall, new creative ideas banded around and happy faces were the result when the doors were closed late in the night.
The exhibition now runs until the 3rd of May at the usual White Elephant times which are 10am to 4pm Monday to Saturday and 11am to 4pm on Sundays. The exhibition is well worth a visit.
Below are some photos, to view Matt Maber's larger photo album from Saturday night click HERE.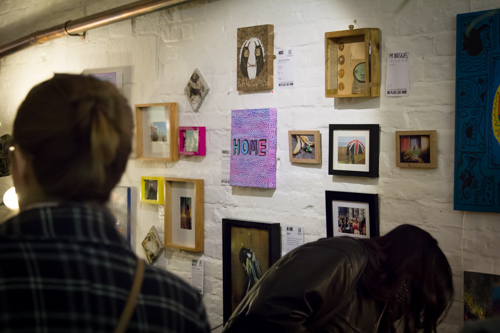 ---