Last year's hugely successful Victorious Vintage festival held at Portsmouth Historic Dockyard was one to remember in Portsmouth with it's huge turn out, many local people selling things in the stalls and the main stage slap bang right next to the Victory. This year sees the newly named Victorious Festival get bigger and better and develop new links with the community of Portmouth, directly working with local residents and schools. Strong Island's own Ben Miles, Events Coordinator at the Belle Isle bar and restaurant has this to say about the festival:
"Working off the back of the hugely successful 'Victorious Vintage' jubilee weekend last year we have been given permission to take things a step further. Look forward to a festival that caters for all members of the family, young and old. We learnt so much from last year's event, we will be adding more headline acts, a real ale and food festival, a huge children's arena, markets, the Historic Dockyard attractions, DJs, a Silent Disco, and plenty of indoor entertainment just in case the great British summer turns up to wash us out!"
The theme to the festival will be 'maritime' in keeping with the world-famous naval attractions and traditions reflective of Portsmouth and Southsea. Lincoln Clarke, Chief Executive of Portsmouth Historic Dockyard said:
"The Victorious Festival will be a great addition to the Historic Dockyard events calendar, allowing us to showcase the attractions to an audience who may not have thought to visit before. We are delighted to be working with local businesses to build an event that the whole city can enjoy and to also re-affirm Portsmouth as a desirable visitor destination."
Victorious Festival will see a continuation of the relaxed ethos of last year's event with festival goers treated to an acoustic arena carpeted in fake grass and scattered with sea side deck chairs, an alcohol free children's area, street entertainers, boutique and creative markets and plenty of local produce food stalls to choose from. The Victorious Festival team are keen it remains an event for people of the local area and are urging residents that if they would like to get involved or can offer something to the event then they get in contact via info@victoriousfestival.co.uk. The event also plans to include local schools in curating and presenting the "Kids Deck" arena. Details will be sent to schools and community groups in the coming weeks.
Festival goers need an event ticket (valid for one day), which will include all the day and evening entertainment, plus the Historic Dockyard attractions! The event runs from 10am – midnight both days. Early Bird Tickets are priced at £15, under 5s are free, children age 5-15 years are £5. Under 18s must be accompanied by an adult over the age of 21.
Needless to say, this is going to be one of the biggest events on this year's calendar and will also be shining example of different businesses & organisations within the city successfully working together to not only create an event the city residents can enjoy but also an event that can draw visitors to the city in one of our most historic and iconic locations.
Strong Island will be there again this year with a Strong Island Clothing Co. stall. We're planning on lots of new designs and items designed specifically for the event plus the designs due to drop next month and in the summer. We're also planning on some other things too, more details on those nearer the time. We're looking forward to seeing everyone there again this year!
More bands, DJs and artists will be announced in the coming weeks and months plus you can find out loads ore about the festival on their website at: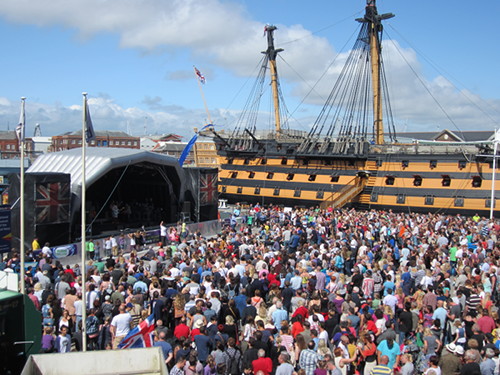 ---