I have been coming to Bestival for over ten years now and being a creature of habit I had a routine going. I would catch the early ferry about 6am so I can be near the front of the line when the gates opened. My friends and I even had a standard camping spot at the top of the hill in the red camp site so every always knew where to find us. It was all change this year with Bestival moving from Robin Hill Country Park on the Isle of Wight to Lulworth Castle in Dorset.
Frustratingly due to work commitments, I missed Thursday's fun and frolics. I arrived on Friday and stupidly didn't pre-book my car parking online at the lower price. Paying £20 to park for the whole weekend wasn't too bad though as it felt on par with most other festivals.
There was no tent for me this year as I was staying with friends off site and driving in each day. I had to walk from the car park, through the camping area in order to get into the main site. After having my wristband checked I set foot into Love-Bot Park and was immediately greeted by two giant astronauts and The Big Top, which is now known as The Box.
The smaller venue meant that all of Bestival biggest sights were a stone's throw from each other, like a compilation of Bestival's Greatest Hits all in one place. This year saw the return of HMS Bestival, the world's largest mirrorball and the legendary Bollywood tent. A new addition for the Colour Field was the world's biggest confetti cannon which filled the sky with a shower of colour (a welcomed change from the rain that battered the site during Friday evening).
The most unique exhibit of the weekend was unquestionably Happy Kanye. Based on the Sad Kanye viral meme, the seven metres tall inflatable face of Kanye West was bold and beautiful and was a beacon of positivity for Bestival goers over the weekend. You could even climb inside to find an enclosed bouncy castle but for many, it was a photo opportunity. #HappyKanye
The most unique exhibit of the weekend was unquestionably Happy Kanye.
Situated on behind Lulworth Castle was the Feast Collective tent which housed a collection of amazing street food. I had my fingers crossed that Le Rac Shack would return and I was happy to see that the purveyors of Raclette were back. Over the weekend there seemed to be a constant line of people waiting to grab some of their amazing French Poutine which consists of rosemary French fries with French onion gravy + melted Raclette cheese. Personally, I went for the option which included a Toulouse sausage. Delicious!
I haven't really touched on the weather too much just yet but after torrential rain which hit the sight over the weekend, the sight of Piecaramba filled our hearts with warmth before we'd even taken a bite. Created by former Pie & Vinyl co-founder Rob Litchfield, this is their second ever festival after making their debut at July's Camp Bestival. The permanent home of the comic book and pie shop is in Winchester. If you get a chance to visit then I dare you to attempt their Piescraper challenge.
As well as the bog standard expensive beers and ciders in the main bars, the Feast Collective offered some nicer wines, beers and spirits. My beverage of choice over the weekend was the American Style IPA by the Maltsmiths Brewery. I was sad not to see more ales or local breweries on offer around the site. The south coast and the Isle of Wight are blessed with so many independent breweries that it seems a shame not to get them involved. To be fair, there may have been some on site but if there were, then they were quite well hidden and need to be more at the forefront next year.
"I love festivals. We live in scary times. It's quite isolating. So to have everyone together, forgetting all the bullshit in the world – it's so important." Oliver Sim
When I think back to when I first saw The xx at Bestival I couldn't believe that it was seven years ago! I clearly remember my futile attempts to get into the Big Top to see them. Due to the massive buzz around them, I had to settle for a spot on the outskirts of the tent, peering over someone's shoulder at the big screens. The trio returned to Bestival in 2012 to play the Main Stage, where I got a much better view.
Dressed all in dark clothing I guess Jamie, Oliver and Romy clearly didn't get the memo about it being the year of colour, although I guess black is a colour. What better track for them to open with then 'Intro,' the very first track of their debut album. The band picked a fantastic set list which featured belters from their three albums. They even included 'Loud Places' from Jamie's solo album, the aptly titled In Colour. The weather on Friday wasn't great, but for an hour and thirty minutes I completely forget about what had gone on before and was swept away in a blissful xx inspired feeling of euphoria.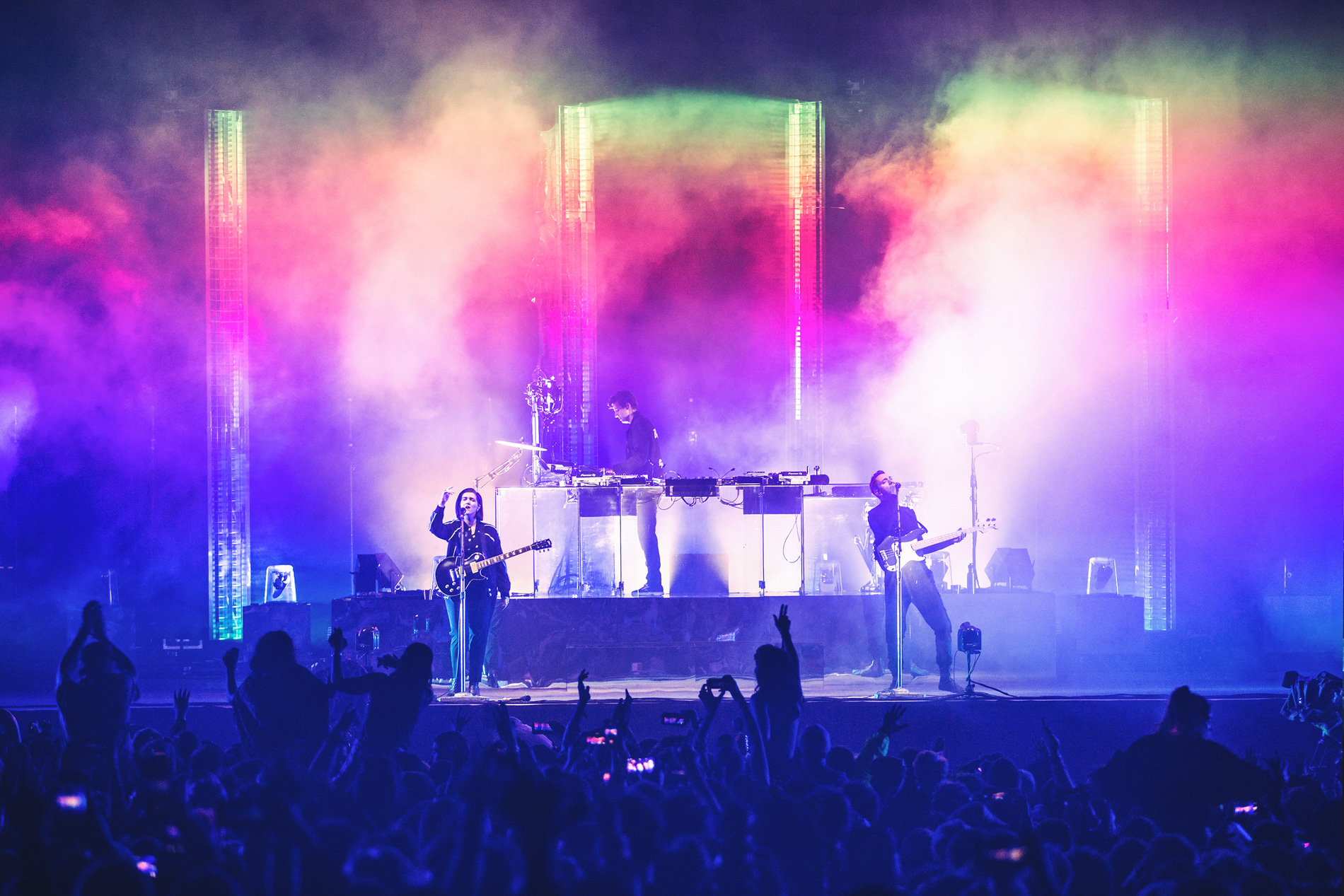 After a good good night sleep in a warm bed, I arriving back on site on Saturday and had just enough time to say hello to the astronauts and grab a drink before Disney Rascal took began their set in The Box. They are not to be confused with the Dizzee Rascal who would drive the crowd bonkers later in the day on the Castle Stage.
The band all took to the stage in full fancy dress as different Disney characters. They knocked some slightly different versions of Disney classics as they mixed them with ska and punk covers. For example, they seamlessly mixed the Little Mermaid's 'Kiss The Girl' with 'Monkey Man' and another was 'Once Upon A Dream' from Sleeping Beauty going into Elvis' 'Can't Help Falling In Love.' There was even a successful marriage proposal on stage! Awwww. After Common People's Elvana I've no idea what Rob Da Bank will find for us next.
"Sometimes, quite unexpectantly, an artist you've seen loads plays your favourite show ever." Robin from Breaking More Waves on Lucy Rose.
In the build up to Bestival I was fortunate to have some time to chat with Lucy Rose and as someone who's been a fan of hers since her debut album Like I Used To this was a bit of a fan boy moment. I have seen Rose play live a number of times before but I never miss the chance to see her when I can. While she set up with her band on the Box stage the large tent was empty. I could literally count the number of people in the crowd on one hand. It was almost slightly awkward although as she began the tent filled up with quite a large crowd, many I expect will have been checking out the early part of Rag'n'Bone Man's set on the Castle Stage.
When addressing the crowd early on she referenced how grateful she was for the support, admitting that prior to the show she was nervous that the crowds might not be there as they enjoyed the more up tempo stages. She had no reason to worry as the Bestival crowd appreciates talent and her beautiful vocals will always bring crowds flocking. This was another flawless performance and I can't wait to see her again when she visits the Engine Rooms in Southampton in November. As I said, I never miss a chance to see her when she is in town.
Jodie Abacus at the Invaders of the Future
When you go to a music festival you obviously want to catch the big names on the main stage, they are often who have enticed you into buying a ticket in the first place. I also like to pick up a few new artists along the way, maybe catch them on one of the smaller stages a few years before they hit the big time. While waiting for Lucy Rose and tucking into a Philly cheese steak I ventured into the Invaders of the Future stage to see Jodie Abacus take to the stage. I knew nothing of him beforehand but could tell from the moment he began that I was onto a good thing. Abacus definitely has his own sound and isn't a carbon copy of anything around at the moment. But if I were to make a comparison, fans of John Legend and Leon Bridges would certainly dig Abacus' vibe.
Monday morning I picked up Anna of the North's Lovers which had only been released a few days before Bestival. The synth pop of the Oslo based singer songwriter's sound would be at home on the Made in Chelsea soundtrack and I'd be surprised if it hadn't already featured. Following in the footsteps of fellow Scandi artists Niki and the Dove, MØ and Tove Lo, Anna looks like she's going to be riding the wave of the 80's revival that is going strong at the moment. The highlight was the album's title track 'Lovers,' and this is the track I'd encourage our readers to go check out for themselves.
Bestival has a rich history of legendary Hip Hop acts performing at the festival and this year was no different with A Tribe Called Quest headlining on Saturday night. Anyone who missed this will have made a huge mistake as this proved to be their final show, signing off their 27-year career. Their passionate rendition of their greatest hits included a moving tribute to the late Phife Dawg, who passed away last year.
Q-Tip interrupted 'Whateva Will Be' to tell the crowd that, "We lost our boy Phife Dawg. This is gonna be our last show as A Tribe Called Quest, ever." This was later confirmed on Twitter. I don't think that this will the end for Q-Tip and co full stop, hopefully this simply means that we will see them again with new projects in the near future.
As the title of this article suggests I wanted to share my highlights of Bestival 2017 but there were some low points and these were out of anyone's control. Festival organisers and festival goers know full well the risks attached with running and attending festivals in the UK. If you are lucky then you can be bathed in sunshine and have an absolutely great weekend or it can be ruined by bad weather. In the decade I have been coming to Bestival there has only been one other occasion that I can remember the weather wreaking so much havoc and that was 2008. The weather led to stages being shut down and a whole rethink of the layout in the following years.
To their credit, this year's crowd were absolutely superb! When I arrived back on site on Saturday I expected to find that people were weary, tired and struggling to get themselves up for it but no, I couldn't have been more wrong! Spirits were high and they were determined not to let the weather dictate their fun and boy did the weather try hard to do that! The crowd's spirit they showed in the face of adversity is why I love the Bestival so much.
High winds on Sunday led to stages having to close for a short period of time, sadly this led to the cancellation of Loyle Carner's performance. Fingers crossed we'll see him back next year so we'll consider it more of a postponement than a cancellation. I'll be honest, it was with a heavy heart that due to the bad conditions on Sunday I missed it in favour of warmth and comfort. I was sad to miss the Soulwax's performance but the Pet Shop Boys weren't enough of a draw for me. From everything I hear they made it worth while for those who stuck it out.
I hope that next year Bestival will return and continue to be one of the best festivals on the circuit and that it gets the good weather that the event deserves. Rob Da Bank has even spoken of his dream to get Kate Bush to play the festival. Personally, I would love to see Bon Iver, Lykke Li and Arcade Fire on the line-up. Come on Rob, please make it happen!
Early bird tickets for next year's event are yet to be released but you can stay up to date on all things Bestival by signing up to the newsletter location at the bottom of their website – www.bestival.net.
---