This felt like it was going to be something special this evening to be one of 200 lucky people with the opportunity to see Wolf Alice at The Joiners! The 2018 Mercury Prize winners had teamed up with the Music Venue Trust as part of the Revive Live campaign to play four intimate shows in Stoke, Frome, Swansea and here tonight in Southampton. Other notable names on the campaign are Sam Fender, Frank Turner, Rag 'n' Bone Man, Twin Atlantic, Tom Jones and Fontaines D.C, with the aim of the campaign to bring friends and communities back together to immerse ourselves once gain in the live music environment!
Arriving at the venue the queue was already around the block such was the anticipation to get in and secure a place as near to the stage as possible. One of the many great things about The Joiners is that it doesn't have a barrier between the crowd and the stage, you are literally on top of the band as they are playing and can pretty much reach out and touch them. This can be a nightmare for a photographer as you may have to annoy a few people to be able to take some snaps as close as you can, always good fun though and crowd shots are sometimes the best shots.
Prior to Wolf Alice playing this evening, we were treated to few acoustic numbers from lead singer Ellie Roswell's brother, Kevin. Kevin said he had literally just run from Piecaramba after eating a vegan pie in record time to make it in time for his mini set! Kevin was joined on stage by Wolf Alice's drummer Joel and keyboard player Ryan for the last number which was nice surprise.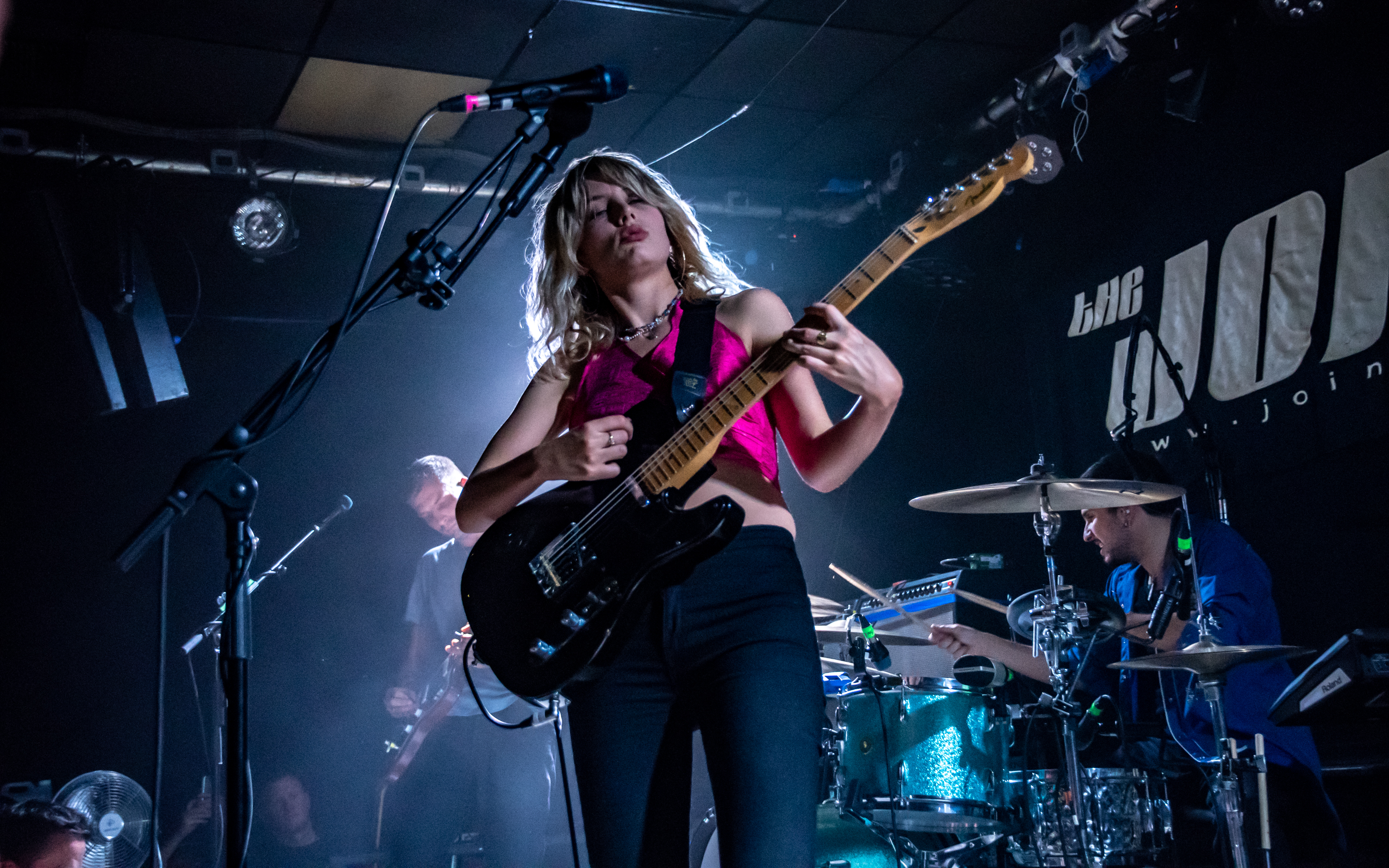 Another little gem about The Joiners is that bands have to walk through the crowd, from upstairs, in order to get to the stage, so you know before they hit the stage that they are on their way. The excitement and the energy is amplified in a such a small venue for such a huge band! Bassist, Theo, addresses the crowd and says what a joy it is to be back playing a small venue that gave them the springboard to where they find themselves now. Wolf Alice begin with 'Smile' from their current album 'Blue Weekend' before going straight into two older numbers "Beautifully Unconventional' and 'Formidable Cool' from their second album 'Visions of a Life'.
A cool moment happened right next to me between a fan and Theo as he laid down his bass guitar on the stage and asked her to keep an eye on it, which she duly did, such was the lack of space on the stage for all the instruments and pedals. We were continued to be treated to a mixture of new tracks including 'Lipstick on the Glass' (my personal favourite), 'How Can I Make It OK?' and the punchier, faster number of 'Play the Greatest Hits'. Ellie's voice is an absolute dream and is flawless during 'Safe From Heartbreak (If You Never Fall in Love)' with every word being sung back to her by the passionate crowd. I enjoyed hearing 'Giant Peach' and 'Bros' played from the first album, this reminded me of some good memories when I last saw Wolf Alice play the now-closed Pyramids venue in Portsmouth.
Tonight was a beautiful celebration of Wolf Alice, their fans, The Joiners and everything about live music!
---