Kate Tempest for me is currently one of the best modern-day storytellers around, her spoken word performances are incredible and the way in which she conveys this to her audiences is just beautiful. I am simply captivated from the word go. My Glastonbury Festival planning wasn't up to scratch meaning I missed Kate play in the summer so making sure I got to see her perform was imperative for me, the fact it was at one of my favourite venues, Brighton Dome, was an absolute bonus.
Kate Tempest released her third studio album, The Book of Traps & Lessons, on June 14th via Fiction/American Recordings, the album was produced by legendary producer Rick Rubin and Tempest's long time collaborator Dan Carey. For me her second album, 'Let Them Eat Choas' should have won the Mercury Prize in 2017 but was pipped by Sampha's "Process'. Kate's talents don't just stop at spoken word and making albums, she has published three poetry collections, a novel (which is a Sunday Times bestseller) and staged three plays.
Kate's UK tour see a number of support artists taking the stage and tonight we were being treated to the soulful sounds of Poppy Ajudha. I must admit (and I now can't believe) I wasn't aware of Poppy before tonight's gig but I definitely left a fan. For somebody so young, Poppy takes on topics of depth within her lyrics and her passion shines through during her songs and also in between, articulating herself wonderfully. I later learned afterwards that Poppy has worked with Tom Misch on 'Disco Yes' and has a huge fan in none other than Barack Obama. 'Devil's Juice' is a go to tune along with 'Love Falls Down'.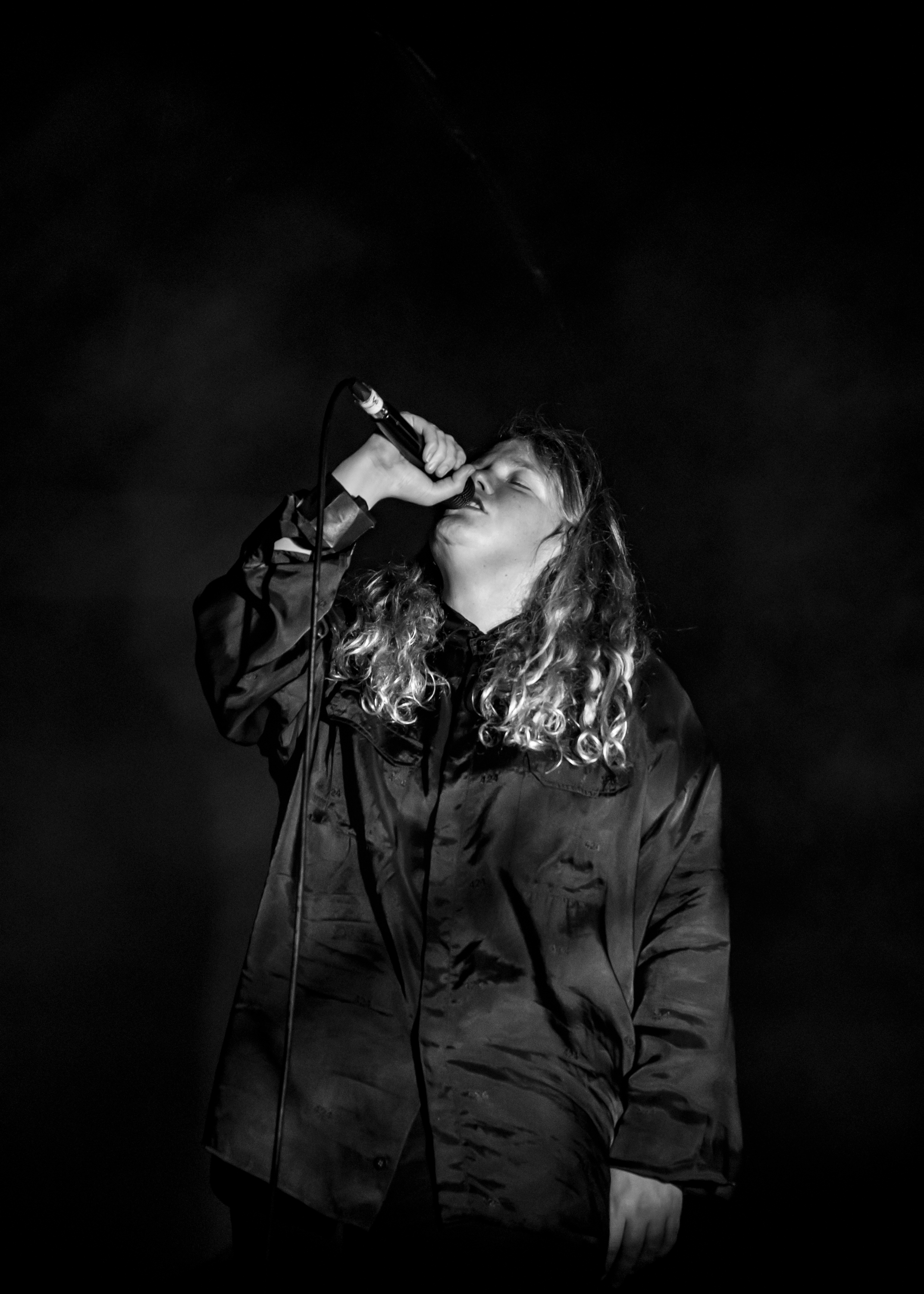 The stage for Kate was very minimal with just a mic stand, a circular backdrop and the keys for Clare Uchima to provide the beats. Kate's performance exploded from the off with 'Europe is Lost' which couldn't be more appropriate right now. I find the hard hitting lyrics incredibly relatable, Kate is, in my opinion, so in touch with the landscape of today. The delivery is ferocious, face paced and full of emotion. Dressed all in black, the first half of Kate's set is mixture of the first two albums, there is a brief connection with the crowd before playing the new album, The Book of Traps and Lessons, in its entirety. This is the beauty of the album in that it has to be performed as one long piece of art in order to tell its complete story.   The crux of this record see's Kate narrate the importance of us as people, be it through falling in love, the mistreatment of the innocent, sticking together and the relationship between power and love.
'I came to, under a domed roof' a lyric that couldn't have been more perfect for the moment towards the end of the performance of the new album. For an artist to captivate me from beginning to end during a gig is something special, and I wasn't on my own. I was hanging on every word that Kate was saying, like majority of the audience, and didn't want to leave the space for fear of missing any of the performance. The human connection that was all around me was a beautiful experience. The standing ovation, not once but twice, that Kate received at the end of the gig were absolutely spin tingling. To look around, with the house lights up, to see everybody on their feet showing their love for what they had just been apart of was incredible. Kate just stood very humble and in awe, accepting the love and energy that was duly being directed her way.
---