Frank Carter & The Rattlesnakes performed to a sold out Wedgewood Rooms, supported by Black Futures, a two piece electro psych industrial punk band from London who are definitely a band to watch for 2019.
Before now, I'd only ever seen Frank Carter perform as the front man for Gallows and at a live DJ set he did a few years ago, so I was looking forward to seeing such a huge personality at such an intimate, local venue.
Black Futures, a fusion of Enter Shikari, The Prodigy and The Chemical Brothers, in both sound and energy, were an unexpected pleasure. It's not often you discover a band as refined and interesting as the main act, and they stormed the Wedgewood Rooms, making a whole load of new fans in the process, myself included. They were outstanding and I'm waiting for Black Futures to announce tour dates so I can see them all over again.
With the crowd warming up, Black Future's intense performance had the venue vibrating as the duo delivered an adrenaline fuelled performance with pounding drums to match the heavy guitar and a sound machine, a perfect prelude to the main attraction.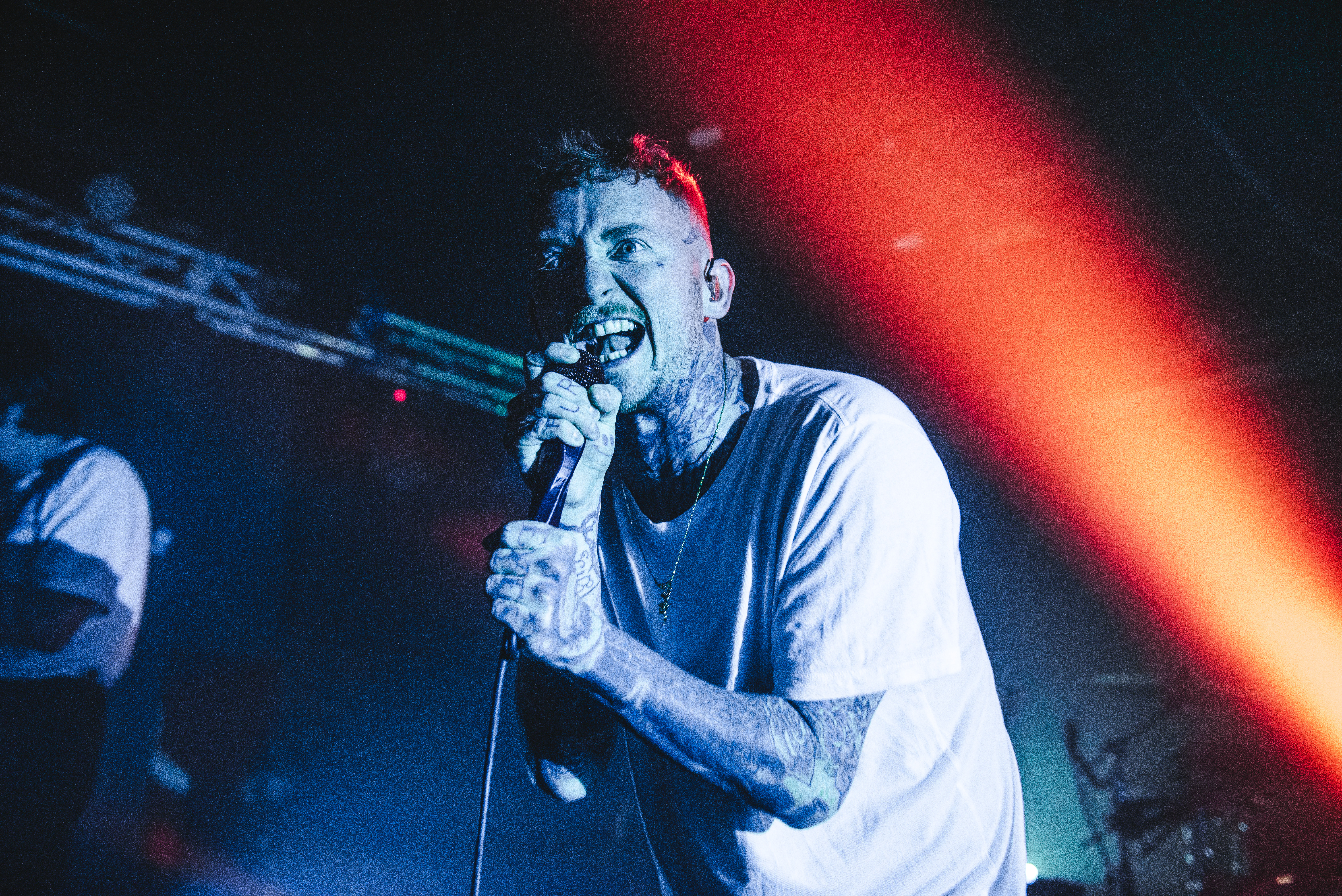 It wasn't long before Frank Carter & the Rattlesnakes were greeted by a wall of cheers and screams from an uplifted audience and they wasted no time before belting out fan favourites like Wild Flowers and Juggernaut, a full frontal punk explosion, before treating us to a mix of tracks from the past two albums, Blossom and Modern Ruin with new tracks Tyrant Lizard King, Heartbreaker, Anxiety, Crowbar and Kitty Sucker from the upcoming End of Suffering album, due out in May.
Stand out tracks were Juggernaut, Lullaby and Devil Inside Me and in-between a fired up Wedgewood Rooms, Frank decided to join the fans with a customary crowd surf of his own, ending with a handstand, held stead by cheering fans.
It wasn't all punk rock and antics as Frank took the time to highlight issues he has been outspoken on over the last few years, specifically mental health awareness. He spent time telling parts of his own story, and the struggles he faced and pleaded to people to stop and help others in their lives who are maybe facing their own battle with mental health. He went on to say how it's influenced his music and lyrics and took a moment to highlight that men do not need to feel like they have to hide and suppress their emotions or act like "real men" as that just results, more often that not, in internal rage, anger and depression.
Frank's honesty was refreshing, it's not often you see this from musicians in this genre of music but he didn't stop there. In another intermission, he called out men's behaviour at gigs towards women and created a safe space for ladies to crowd surf without being touched, groped or assaulted, it was empowering to witness these ladies crowd surf without fear and the crowd, both male and female fully supported it.
As the set drew to an end, the crowd could be heard whispering for an encore of undoubtedly one of Frank's biggest hits, I Hate You and, after a few minutes off stage, the boys were back to deliver a duet of sorts, with both Frank and the entire venue singing the lyrics together and you could see that Frank and the band had enjoyed the night just as much as the fans. A great ending to a fantastic night.
To experience Frank Carter & the Rattlesnakes at such an intimate venue was a privilege. These guys are extremely ambitious and have a huge following, proven by their already sold out tour. I can't wait to see where they go and I wouldn't be surprised to see them achieve their goals which, in Frank's own words are "…to make The Rattlesnakes the biggest band in the world. World domination. One stage dive at a time."
---