Anyone who read my review of last year's Warriorfest, or indeed my recent blog post about surviving a craft beer festival, will understand why self-preservation was at the forefront of my mind as I approached this weekend.
Warriorfest 2017 was, without doubt, one of the best, if not the best, beer event that I'd been too. So my concerns were two-fold; could the organisers, Staggeringly Good, match (or even top) the previous year and could I show some restraint when faced with a frankly ridiculously good beer list? Well it was a big piratey "Aye" to both questions!
After the success of 2017, Staggeringly Good took the brave but ultimately wise decision to spread the event over two nights, effectively doubling the number of beer lovers that could enjoy the fun and I understand that both sessions were close to sell outs. But thanks to the strict numbers policy of the dockyard this still meant that there was more than enough room to swing a cat of nine tails and I think the longest I waited at a bar was about five minutes.
The setting itself is as unique as it comes; HMS Warrior, the first iron-hulled armoured battleship, was launched in 1860 and after a wonderful restoration now survives as a museum and private hire venue. So when boarded by hundreds of beer drinkers the atmosphere, surrounded by cannons, muskets and cannonballs, is unmatched.
Music was provided by a number of local acts including Lady and the Dukes, Skaraman and the Bossard String Quartet, although if I'm being honest I was too busy enjoying the beer to really appreciate the bands. But I was delighted to see the return of the Shanty Buoys who roamed the ship, leading the tables of drinkers in rousing renditions of various historic tunes.
Food was provided by Need Street Food who offered a small but very tasty menu of Pirate Pork Dogs and fries, with veggie and vegan options available.
The setting, entertainment and food mean nothing if the beer line up isn't up to scratch but here is where Warriorfest truly excelled. As well as championing local producers like Southsea Brewing Co, Unity Brewing Co and Vibrant Forest, some of the truly great craft brewers from the UK and beyond were also represented including Deya, Cloudwater and Warpigs to name just a few.
I arrived as the doors opened and was clearly having fun as Warriorfest absolutely flew by! There was such a nice crowd of people there, so many old friends to say hi to. I'll be booking the 2019 event first thing Monday when I get to work. Stuart Barker
The beer list was so good that even if you missed something that you really set your heart on, there was something just as good for you to pick instead. I didn't drink a bad beer all night but the highlights for me were;
🍺 Deya's 'Invoice Me For The Microphone' IPA – classic haze from the Cheltenham based superstars.
🍺 Brewdog's 'Paradox' Single Barrel Absinthe Aged Imperial Stout – darker than the bottom of the Mariana Trench, this rare beast packs in the flavour but is scarily drinkable considering it's ABV in excess of 13%.
🍺 Vibrant Forest's 'Gyroscope' DIPA – a rare cask outing for this stunning double IPA crammed with citrus flavours.
🍺 Arundel's 'Maple Syrup, Chocolate and Coffee Stout' – I'd been itching to try this ever since it was released, every flavour listed in its name is present and it was a perfect beer to end the night on.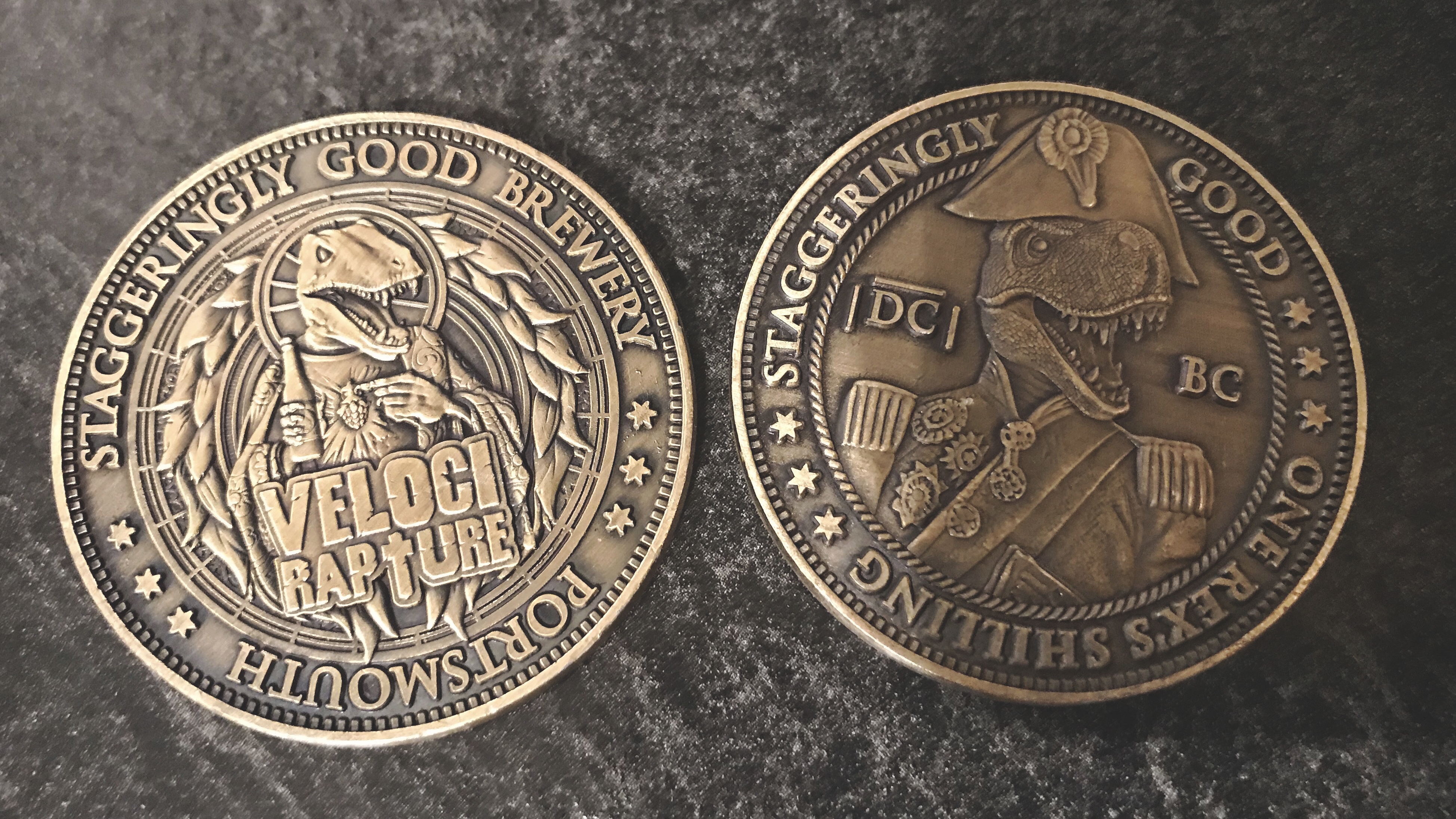 To keep things moving smoother at the bar the currency was token based; with a bag of six tokens costing £20 (working out as £3.33 each) or you could buy them individually for £3.50. Then depending on the beer a single token would get you a third, half or two thirds. It's a system that worked well and with the staff pouring by eye into your own souvenir glass most of the pours were on the generous side. I spent less than £30 on the night itself and certainly didn't feel like I went without or that I hadn't got my monies worth.
There are still small areas for improvement. For example I had trouble locating any drinking water at the bars I asked at, which would have helped not only to hydrate myself but also to rinse my glass when switching from a heavy imperial stout to a hazy IPA. But this is meant only as feedback and I'm sure these very minor quibbles will get ironed out as the event matures.
Overall Warriorfest 2018 was a huge success and amazingly an improvement on what was already a cracking event. I've already checked that I have the last weekend of July 2019 free in my diary as I don't want to miss what these guys bring next year.
---