Ever since Victorious Festival's early days at Portsmouth's Historic Dockyard, it promises to come back the following year bigger and better. With the addition of a Friday night opening party and off site camping on Portsdown Hill, the festival is clearly evolving into something to rival the biggest UK festivals. I wanted to say it had taken a couple of days to reflect on what we experienced and to gather our thoughts but let's be honest, it took a couple of days to recover before we could think about sitting down in front of a computer.
Over the weekend there was no sign of the rain that battered the site in 2015 and as the forecast predicted, the site was bathed in beautiful sunshine and high temperatures from start to finish. The site itself was a very similar layout last year's festival, the only omission was the silent disco tent. The Common Stage was again situated by the Naval Monument but this year it was under the watchful gaze of the ten-metre high archer in the new Strongbow Yard. Before the festival kicked off on Friday evening, there was a special event at the Strongbox Yard for winners of a competition, the winners not only had access to the Yard in the early afternoon but they also got to see Johnny Vaughan broadcast live on air on Radio X.
More importantly there (slightly biased!) there was an exclusive acoustic set from Tim Burgess and Mark Collins of The Charlatans. This intimate set in front of a small crowd essentially circled around their feet included some stripped down songs old and new as the sun set over in the west. They even took a request or two. This was an incredible start to Victorious Festival 2017 and a real warm up for their full set later in the evening on the Castle Stage…which despite some sound issues near the end was something very special.
Unintentionally colour coordinated
The big draws of the evening were Sundara Karma, The Charlatans and of course Madness. While Madness isn't everyone's cup of tea their hardcore following were out in force and the lapping up their performance which included many of their classics including 'One Step Beyond' and 'It Must Be Love.'
First stop (after the bar) was to see Blackfoot Circle play the Common Stage. With their name illuminated behind them, the band took to the stage with lead singer Jake Bezzina following soon after. During an early slot at a festival, it can often be difficult to get much of an atmosphere going, not a problem for these boys! There was a hefty crowd there considering how early it was, it included many of their die hard fans that never miss a show.
The Urban Vocal Group must surely hold the Victorious Festival record for having the most members on stage at one time. The 100 strong group took over the stage, well it was actually 101 if you include Musical Director and Co-Founder Amba Tremain. The group is an inclusive organisation, open to all abilities, no audition necessary and all completely free for young people. Offering music making opportunities such as recording, song writing, development and of course group singing!
The group serenaded the crowd with covers of tracks from the likes of Clean Bandit, Shawn Mendes, Snow Patrol and Macklemore. It was lovely to see the camaraderie between the group's members, they all appeared to be having a great time.
For many of the performers, it was their debut on stage. Amba described afterwards that "Stepping out onto a big stage with incredible sound and tech backing us up was exhilarating but then seeing the whole crowd supporting, cheering and singing along with us was priceless. Our singers will never forget that experience and we thank the Victorious team for allowing us to share our sound with everyone."
Following them were the Southsea Alternative Choir who played the first of their six performances over the weekend. While the Seaside Stage gave the best view of the band, it was their set on the Acoustic Stage which saw the best atmosphere and the audience singing along.
"Stepping out onto a big stage with incredible sound and tech backing us up was exhilarating but then seeing the whole crowd supporting, cheering and singing along with us was priceless." Amba Tremain
The Southsea Alternative Choir
Southsea Castle is such a fantastic venue and with a glass of bubbly in hand, it was the perfect spot to watch Jerry Williams perform on the Castle Stage. This was a much better slot for Jerry, in previous years she played quite early in the day and missed out on the bigger crowds. She looked at home on the big stage and her upbeat, catchy pop tunes were made to be played in the Southsea sunshine. She's sure to have taken home a few new fans after that show.
Closing out the festival on Saturday was the Welsh rockers Stereophonics and after their set was a large firework display. Slightly odd that this wasn't saved until the after Elbow or done on both nights, but hey, who cares it was great!
A firework display to cap off the Stereophonics set on Saturday night.
Victorious Festival again embraced the younger generation and the families with top activities to keep everyone entertained. The Family Area gave children, parents and grandparents the chance to explore a range of craft, entertainment and activities. The team from the Mary Rose Museum were camped out teaching the little ones how to joust. The Kings Theatre team handed out balloons and crowns while the University of Portsmouth's hosted their science experience tent.
Credit to the organisers for providing face paint fun, kids tee's, glitter, palm tree slushy cups, baby change tents with free nappies and wipes as well as comfy, shady breast feeding areas and ample space to pitch up with a buggy!
The large crowd greeted Kassassin Street with a huge round of applause as if they were welcoming back an old friend.
There was a buzz amongst the crowd on Sunday afternoon as they waited in anticipation for Kassassin Street to begin their set on the Castle Stage. The band are having a self-imposed hiatus in order to write and record some new music. The large crowd greeted the band with a huge round of applause as if they were welcoming back an old friend. Speaking of friends, there was even a cameo from local singer songwriter Jerry Williams who joined them on stage for 'Do or Die.'
Drummer Nathan Hill told us, "It still surprises us how big the crowds are when we play at Victorious. It really felt like everyone was behind us, even though technically they were in front of us."
Guitarist, Laurie Vincent and stand up, incredible drummer and singer, Isaac Holman graced the Common Stage as the belligerent two piece punk band, Slaves and what a performance! Red lights adorned the stage as tattooed boys bounced around the stage, shouting the chorus, smashing drums and bending chords. The lad's presence on stage was so energetic and in your face that you couldn't help but watch them even if punk isn't your cup of tea. When speaking with friends and festival goers to find out their highlights of the weekend, commonly the first name on their lips were Slaves. This was easily the most talked about set of the weekend!
When speaking with friends and festival goers to find out their highlights of the weekend, commonly the first name on their lips were Slaves.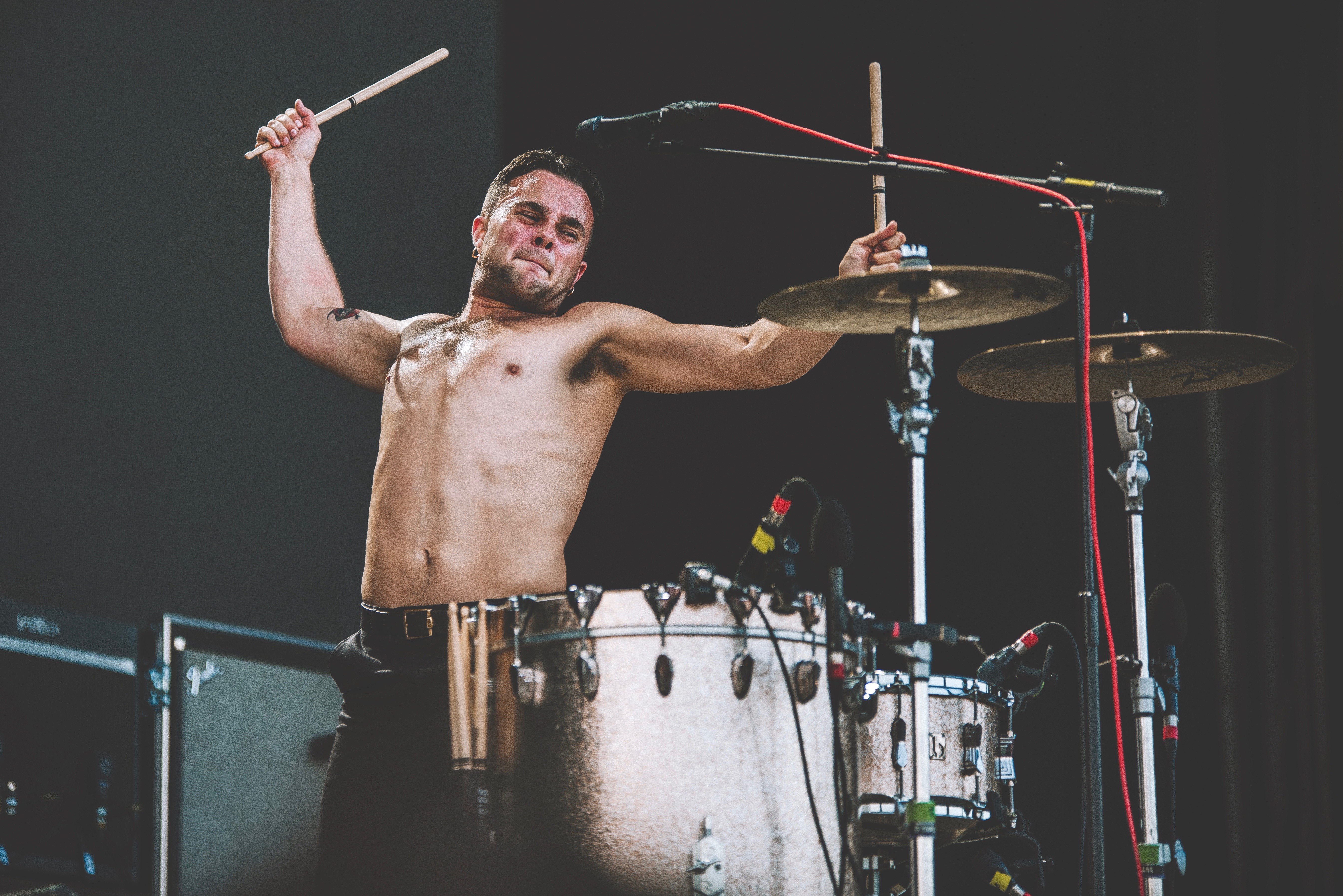 Following Franz Ferdinand, the organisers had saved the best act to last as Elbow closed the festival on Common Stage. Their set, much like the whole festival, absolutely flew by! It was a shame that we didn't get to hear 'Newborn' but there is bound to be a few casualties when you have a back catalogue spanning two decades. Guy Garvey was his usual delightful and charming self as he spoke to the crowd between songs. Guy even had the crowd rippling like the nearby sea in what I can only be described as a 'front to back Mexican wave.' A great way to end what had been such a fun day.
Of course, Victorious wasn't perfect! Frustratingly there seemed to be network problems across the site on Saturday. This meant that using your phone to communicate with friends and family was extremely difficult. There was one much publicised incident where a small group were doing their best to ruin things for everyone else but overall there was a lot of love and spirits were high among festival goers. Overall it was a glorious weekend and we can't wait to see what the organisers have in store for us next year. We're going to put a fiver on The Killers headlining in 2018. We did correctly call Stereophonics this year so who knows?
In the build up to the festival, Facebook was full of people trying to pick up cheap tickets. You can avoid the last minute panic by picking up your 2018 early bird tickets now! Prices start at £22 for Friday and £27.50 for Saturday and Sunday. Just visit www.victoriousfestival.co.uk/buy-tickets.
---