Those of you who have been to Gunwharf Quays over the past few months will have noticed the wooden egg floating in the canal. No, Mork has not come to Portsmouth on his holidays, it is actually the work of artist Stephen Turner. The 'Exbury Egg', a wooden egg-shaped sculpture became the artist's home and studio for over a year between 2013 and 2014. Aas well as displaying the sculpture Aspex Gallery are also exhibiting Stephen's work from his time living in the egg. Stephen's Exbury Egg was designed to the artist's original concept with PAD Studio in Lymington, Hampshire, built by Paul Baker and commissioned by Space Placemaking & Urban Design (SPUD) in 2013. I was fortunate to have some time with the artist so I could find out more about how he came up with the concept and his experiences.
Could you tell our readers about yourself and who (or what) inspired you to get involved in art?
I really got into art at school where I had, like many artists, a passionate art teacher. I still have about 30 sketchbooks that I filled up in the sixth form. I enjoyed making models and sculpture in clay too, and at high school, I did art, craft, woodwork, metalwork and technical drawing all as separate subjects until I was 16. I have always liked building things that prompted a love of sculpture as well. Then I went from there to University to study for four years at Leeds (BA Hons Fine Art) a grew a passion for art history and theory. There followed a year out with a studio in a friends attic and then I was lucky enough to get a scholarship to Canada to study for an MFA at the University of Regina in Saskatchewan. I can't remember ever wanting to do anything else. Having a childhood spent in the treeless streets of soot coated stone in Dewsbury in West Yorkshire, which was at the bleak black heart of the heavy woollen district (as it was called), I grew up hungry to go out exploring and discover a greener world.
How did come up with the idea for the project?
I was walking on the salt marsh on the estuary of the Beaulieu River researching the location for the artwork, when I almost trod on and crushed the egg of a Herring Gull. It felt really worrying that someone whose work was about caring for nature should have been so close to crushing new life underfoot.  That evening in my hotel in Lymington I had a eureka moment, a vision of living inside my own floating Egg as a symbol for nurture, new life and also the fragility of nature in the face of human action. I saw it straight away as a symbol connecting all of life since of course, everything living comes from the egg, or from its evolutionary partner the seed.
You lived in the egg for over a year. Can you tell me a little bit about your daily routine?
Being there was really about the great feeling of well-being engendered by tuning into nature. At a basic level, because I had no electricity for lighting, I got the habit of rising with the dawn and going to bed at dusk, so in the Summer my working day might begin at 4am and not end till 10.30 at night, whilst in winter I was asleep sometimes by 4.30pm. It felt good to be in tune with these diurnal rhythms as well as taking the daily pulse of the river as the Egg rose and fell with the tide. I loved this heartbeat of the river.
The sun was incredibly important. As well as keeping me warm and providing light to work with, it was the medium by which all my cyanotype photographs were printed onto the back of the recycled packing I had saved up in the Egg. Cyanotypes are a Victorian method of producing photographs called blueprints (they are sometimes known as Sun Prints). It was satisfying to respect and borrow the power of the sun in this way.
Exbury Egg on location on River Beaulieu at Exbury, Hampshire, 2014
How did your family and friends feel about the project?
Art is a very demanding practice and requires some measure of selfishness in order to respond comprehensively to the great curiosities of life. I agree with Socrates who wrote that 'the unexamined life is not worth living', so I have always put work first for good or ill.
'Everything Comes from the Egg' includes a range of different artistic styles and techniques including drawing, sculpture and photographs. I there a particular type of artistic style that you favour most?
I never really think about style or sometimes about art at all. I am just curious about our relationship with the world and anything I do comes out of trying to understand my relationship with the rest of nature and with whatever place I find myself calling home. I am excited and enticed by different threads and connections to my surroundings that demand to be realised in lots of different ways. It is ultimately an intuitive and also an intellectual thing. I may never use cyanotype again for example. It was necessary in this one moment, in this one place to connect with the sun directly. Then again it may be all I ever do… I can never predict where the work will need to go. Style is outside myself somehow.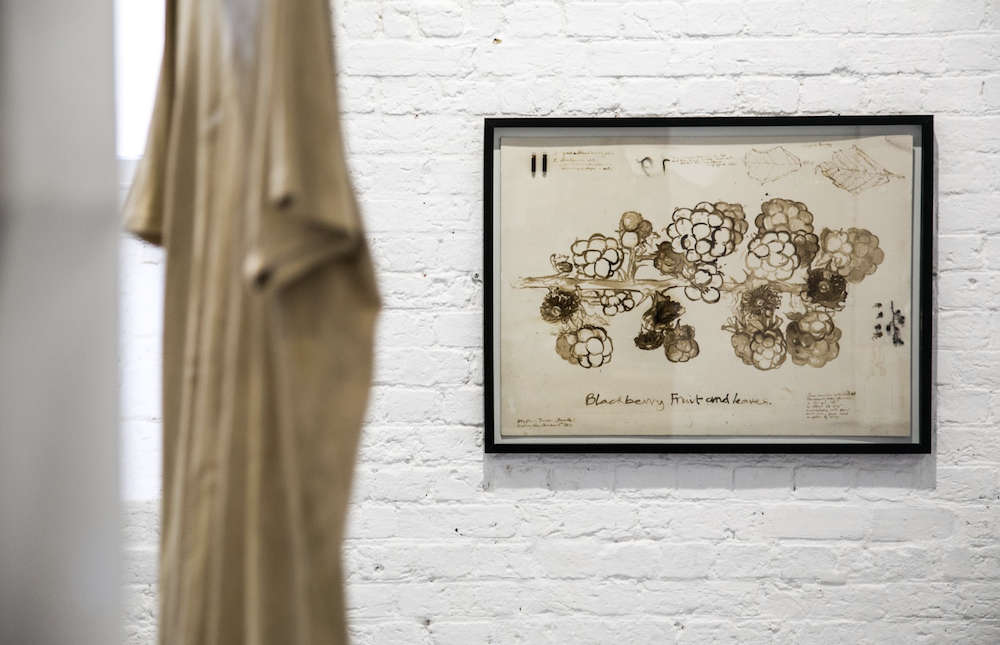 You have been involved in a few Q&A events at the gallery. How have you found being able to interact with the audience and how has their reactions to what you have achieved?
I am pleased that people find such a lot to comment on in the work I have made. There has generally been a lot of empathy. I think that many souls today are looking for an alternative and ethical way to live, for wellness in a world where we are increasingly out of step and out of place with nature. This gives us a shared starting point for lots of intersecting and interesting discussion!
The exhibition will run until September 3rd so make sure you don't just admire the sculpture but pop into Aspex to see how Stephen occupied his time. Once the egg leaves Portsmouth it will finish its UK tour at the Jerwood Gallery in Hastings between 16 September – 15 October.
---