At the turn of the 20th century cycling was hugely popular with people of all ages getting involved and with cycling clubs appearing all over the UK. Some of our local clubs started back then, such as the Portsmouth North End Cycling Club that dates back to 1900 and Portsmouth CTC which also goes way back. In 1908 it was a Portsmouth cyclist that rose up the ranks to compete in the White City, London Olympic Games, taking home to Portsmouth two Olympic Gold Medals.
Clarence Brickwood Kingsbury was born on the 3rd of November in 1882 in Portsmouth, he was the son of Martha Brickwood (née White) and William Salter Kingsbury. His mother Martha was previously married to Thomas Brickwood of Brickwoods Brewery. Clarence lived much of his life in Portsmouth, with his address listed as 41 Queens Road in the 1901 census (his occupation listed as 'cycle agent') and he died on the 4th March 1949 in his Southsea home.
As a cyclist, he was one of the first true greats in UK racing and a member of Portsmouth North End Cycling Club and Paddington Cycling Club. He started competing early, back in 1897, and won his first first place at an open event aged just 16.
Clarence Kingsbury at the Olympics
At the 1908 Olympics Kingsbury won two gold medals, one as part of the pursuit team (winning the title from Germany) and the other as the winner of the 20km race (with a time of 34:13.6). The final was a tough race and included his fellow Great Britain teammates Benjamin Jones, Arthur Denny and Leon Meredith. The race went as follows:
"…Kingsbury surprised himself in the 20km race…Kingsbury liked a straight forward race, but despite the visitors riding all over the track, sprinting one lap and crawling the next, he kept going in determined manner with B. Jones, the two other Englishman having punctured. Kingsbury raced in to the lead at the bell and made his great effort over the last half-lap, winning by inches from Jones." – Golden Book of Cycling
After beating the best racers from Italy and France and his own teammates Kingsbury had to leave immediately for the World Championships in Leipzig, so the daughter of  the secretary of a cycling official accepted his medals from Queen Alexandra.
White City, London Stadium in 1908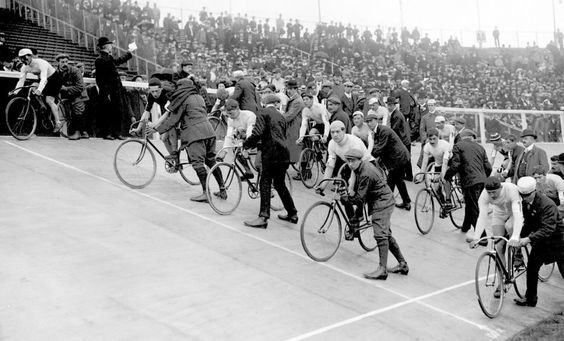 On the Line for the 20km, in 1908
Slipstreaming on the Bend on the 20km, in 1908
Team GB in 1908 Olympics, including Clarence Kingsbury
A Celebrated Cycling Career
On returning to Portsmouth thousands of fans lined the streets as he made his way to the old town square, where it is said over 15,000 people had gathered. Later that day at the Masonic Hall on Lake Road there was a celebratory concert with stars from the New Hippodrome Theatre.
Clarence Kingsbury's cycling carrier is incredible, as well as these two gold medals he was national champion every year from 1907 to 1912, a winner in all national championships from 1/4 mile to 50 miles, and competed in many world championships. In just one year in 1910 he won 33 first class scratch races. An incredible competitor and winner. Clarence Kingsbury's daughters Leonie and Thelma continued the winning family tradition and became leading badminton and tennis champions.
The Portsmouth Museum is now home to Kingsbury memorabilia including his cap and his gold medals are still in the possession of his family.
EDIT: This article has been updated on 4th September 2017 with details and clarification from the Kingsbury Family.
Clarence Kingsbury at 1908 Olympics
---