This year's 7th annual Strong Island Home Brew Competition will be back on Wednesday 1st March at Meat & Barrel in Palmerston Road. The rules are the same and last year we had our largest amount of entries and the strongest competition we've ever seen, year on year the competition grows stronger and stronger. In our 7th year we're hoping for more of the same!
We've had great success in the previous years of the Strong Island Home Brew Competition with ALL winners going on to have their winning brews re-brewed by Irving & Co. Brewers and sold in a range of pubs in and around Portsmouth. The judging panel will consist of Malcolm Irving from Irving & Co. Brewers in Portsmouth, Stuart Ainsworth who is Landlord of the Leopold Tavern and Alan Thompson of Get Brewing on Elm Grove, suppliers of every element of home brewing kit you can imagine. A good person to know heading into such a strong competition.
This year we are adding a new category and are opting for 3 categories in total for beers:
1st category will be the light beers. Not light in terms of ABV, but light in terms of pale ales, IPAs, APAs, blonde beers etc. Please note: if you are entering an Amber ale, Red ale or English Bitter please enter into this category. Also if you are planning on entering a Black IPA you will have to be in this category.
2nd category will be the dark beers. This will be open to stouts, porters, dark brown ales and winter brews.
3rd category will be the "Alternative Brew". This category is made to really let the skills be shown of your home brewing talent! This will be open to Saisons, Sours, Fruit Beers, Belgian styles (and there are lots!) as well as any other style that doesn't fall into categories 1 or 2.
If you are unsure as to which category to enter it doesn't matter, just bring your brew along with you and the judges will help determine which category it goes into. With that, the judges decision is final as to which category the beer goes in to so any questionable entries will be discussed with them prior to entry.
As with every Strong Island Home Brew Competition we will be awarding the 'Best In Show' to the overall winner as well who will have the honour of taking home the illustrious Strong Island Home Brew Tankard for the year. We will also be hosting the Cider category once again, an ever present favourite of Strong Island co-founder Tristan. Be sure to see him at the front of the queue for the post-event tasting of these entries!
Your brews will be judged on:
TASTE
AROMA
COLOR
CLARITY
DRINKABILITY
NAME/PRESENTATION/LABEL
You can enter as many entries as you like either as an individual or as a team. Whether you already are a home brewer or you really want to have a go for the first time and get involved, this is designed to make no boundaries and we fully encourage first timers as well as the seasoned professionals. Don't forget to drop by Elm Grove and check out Get Brewing for all your ingredients and equipment supplies.
We look forward to seeing you at the competition.
Happy brewing!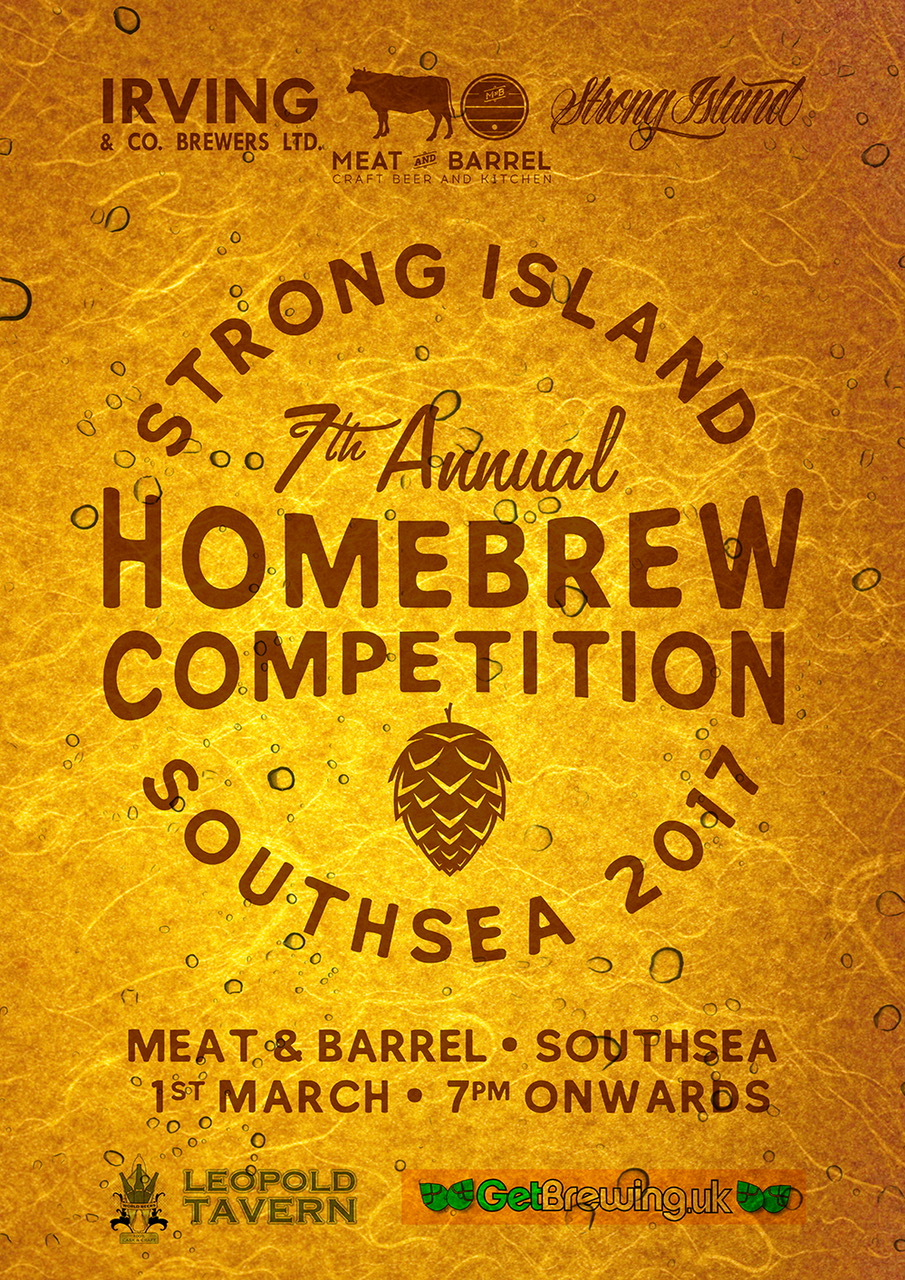 ---