It is just ONE week until we pay our annual visit to Bestival so we'd like to introduce you to a few of our must see acts at this years festival.
The act I am most looking forward to seeing at Bestival has to be Major Lazor. The American band consist of trio Diplo, Jillionaire, and Walshy Fire. Major Lazer was founded by Diplo and Switch after the pair were introduced after working with M.I.A.. The duo's first album Guns Don't Kill People… Lazers Do was released in 2009. Only a year later they were wowing audiences at Coachella and Pitchfork Music Festivals in America.
Six years on and with founder member Switch since departing the group released their third album 'Peace Is The Mission'.  Ariana Grande is one of the many collaborators and their track 'All My Love' is going to sound awesome over at the festival with what will no doubt be a huge crowd. I can't wait! If you find yourself at a loose end then I recommend hitting up YouTube to check out their cartoon series.
Facebook | Twitter @MajorLazer | YouTube
North London's Wolf Alice are another group that I've been listening to for years now but have yet to have the pleasure to see live. Sadly I just couldn't get tickets for their 2014 show at the Wedgewood Rooms so I'm looking forward to seeing them on an even bigger stage at Bestival.
Initially as a two-person band in 2009 the band now a four piece consisting of Ellie Rowsell (vocals, guitar), Joff Oddie (guitars, vocals), Theo Ellis (bass) and Joel Amey (drums, vocals). The name Wolf Alice was taken from a book Rowsell stole by Angela Carter from the school library. Wolf Alice is a child raised by wolves. Even though she is physically a woman "Nothing about her is human except that she is not a wolf."
As well as earning a reputation as a great live act with live shows across the UK and abroad the band have received mainstream recognition with award nominations from the Brit awards, Grammy awards and an Ivor Novello award for 'Bros'. Their debut album 'My Love Is Cool' was also nominated for the prestigious Mercury Music Prize.
Facebook | Twitter @wolfalicemusic | YouTube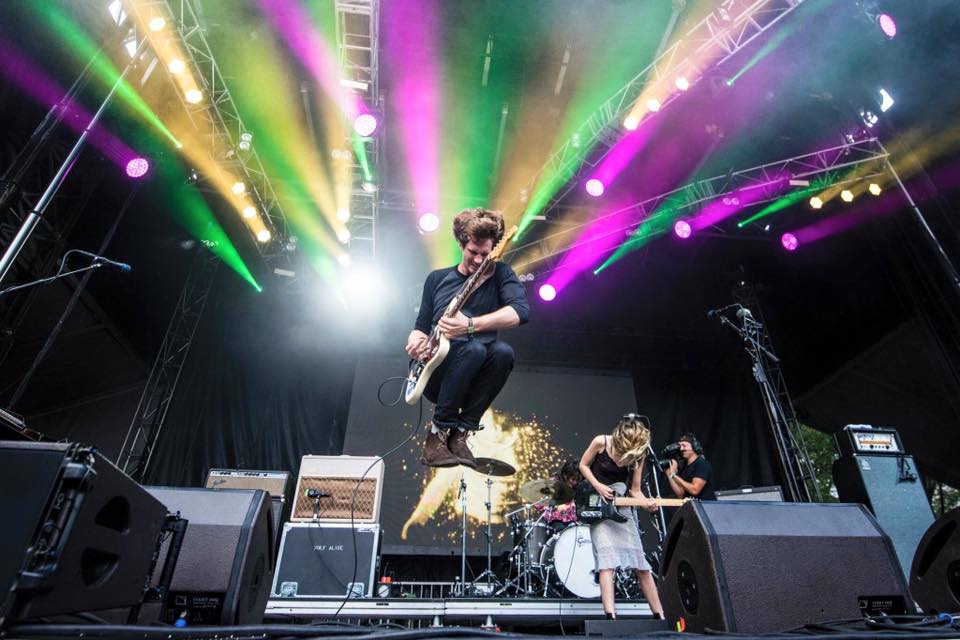 South London's Loyle Carner first came to my attention when he was named on the BBC's Sound of 2016 list and then I was fortunate enough to see him in person while at Blissfields back in July.
It is quickly evident that Carner delves deep into his own personal experiences when writing his music. His track 'Cantona' was written after the death of his influential step father, who was obviously a huge fan of the former Manchester United striker. Similarly the video to 'Tierney Terrace' features his mother and brother and was filmed in his family home.
Facebook | Twitter @LoyleCarner | SoundCloud
Animal Collective are a group of four friends who grew up playing and recording music together in Baltimore County in the United States. The four friends are Avey Tare (David Portner), Panda Bear (Noah Lennox), Deakin (Josh Dibb), and Geologist (Brian Weitz).
Trying to describe Animal Collective's sound isn't an easy task. The band's experimental approach has drawn comparisons to various genres including folk, rock, ambient drone, and psychedelia. The best way to understand the band is to take some time to listen to them. The three tracks I would start with are 'My Girls', 'Golden Gal' and 'Prospect Hummer'.
Facebook | Twitter @anmlcollective | YouTube
The 22 year old South Londoner Izzy Bizu grew up being exposed to great voices of Ella Fitzgerald, Marvin Gaye and James Brown. Within Izzy's debut album 'A Moment of Madness' you can hear more modern influences from the likes of Amy Winehouse, Erykah Badu and Lianne La Havas to create a fusion of soul, funk, jazz and pop.
Izzy's first steps into becoming a professional artist was back in February 2013 when she won an ILuvLive open mic competition in Camden. In the crowd that night was DJ Naughty Boy who told the BBC Newsbeat that "She was amazing. Who is this girl. Why haven't I heard of her? Not in an arrogant way just like, this is amazing."
Harrison Mills (CatacombKid) and Clayton Knight (BeachesBeaches) of Odesza met while studying at Western Washington University. After building up a bit of a following online they released their debut album 'Summer's Gone'. Since it's release they have performed at a host of leading festivals including Coachella, SXSW and Lollapalooza gaining a reputation as one of the best live electronic acts around.
Last but not least there's one band that encapsulates the spirit of Bestival more than any other this year and they are Hot Chip. I've lost count of how many times they have appeared at the festival. For me their most memorable performance was on the main stage back in 2008. This came after the festival had been battered by heavy rain and the crowds moods we also dampening. They managed to raise everyone's spirits and for a few hours the crowd forgot about the mud underfoot.
It was their second album 'The Warning' that thrust them into the mainstream and earned them a nomination for the 2006 Nationwide Mercury Prize and was Mixmag's Album of the Year 2006. Last year saw Hot Chip release their sixth album 'Why Make Sense?' which features stand out tracks 'Huarache Lights', 'Need You Now', and 'Started Right'.
Bestival takes place on 8th and 11th of September. If you would like to be there too then you can get your hands on tickets from their website www.bestival.net. If you would rather pick up your ticket in person then fear not, as we are an official Bestival ticket retailer.
Get a physical Bestival ticket for £207.50 (with a £1 charity donation included) and be entered in your competition to win individual Strong Island festival goodies, including a tee, pac-a-mac, enamel mug and beer koozie. Just pop to Strong Island Co at 12 Highland Road, Southsea, or give us a call on 02392 426 205 to reserve tickets.
You can find Bestival on Facebook and Twitter @Bestival, YouTube and Instagram @Bestival.
---