ILLUSTRATOR WITH AN EYE FOR DETAIL AND TV & FILM FAVOURITES
Illustrator Scott Collier's work recently really caught our eye, so we thought we would find out a bit more about Scott and his highly detailed illustration. All the more so with the new series of Game of Thrones dropping this weekend…
How did you get started in illustration?
I have always drawn for as long as I can remember. My Grandfather was an exceptional oil painter and by spending a lot of time with him influenced my passion for Illustration. It was a subject I got on well with at home and was quite good at from an early age.
What sort of things inspire your work? Other artists & Illustrators?
I am a huge fan of TV shows and films, from classics to current releases which most of my work is based on. I have always had a fascination with TV, as a kid I grew up reading Transformers comic books and later on Frank Millers' 300 and Sin City works. The inked illustrations are incredible because of the unusual perspectives he uses. I have some of his books on my shelf. This encouraged my love of black and white illustration in particular, greyscale and monotones are my preference. Colour is something I have to work hard at.
My favourite illustrators at the moment are Tyler Stout, Hellovon, Ken Taylor, Matt Taylor and Kingsley Nebechi, however, this list could be never-ending. I Love Dust is a company that I follow closely.
…I have always had a fascination with TV, as a kid I grew up reading Transformers comic books and later on Frank Millers' 300 and Sin City works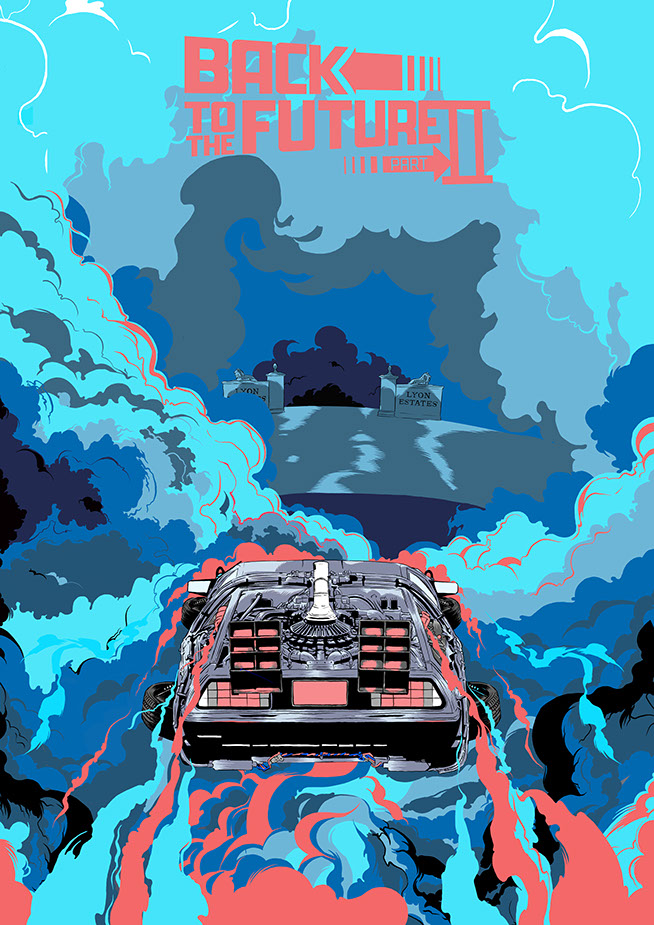 …Detail has always been a strength of mine
Your work reminds us a bit of Tyler Stout, is his work an inspiration?
Tyler Stout is an illustrator I discovered recently. I have to say, since seeing his artwork it has influenced on me. The level of detail Tyler uses is something I try to replicate in my own work. Detail has always been a strength of mine and it's people like Tyler who keep me working harder for it!
What is your process for creating a piece of work? Freehand or digital?
I try to do both freehand and digital work. I started off very much freehand working with thick papers, inks, brushes, different pens and pencils but It really depends on time. Graphic tablets developed and because of the added benefits of working digital (can be edited and manipulated greatly) I switched to that to see what it was like. I would love to do more things freehand but time constraints make it difficult. I have gotten into a good rhythm with digital at the moment. I started off with a Bamboo tablet years ago, then a Cintiq and then for more convenience I recently (December 2015) bought the Surface Pro.
Some of your designs you're made available on tees, are you looking at developing your designs into that area?
I would love to do more designs for t-shirts specifically. I have many graphic Tees in my own wardrobe. But the t-shirt designs I currently sell are part of a wider apparel selection using some great websites that sell my designs. I sold a GoT Tyrion portrait throw blanket and cushion cover which was really cool. I also create my own lettering and typography by freehand and then vectorise in illustrator, I would love some of that printed on Tees. The great thing about t-shirts is everyone wears them.
You reference a lot of popular culture favourites, what are your favourite subjects to work with these days?
My favourite subjects have always been creating portraits of people. Whether that is real celebrities or popular fictional characters, I just love it. Capturing their expression and summarising their character in an illustration can be quite powerful. Being able to capture the exact look of a person is a something that I have always challenged myself with. I have developed this by doing several character portraits and placing them together. When I am excited about a TV show or film release, I want to express that excitement by posting my portraits on social media to celebrate the storylines and lifelike characters with other people who share the same interest.
I am thinking of producing a House of Cards illustration in the near future (this is currently one of my favourite shows).
With the new series of Game of Thrones dropping on Sunday, you've been dropping on your Instagram some GoT work, who is your favourite character?
My Favourite Game of Thrones character is Bronn, he has by far the best one-liners in the show. His dry wit is joy to watch in the episodes and I would be huge backer of a Bronn spin-off! He is also one of the main characters that hasn't been killed off yet! (fingers crossed!)

A big thank you to Scott for sharing his work, you can see more below and be sure to follow Scott on Instagram and visit Scott's website:
---