Warning, this article has nothing directly to do with Portsmouth…what it does directly have to do with is the changing perceptions of value of culture and also a grass roots movement in London to try and save the Undercroft, what many people may know as the part of Southbank populated by skateboarders for over 40 years.
In the last year the Southbank Centre have published, without any consultation with the users of the space, plans to redevelop the Undercroft in to retail units (shops & restaurants). The space has been the unofficial home to British skateboarding for decades and is thought to be the oldest skate spot in the world that still has continued use. Generations of young and old people have used the space for creative expression n a variety of different ways and these people are now trying to engage with the SBC in trying to save the space and it's legacy. The SBC want to make a new skatepark further down the river and are not engaging with Long Live Southbank in any positive way, instead they have put their PR machine in to high gear and seeming wilfully ignoring the organic, historic hotbed of youth culture happening right under their noses.
Long Live Southbank is made up of a wide range of young, creative people who are now politically engaged with a successful campaign to register planning opposition to the plans with the council, which in this climate of apathy is something special all by itself. Beyond that, it is the very users of the space that are utilising their creativity in music, photography, poetry and film to help raise awareness, with this new short film the culmination of this hard work. The film aims to make clear the issues at hand and also to help raise awareness of the current situation.
The watching of this short film is absolutely recommended, not only does it shine a spotlight on some critical issues that effect the arts and culture in the UK right now but it is also a story of people coming together, representing their own community and aiming to take on large, heavily funded institutions trying to prescribe what is art & culture to the wider population.
If you want to find out more visit: www.llsb.com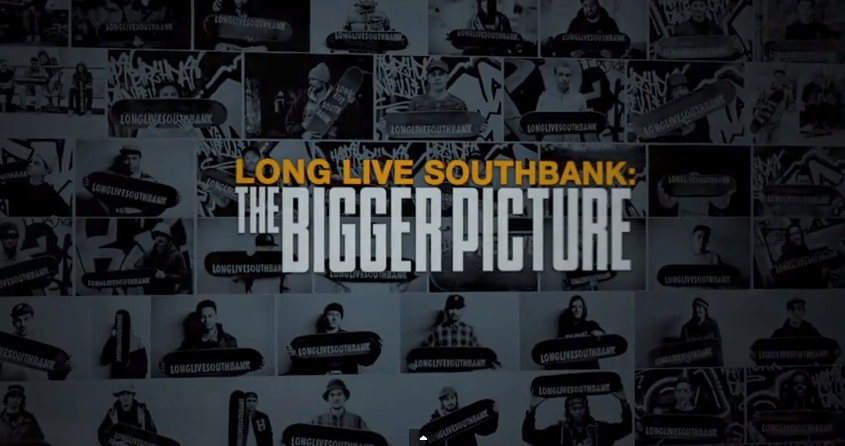 ---