Blissfields Festival begins on 5th July at Vicarage Farm in Winchester. Portsmouth will be well represented at the festival with an eclectic mix of artists performing over the three days. In the build up to the festival we will be showcasing those artists involved.
Local four piece band Bellyeyesmile can be seen playing Blissfields on the saturday in the Bradley Bubble stage. The band includes Ben Glass (guitar), Dick Williams (guitar), Jack Capon (drums/vocals) and Stevv Jones (bass).
Ben from the band says "We're influenced by most music we hear and see, whether we think it's any good or not. Most of the bands we love only have a subtle, but vital, imprint on what we do. Captain Beefheart, Air, Can and Cardiacs probably deserve honorable mention."
"It'll be the biggest festival stage we've played, and a month after we're playing a week of gigs in Europe. Both experiences will be out of our comfort zone, which is ideal for learning what we do, and most importantly how to adapt. It'll be an interesting summer."
Bellyeyesmile have a massive online presence, you can find them on Facebook, Twitter, YouTube, SoundCloud, Earbits and Last.fm.
If you were unable to get a ticket for Blissfields then you can catch Bellyeyesmile at any of the following shows.
July 5th @ Butler Pub, Reading
July 12th @ The Birdcage, Portsmouth
July 13th @ Caversham Festival
August 9th @ Olgas Rock, Oberhausen, Germany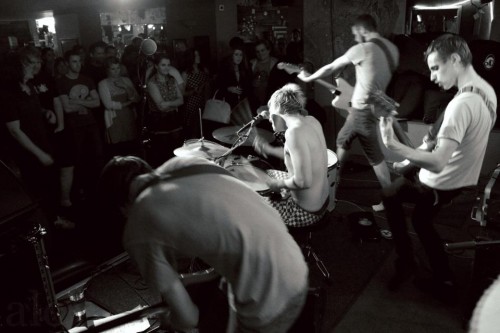 ---