British Sea Power weighed anchor at Southsea's The Wedgewood Rooms last night with a sold out show as part of their current tour promoting their new album Machineries of Joy. After many, many years of BSP tours missing out Portsmouth we have been particularly lucky in recent years with this being the third visit in recent history (previous shows were also at The Wedgewood Rooms and The Pyramids).
The set was a little unconventional and was split in two, the first half formed a more downbeat, thoughtful, insightful thirty minutes featuring some serious gems from past albums. With everyone warmed up on stage stepped Brighton's Milk and Biscuits and with a bashful introduction they launched in to their '5 songs' with happy abandonment. With a sound mixing a little Stereolab (particularly in their new single), a little Belle and Sebastien and maybe a little echo of Blur. Seriously recommended. Also, great to see the lead guitarist let rip, showing a cardigan doesn't have to mean you keep it a bit dour.
The second part of the British Sea Power set saw them audibly expand with a seamless rush of some of their finest including Apologies to Insect Life (accompanied with a dancing Polar bear…Apologies to Arctic Life?), Lucifer, Remember Me, Waving Flags, Machineries of Joy and ending the set with a bone and heart vibrating rendition of their 2003 Apologies to Insect Life joint A side, Carrion. Overjoyed to say that personal favourite 'Lately' was allowed to unfurl to it's 10+ minutes glory. This song was their set and stage destroying finale way back when I saw them in Harlow in 2002 and it was a little wonderful to see it return. Last song was a heart bursting Spirit of St Louis, raising the crowd up in to a high before dashing us on the rocks, with the show over and a cold night awaiting. The bear hugs from the black bear and polar bear were only consolation. Cannot wait for next time.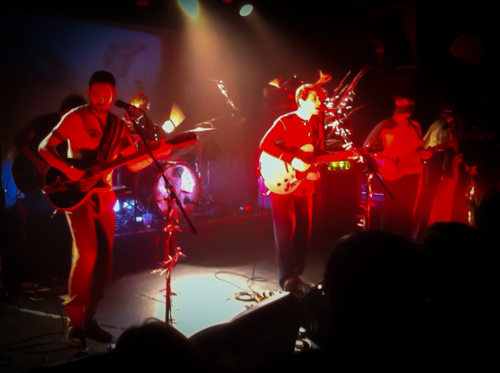 ---