GLAND ROCK returns for its second outing on July 5th for the one-day charity festival in aid of Feel Yourself Campaign – promoting cancer awareness for men and women. Situated at The Wedgewood Rooms and Edge of The Wedge in Southsea, Portsmouth, the event ran by Strong Island Recordings, Champagne Justice and Creation for Causes will have incredible live music alongside stalls brimming with an assortment of food, records, clothing and art. Entry is £10 and tickets can be purchased here.
The first Gland Rock, in November 2013, included the likes of Esben and The Witch, Wild Smiles, Traams, The Hundredth Anniversary, Bloodsport, Fever, Shudder Pulps and many more. This year Gland Rock 2014 is led by legendary British outfit The Telescopes formerly on one of the greatest record labels of all time Creation Records and remains as eclectic, electric and impressive, featuring a unique blend of lauded acts and exciting prospects on the ascent. The Telescopes have been hailed as "brilliant" with a "very real and crazy originality that carries fat tons of wallop" by The Wire. Steve Lamacq has championed the band since their inception and they have been described as "in another universe altogether… incredible" by NME. The Telescopes' spiralling blend of psyche, shoegaze and visceral noise is like no other and Gland Rock is delighted to welcome them as our headline act for 2014.
Also on the line up are the likes of God Damn, AK/DK, Playlounge and Flamingods who have all fast become favourites of gig and festival goers across the country. Elsewhere, we have the bewilderingly exciting Omi Palone and Human Hair, two of the capital's finest new bands.
On the home front, Southsea is gainfully represented by the bombastic Curxes, You're Smiling Now But We'll All Turn Into Demons, Is Bliss, Rickyfitts, Deluxe Flamingos & Eloise Keating.
Champagne Justice, Creation For Causes, and Strong Island Recordings are proud to bring you Gland Rock 2014 in aid of Feel Yourself Campaign! You can listen to the line up below of the acts playing Gland Rock and check the Facebook event HERE.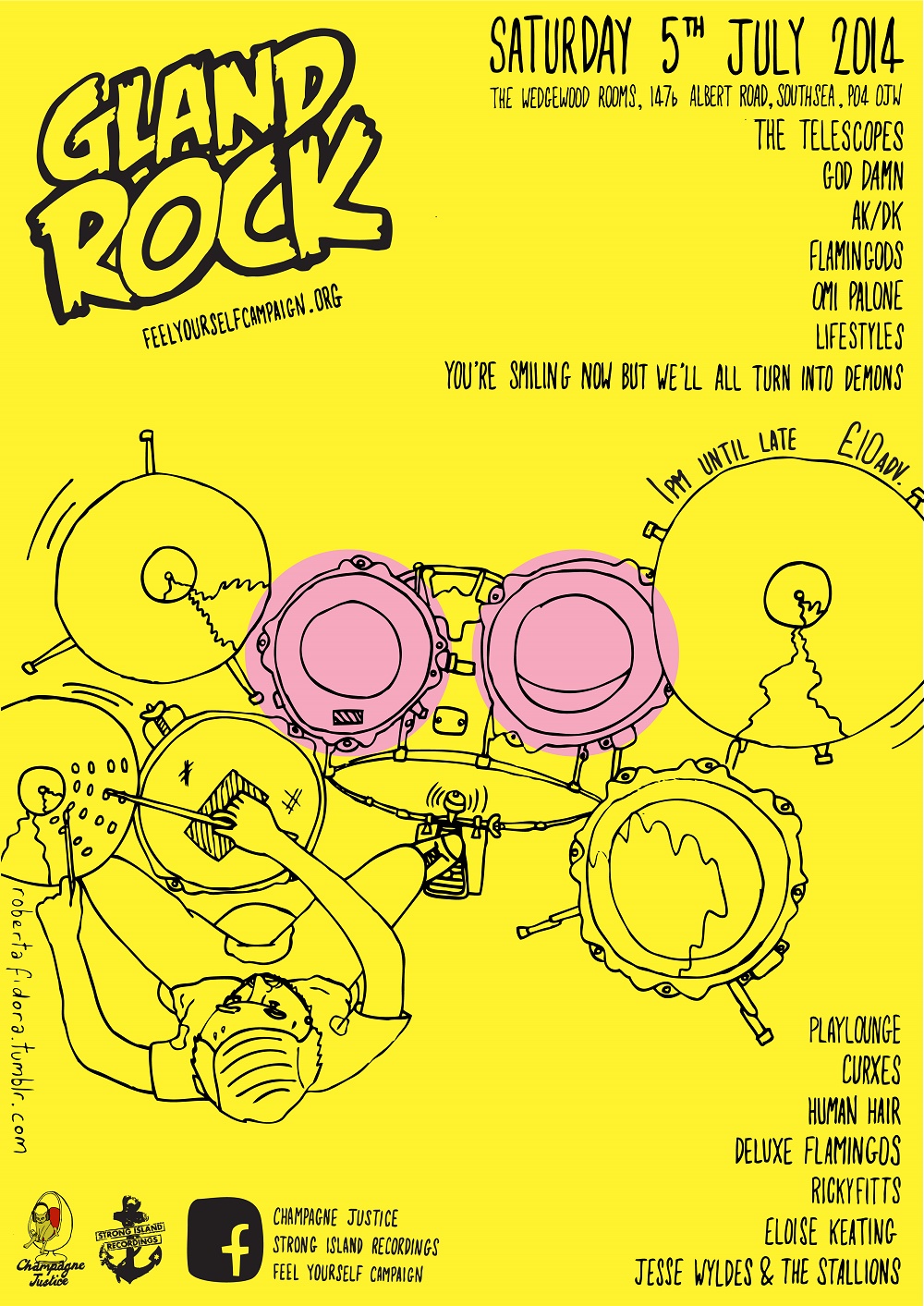 ---