More prizes added, and a sneak peak of what's been collected so far…plenty more to come!!!
It's hard to believe we've have been going since 2008. So much has happened in such a short space of time. Juggling our day jobs whilst trying to keep Strong Island in momentum isn't an easy task but with the support we've had over the years it always seem to work out. From putting on our Raffle and Christmas parties, to setting up exhibitions and events, running competitions and even setting up a small clothing line and record label, the help we've received over the years is immensely appreciated. We hope in some way that doing these little events shows our debt of gratitude to everyone.
For all your support over the last 5 years we'd like to say a big thanks and invite you to our 5th Birthday Party on the 3rd October. Our good friends at Little Johnny Russells have agreed to let us hold the party at their pub on Albert Road, Southsea and we'd be stoked if you could join us.
There will be a Charity Raffle with prizes from a variety of local artists, photographers, retailers, friends and much more besides, as well a few freebies. If you came to the 2nd, 3rd and 4th Birthday Raffles you'll know they were a huge success, and we have raised close to £3000 for the Portsmouth RNLI and Portsmouth Autism with over 200 people in attendance each time.
There will be raffle tickets for sale on the night for £1 each, or £8 for 10 and ALL proceeds will go towards the Portsmouth RNLI, Feel Yourself and Portsmouth Autism Support Network, with the winning numbers being drawn at the end of the night.
As always there will be a limited supply of free drinks on arrival as well as a background playlist supplied by Charlie from Longlive. We're hoping Austin can make it be the compere, and when all the prizes have been handed out there will be an after party with a selection of Southsea finest playing us out with a DJ Mash Up Mix Party. For the lucky people who get in first there will also be a homemade Strong Island Birthday Cake from the awesome people over at Leaves Cuisine…
We would like to say a huge thank you to everyone that helps contribute to Strong Island in one way or another. We really couldn't have made it this far without our readers, friends, contributors, & the people who make Portsmouth and Southsea what it is. Please share this around as much as possible and see if we can hit capacity at LJRs.
We have already had some outstanding prizes donated and here's a list of JUST SOME of what's on offer…
Lee Casey – Pompey Print
Head Hairdressing – X 10 Hair Cuts & Product
Paul Mamo AKA Nine-o – Custom Stencil Art
DVMission Film Festival – Film Tickets
Pie & Vinyl – Meal Voucher & Tie Dye Tee
Rachel James at Freak Static – Artwork and Tees
Hillfield Trading – Tees, Hoody, Tape Lamp
Terri at Portsmouth Historic Dockyard – 4 X Tickets to Portsmouth Historic Dockyard
Terri at Portsmouth Historic Dockyard – 4 X Tickets to Victorian Festival of Christmas
Stu Trett at Ye Olde Bike Shoppe – Custom 5th Birthday Bike
Pompey Supporters Trust – Fratton Park Hospitality Tickets
Angelo Room 237 – Unconfirmed Radness
Joe Watson – Framed Print
Matt Howarth – Print and ILD goodies
Tom at Signature Clothing – Tee and Stickers
Anglepoise – Lamp
KST – Meal Voucher
Paul Thurlow – £250 Location Photo Shoot
Love Southsea – Sweatshirt
My Dog Sighs – Can & Print
Geoff at The Wedgewood Rooms – Comedy Tickets
Seb at Etch – Strong Island Clock
Spence at Petting Zoo – Print
Sikes – Tattoo
ALL CAPS – Nine-O and Lex Luther art
Mark Persuad – Unconfirmed Radness
Ellie Stokes at Spinnaker Tower – Pair of Tickets
Paul at Durty – Tees and CDs
Pete Codling – Drawing or Print
Joe at The One Eyed Dog – Tees
Sarah at Rosies – Rosie Vouchers
Susan Stokes at Southsea Greenhouse – Veg Bag
Sopranos – Vouchers
Caleigh Illerburn – Coasters or Print
Alex at Herbal Skateboards – Deck
Anna at Shoal Seaside Living – Shoal Gift
Tara at Southsea Coffee Co – Lunch for 2
Tara at Southsea Coffee Co – Mugs and Tees
Aspex – £25 Voucher for Craft and Design space
James Batchelor at Job Site – X2 Pompey Tickets – PFC VS Bury 19th Oct
Ami Lowman – Prints
Andrew Whyte – Prints – Legography and Long Exposure
Anna martin at Shoal – Apron and Tea Towel
Barry & Roo Abrook – Unconfirmed Radness
UK Flyers – Custom Tote Bags
Lou Bush – Hand Made Toy and Blanket
Sue Meredith – Old Portsmouth Mixed Media Print
Koh Thai Tapas – Meal Vouchers
Stuart Barker – Strong Island 2014 Calendars
…we are hoping there will be lots more besides. Plenty of art, prints, meals, drinks, tickets, odds, sods and all sorts. Of course there will be a good supply of Strong Island items on offer too so fill your pockets with cash and dig deep to raise money for the Portsmouth RNLI and Portsmouth Autism. See you there…
The Facebook event can be found HERE.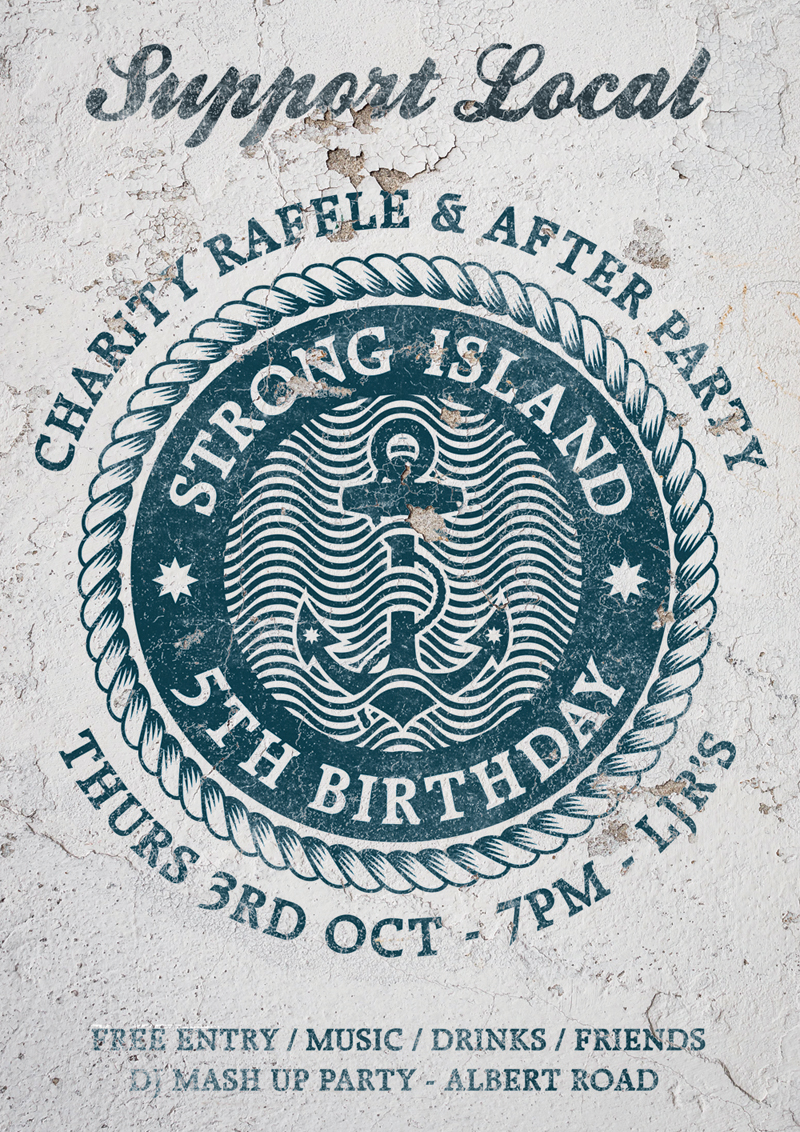 ---