Sophie Perryer has returned to Strong Island with her review of this years Portsmouth leg of the Road To Blissfields competition. The winning act earns a slot at this years Blissfields Festival.
Lead singer of Lucifer's Gold Rossco said of Blissfields Festival 'it's a major deal for emerging bands and unsigned talent and I think Mel and Paul have done a fantastic job.' Quite right too, and this year's Road to Blissfields on Saturday night was a chance to witness first hand some of the local burgeoning talent which has arisen over the past year.
First was up and coming acoustic prodigy Jerry Williams – at the tender age of 17, her sweet, light-hearted lyrics betrayed her youth and the appreciative catcalls from the crowd during her set from her ever growing fan base show that this girl is going far. Stating Jake Bugg as her major influence as to her entry into the music world (and even mentioning him in one of her songs!), her breathy, clear voice drew comparisons to Gabrielle Aplin and a songwriting ability akin to Blissfields' veteran Dan Smith, lead singer of Bastille, which lead to her earning a very well deserved slot on the acoustic stage at Blissfields this year.
Following Jerry was Lucifer's Gold, an indie-rock/blues blend of avid festival goers who hooked in the audience with distinctive guitar solos which spoke for themselves. Citing a veritable cocktail of influences from multiple eras including Stevie Ray Vaughn, The Beatles, The Stones, Hendrix, Johnny Cash, and Oasis (to name but a few), the highlight of their set was their final song, 'Lady Novella,' a heavier track which demonstrated the boys' ability to build up suspense and work the crowd into a frenzy.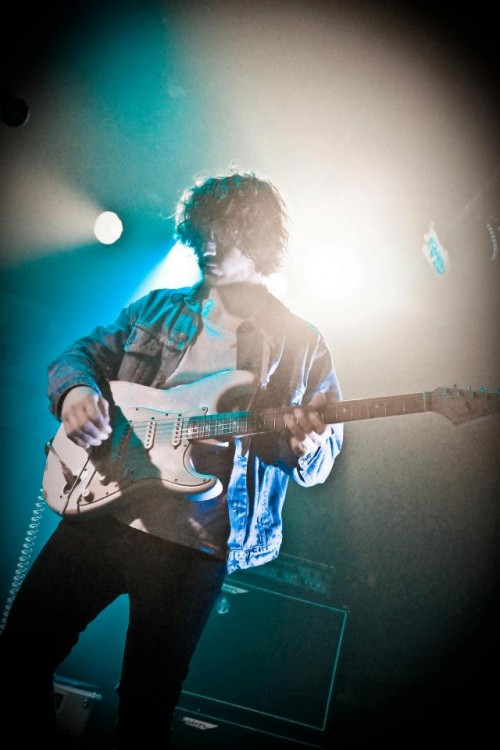 As the drinks continued to flow, the third band, Is Bliss, took to the stage. Although only formed in early 2012, the boys have come such a long way, playing in venues widespread over the South Coast and supporting respected artists such as Robin Guthrie and Nine Black Alps, and their sound combines classic rock influences such as Nirvana or Guns and Roses with more alternative/indie elements such as My Bloody Valentine or Primal Scream. The slow drum beat combined with hazy vocals on the track 'Desire' made for a very hypnotic sound and drew the transfixed crowd from every nook and cranny of the Wedgewood Rooms to watch the boys – combined with rich, echoing vocals and deliberate, melodic guitar, it made for a very memorable performance.
Following them was Fine Lines, the indie rock brainchild of a solo acoustic project by lead singer Gareth Ashworth. The stark contrast between the ethereal, choir-like voices of the female vocalists combined with almost Metallica-esque guitar made for an unforgettable show and entranced the audience further into their alcohol-induced slumber, and the diverse nature of their tracks was appealing to eldest and youngest members of the crowd. However, it has to be said that the most remarkable element of the show was the hairstyle of the lead singer – you have to see it to believe it!
Last but certainly not least was Silhouettes, the ex-residents of the Wig and Pen pub who brought an infectious ska and reggae based sound which drew comparisons both to Bob Marley and former Road to Blissfields winners BigTopp. Portsmouth born and bred, the five piece played over 50 shows last year including our very own Victorious Vintage. Overall, RTB was a fantastic evening which showcased some incredible local talent.
A huge congratulations to winners Is Bliss, good luck for Blissfields 2013, and in the words of their bassist 'all the other bands were fucking brilliant as well, so respect the other bands'.
Blissfields itself has now sold out. Those of you lucky enough to already have tickets can keep up to date with further announcements by Facebook and Twitter.
All photo's by Daniel O'Neill. You can see more of his photography on his Facebook page HERE.
---