We've been a massive fan of locally based photographer and filmmaker Adam Prosser for a long time now. We're not the only ones, his admirers include previous clients, film critic and broadcaster Mark Kermode, The X Factor's Sam Lavery and Composure Ethan Johns.
Adam has kindly allowed us to share a recent series of portraits taken during last month's Record Store Day at Pie & Vinyl. The photographic portrait series discovering the vinyl aficionados that line the streets overnight, in an effort to procure the coveted limited edition pressings offered by the contemporary vinyl revival.
Adam set out to find out what is it about vinyl that excites those that dig through the crates in search of their favourite music, preserved in sonic wax? How does a once obsolete medium forge a physical and emotional connection to music in the digital age?
The analogue portraits were photographed using Kodak Portra 400 film and a Rolleiflex camera.
Riky – Sigur Ros 'Liminal Remixes'
Riky, one of a determined group at the front of the line every year started queuing in the afternoon, the previous day.
"For me, a big part of buying vinyl is the artwork. The bands can really make the most of the packaging and create something beautiful. My favourite purchase today, Liminal Remixes by Sigur Ros was a limited press of only 1000 copies so there is a fear that it could sell out."
Liam – The Courteeners 'St Jude'
Although Liam joined the already growing queue the night before, a singular target saw him the first to leave Southsea's Pie & Vinyl with a prized LP for his collection.
"I've been after this album for five years! I was at the records 10th anniversary show in Manchester so when I knew this was being released today, I had to be here for it. Some of the original pressings go for £400 on eBay so I got a bargain. I'm off home to bed now."
Sam – The Stooges 'The Stooges'
Pleased to cross The Stooges off his hit list, Sam was keen to stress the appeal of the physical nature of the vinyl format.
"A record on vinyl is an entire piece of art from the music itself to the sleeve design. You really have something to show for your money so it's a good investment. I like the fact that you can sit down and listen to side A and side B, a journey as the artist intended the record to be heard. That is something that is lost on CD and digital download."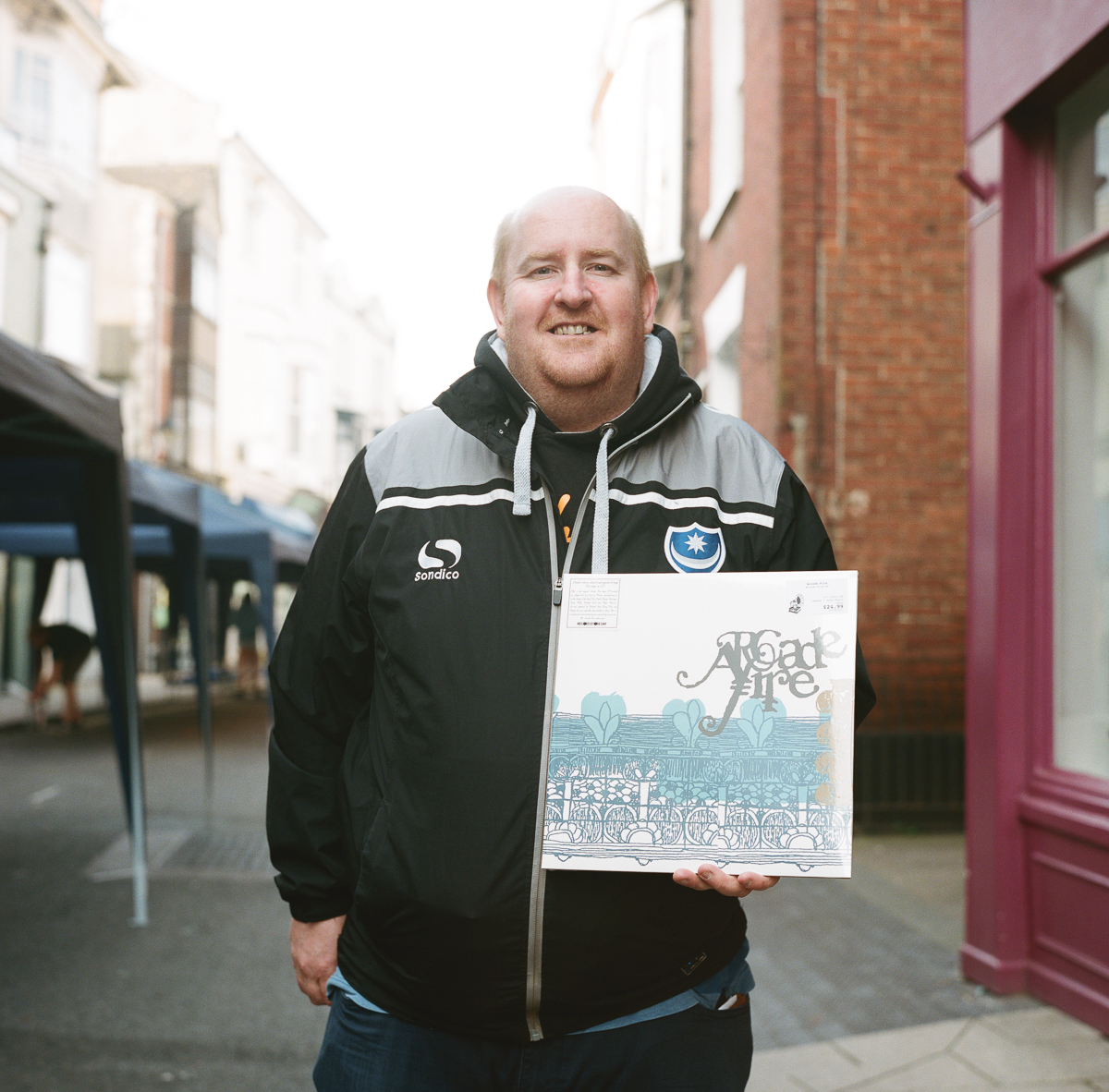 Graham – Arcade Fire 'The Arcade Fire EP'
A new collector, Graham was influenced by his friends who were already keen record hunters.
"I got into buying vinyl a couple of years ago when my girlfriend bought me a turntable as a Christmas present. My mates were already collecting so we go out looking together. I just love the natural sound of vinyl."
Kath and Robin – Daughter 'Music From Before The Storm'
The couple who settled in Southsea a few years ago were thrilled when Pie & Vinyl opened. Robin is the writer of local music blog Breaking More Waves.
"We just love it! We like to support our favourite artists by getting a physical copy. We have so many we have had a carpenter specially design our music storage at home. We feel like collecting records really makes a home. The connection music offers amongst people is wonderful. When you have people over nobody asks to look at your hard drive but they love to look at and listen to vinyl albums."
Imogen – Yet to go in store for fear of buying everything
Vinyl lovers visited Southsea from surrounding areas like Imogen from Chichester who has had a 20 year break from collecting vinyl.
"My all time favourite album is Ocean Rain by Echo And The Bunnymen. I just love the sound quality of vinyl, the size! I love to hold the sleeve and admire the cover. I've got loads of indie mixtapes as well and I've never downloaded any music, ever."
Dave – Led Zeppelin 'Rock 'n' Roll'
There is a real social atmosphere on Record Store Day with friends picking up records for others in their group to ensure they get their favourites.
"There's a real camaraderie on the day. Our group gathers the day before and it's always a good craic. We know what each other are after so always keep an eye out."
Jordan – Tim Burgess 'As I Was Now'
Younger music fans like Jordan got introduced to vinyl by family members.
"Growing up, my Dad always had records so I've always played them. I've got a lot of stuff from the 60's, Pink Floyd and loads of garage singles, stuff like that. The one album I was after most was Tim Burgess, As I Was Now. Love it. I like the fact you have to go to a little more effort to put a record on, it forces you to appreciate the album more. And, the cover artwork is great."
Ian – Madness 'I Do Like To Be Beside The Seaside'
A huge fan of Madness, Ian only turned out for their fresh off the press offering.
"I've been a fan of Madness since 1979. I had to have this LP. I've got all their albums, four times. One sealed, one for the house, one for the car and one
for my van. I'm going home now to put this with my collection."
Ian – The Rolling Stones 'Their Satanic Majesties Request'
They know me down here.
"I've been collecting albums for 50 years."
Karolina – Pink Floyd 'The Piper At The Gates Of Hell'
Cassettes were a gateway for a lot of people toting 12 inch on the day. Karolina had gotten back into collecting again after, sadly, losing her old collection.
"I started collecting records again three years ago having gotten a new record player. Mostly I was re-buying my favourites from years ago but this year I was mostly out for new releases."
---