JOHN MAINE'S STONE SCULPTURES LINE THE SOUTHSEA SHORE
Note: This article was originally posted on the 8th December but has been updated on the 19th after finally tracking down the exhibition guide book 'John Maine, Sculptures and Drawings' from 1986. The book detailed the Portsmouth Markers project in far more detail, located the now lost marker and even identified where one of the other markers had been moved over the years. See below for more details.
Public art in any village, town or city can have many different roles: it can be representative of the culture, heritage and people of that location…it can be inspiring, confrontational, controversial, fun, engaging…and the sculpture or installation can stand proud and impossible to ignore, or it can subtly merge within the artwork's location and landscape.
Portsmouth has many different pieces of public art scattered across the city and lots of these have come and gone over the years, a lot like people coming and leaving the city. We'll be discovering and exploring these pieces of public art through a series of articles, starting off with a modern piece public art that has in particular really stood the test of time: the artwork 'Portsmouth Markers' by Royal Academy of Arts sculptor John Maine.
…but unlike most pieces of modern public art one in particular has really stood the test of time…
Travelling west to east, the first of the stone markers sits at The Point in Old Portsmouth, overlooking Portsmouth Harbour.
Each of the stone markers has a beautifully weathered texture from their almost 50 years at their different locations along the seafront.
Photo of Nicholas Pope's 'The Arch' installed at Portsmouth City Museum in 1974 (copyright unknown).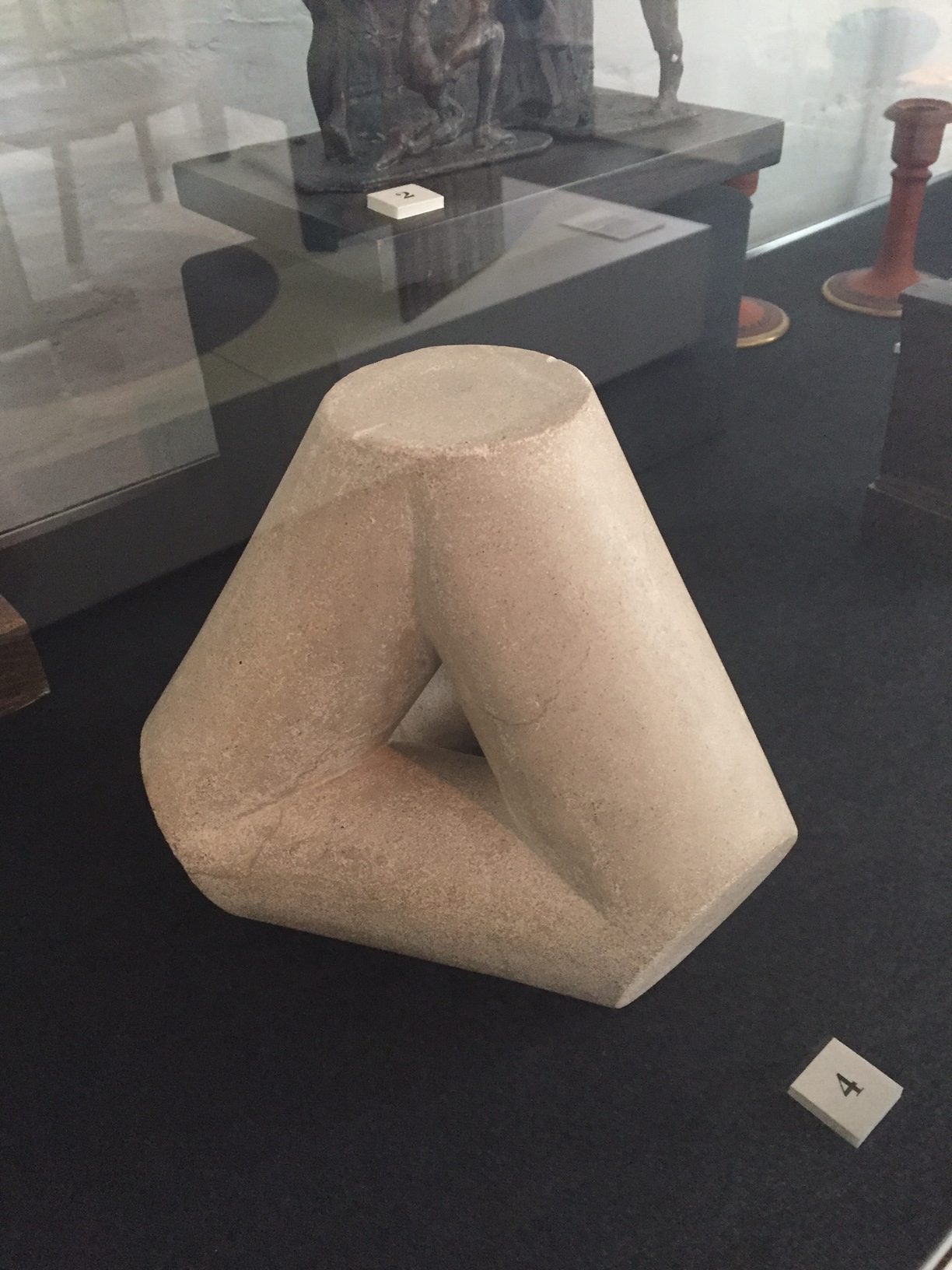 John Maine's scale test model or 'marquette' of his markers, made from Portland Whitbed stone. An intermediary carving in Portland Stone is also in the Libraries Loan Collection in the Borough of Camden.
City Art Project: Portsmouth and Southsea 1974
The story for these unassuming sculptures begins back in 1974, where Portsmouth's Museum Service teamed up with Southern Arts Association for City Art Project, a city-wide celebration of contemporary art with a number of outdoor installations and projects plus an exhibition at Portsmouth City Museum. For the project 16 artists from a wide variety of disciplines were invited to create artwork, the artists taking part included Nicholas Pope, Gordon Richardson, Russell Roofe, and John Maine.
Few of the artworks created during the project remain and details of even the full list of artists taking part is difficult to hunt down. One interesting piece created by Nicholas Pope was a wooden arch made out of oak (entitled 'The Arch' 1973) that was installed in the grounds of the City Museum. Nicholas Pope represented Britain at the Venice Biennale 1980 and his work can be found in the permanent collection of the Tate, and The Stedlijk amongst others. Sadly the piece decayed in the ground and was removed and somewhere along the way has disappeared or been destroyed. 
…Few of the artworks created during the project remain and details of even the full list of artists taking part is difficult to hunt down….
To show the diversity of this exciting project you can move from sculpture to contemporary art with the piece by Gordon Richardson & Russell Roofe, who were both Fine Art lecturers at Winchester School of Art. The flying sculpture involving 12 red kites flown from Southsea Castle and once all were airborne "investigate the relationship between an ideally conceived two-dimensional ground plan and it's spacial consequences". Sadly on the day winds too strong and resulted in lost kites, broken strings, etc. Plans, models, wind surveys, etc, were displayed at the city museum.
This art project back in 1974 has sadly not left many traces in contemporary times. There is precious little information available about the background to the project, the artists involved and the artwork created and exhibited…apart from Portsmouth Markers by John Maine. John Maine's work is maybe best described by Cass Sculpture Foundation:
"John Maine's work is concerned with landscape, land forms, ancient sites, structures within nature, mathematical systems, solids, surface planes. He is particularly consumed with stone and works predominantly with Portland stone from Dorset where he lives. Drawing on traditional technique and echoing sculptures historical manipulation of stone Maine creates minimalist and formalist compositional works with recognisable architectural influences".
The second in the series of stone markers sits at what would have been the old barracks in Old Portsmouth when it was installed back in 1974.
John Maine The Artist
John Maine RA was born in Bristol in 1942 and studied at the University of the West of England in Bristol and then at the Royal College of Art. After graduating, he became the first fellow at Gloucestershire College of Art and he then set up a sculpture studio in Shoreditch, London, and travelled widely. Influences from these journeys (especially to Mexico) strongly affected his work. John Maine's first solo exhibition was held at the Serpentine Gallery in London in 1972 and his work as part of City Art Project in 1974 was then followed by group exhibition The Condition of Sculpture at the Hayward Gallery, London in 1975 & A Silver Jubilee Exhibition of Contemporary British Sculpture, Battersea Park, London in 1977.
From here John Maine's career has involved some incredible installations and projects such as the instantly recognisable 'Arena' on the Southbank outside The National Theatre which he carved in-situ (see a beautiful photo of the sculpture HERE) plus The Chiswell Earthworks, Portland, Dorset (1986-93); The Lewisham 2000 project (from 1991). In more recent years John Main has worked on large installations such as a stone arch on Weston-super-Mare seafront, 'Sanctuary', installed at Salisbury Cathedral plus 'Ascension' the SAS memorial window and sculpture in Hereford Cathedral.
John Maine has received many awards over the years, including The Mark Rothko Memorial Trust Award (travel to USA and Mexico, 1979), an Elephant Trust Award for Chiswell Earthworks (1990-95) and a Henry Moore Foundation Award (1991). John Maine was elected Royal Academician in 1995.
The third of John Maine's markers is located on the seaward point of The Spur Redoubt, the remains of a naval fort, from which Nelson left Portsmouth for the last time.
The markers are often though to be of a similar design to depth markers that also line the coastal edge of the Southsea seafront highlighting underwater obstructions or low water.
Each of the markers has their own distinct views through their tetrahedron form.
The six markers form a sort of route along the seafront, starting off (going from west to east) at The Point in Old Portsmouth, overlooking Portsmouth Harbour…
The Six (or 5) Stone Markers of John Maine
For the City Art Project in 1974 John Maine created six different hollow tetrahedron sculptures carved from Whitbed Portland stone. Each stone measures 687mm x 687mm x 687mm . The blocks were initially sawn by The Stone Firms Ltd and the carving done at their then Portland works over a period of six months by John Maine with advice from their stone masons. Portsmouth Markers was then installed at different points along the Portsmouth & Southsea shoreline. These pieces were unlike many of the other works in the project as they were clearly designed and made to last, created from hard wearing stone and set permanently in at their different points.
The six markers form a sort of route along the seafront, starting off (going from west to east) at The Point in Old Portsmouth, overlooking Portsmouth Harbour. Back in 1974 this area would be difficult to recognise as it is now, with a working Camber, power station and no Spinnaker Tower.  The second marker is located at The Round Tower and The Hotwalls and at the time of installation this would have been the old barracks by the arches.
The third marker sits out at the southerly seaward point of the historic Spur Redoubt, a fort that helped form the sea defences with Long Curtain and King's Bastion. This is possibly the most striking (and most photographed) of all of the markers, with it standing proud in the sea view.
The next marker can be found up on the hill behind the Bandstand. The last one can be found in Castle Field. This marker has at some point been moved from its original position up on the Outer Emplacement.
One of John Maine's markers overlooks Southsea Bandstand and The Solent.
View out to the Solent through the Bandstand's marker.
The markers are often missed or forgotten about, such as the one on Castle Field.
…There's a ring of fortresses around Portsmouth and each has its own sphere of influence, its own arc of fire: when that sphere of influence wears out, there has to be another one to take on…
In The Artist's Words
John Maine talked about his 'Portsmouth Markers' sculpture project in a publication in 1986, reviewing his major projects up to that point, with the Portsmouth project the first on that list:
"I didn't want to put up monumental sculptures, I wanted the sculptures to have an interaction with the site, to use them as a kind of punctuation…I'd been interested in the tetrahedron as a sculptural form for some time. It was a collision between what had been a formal interest – I'd done a lot of work previously based on tetrahedrons – at this point the tetrahedron took on a kind of external reference, at a time when the sculpture stopped being hermetic and started to be a sort of sensor in a place: something that was changed because of the place it was in and also changed the place that it was in.
The idea of having the pieces at some distance, often not visible from each other, was to restate the feeling I'd got from seeing military plans, the way fortresses are set out. There's a ring of fortresses around Portsmouth and each has its own sphere of influence, its own arc of fire: when that sphere of influence wears out, there has to be another one to take on. I'd hoped that just at the point people were beginning to forget one they'd come in sight of another.
There were certain puns that came in to it unintentionally. Southsea Castle is one of Henry VIII's string of fortresses – there is another fortress from that series on the coast next to Portland – in the exhibition area of that castle I saw plans of all the castles: they all had concentric walls because of the state of warfare at that time, and they're often rose-shaped with a central circle, and quite a lot of them had one centre circle with three circles on either side, so almost like one of the pieces in plan, quite extraordinary, – it was a pun, really, because I'd already made the piece, but I'd always liked these fortresses too…you find things in life – in architecture, in this case military architecture – that were a reflection of something I'd liked, and been drawn to in the piece…" 
The last of John Maine's stone markers (going west to east) located in Castle Field.
The Missing Marker
It is open to argument if public art should complement & settle in to the environment or if it should be loud & proud, impossible to miss. John Maine's markers have watched the world and the city change for almost 50 years and as such maybe they have disappeared from view in a way, as people walk by them day by day.
These clean, repeated and beautiful stone forms crafted by a hugely respected artist connect us with our city's heritage but that by being weathered can age, can settle in to the city's landscape & environment and subsequently become part of Portsmouth's character, part of the heritage as the city moves forward. Few pieces of public art in Portsmouth can make that claim.
Hold up, I thought there were 6 markers? Yep, you are right, there were. At some point over the years a marker has disappeared. The story goes that one of them was damaged by builders during some development work along the seafront and sadly it was lost. The exact original site of this missing marker is difficult to nail down but from photography taken when they were first placed it would be what is now the entrance to Blue Reef. When installed originally the Blue Reef building had not yet been built so maybe it was damaged at some point during the construction.
Want to find out more about John Maine RA? You can see many of the artist's projects and keep up with any new works at:
If you know any more information about the markers or the City Art Project please get in touch!
Written by: Paul Gonella
Photography by: Paul Gonella
Sources: The Evening News, Portsmouth Central Library, The Royal Academy of Arts & Cass Sculpture Foundation. Artist's statement taken from 'John Maine, Sculptures and Drawings' exhibition book published by University of Essex in 1986.
---