On the 18th January 2018, Making Space is partnering with The Rowans Hospice to host a fundraising exhibition and auction event to bring their 10th Anniversary celebrations to a close. The event is themed around the material 'Tin', which traditionally is associated with 10th anniversary celebrations. Professional artists and makers are invited to submit work, which showcases their individual creative talent and inspiration, responding to the theme of Tin.
Open Call For Artwork
Making Space is now doing an Open Call to professional artists and makers to submit work for selection. As a maker, you have free reign on how you wish to decorate, customise or use tin within your submission, you could even use the material tin to create something new or respond to the theme of Tin using a different medium all together. It's completely up to you.
Tins can vary in size from small food tins up to bigger biscuit tins, but all submissions must meet specific health and safety guidelines (details available from Making Space). Please read these beforehand and note that if these H&S guidelines are not met, Making Space reserves the right to refuse your submission for exhibition. In order to produce a professional show, we will be selecting pieces from all the submissions to ensure a high level of craftsmanship and variety in the final curated exhibition.
All pieces included in the show will have a reserve/minimum price of either £20.00, £30.00 or £50.00 depending on the size and complexity of the piece. From the final sale price the artist will receive 30%, 30% will go to Making Space and 40% will go to The Rowans Hospice.
The Tenth Tin
Making Space will also be asking 10 professional associated makers to donate work which will be included in 'The Tenth Tin'. This LARGE PRIZE TIN will have a list of makers who contributed but the contents will remain a surprise until the event.
Find out more HERE and contact Kate at admin@makingspace.org for proposals or to receive an application form.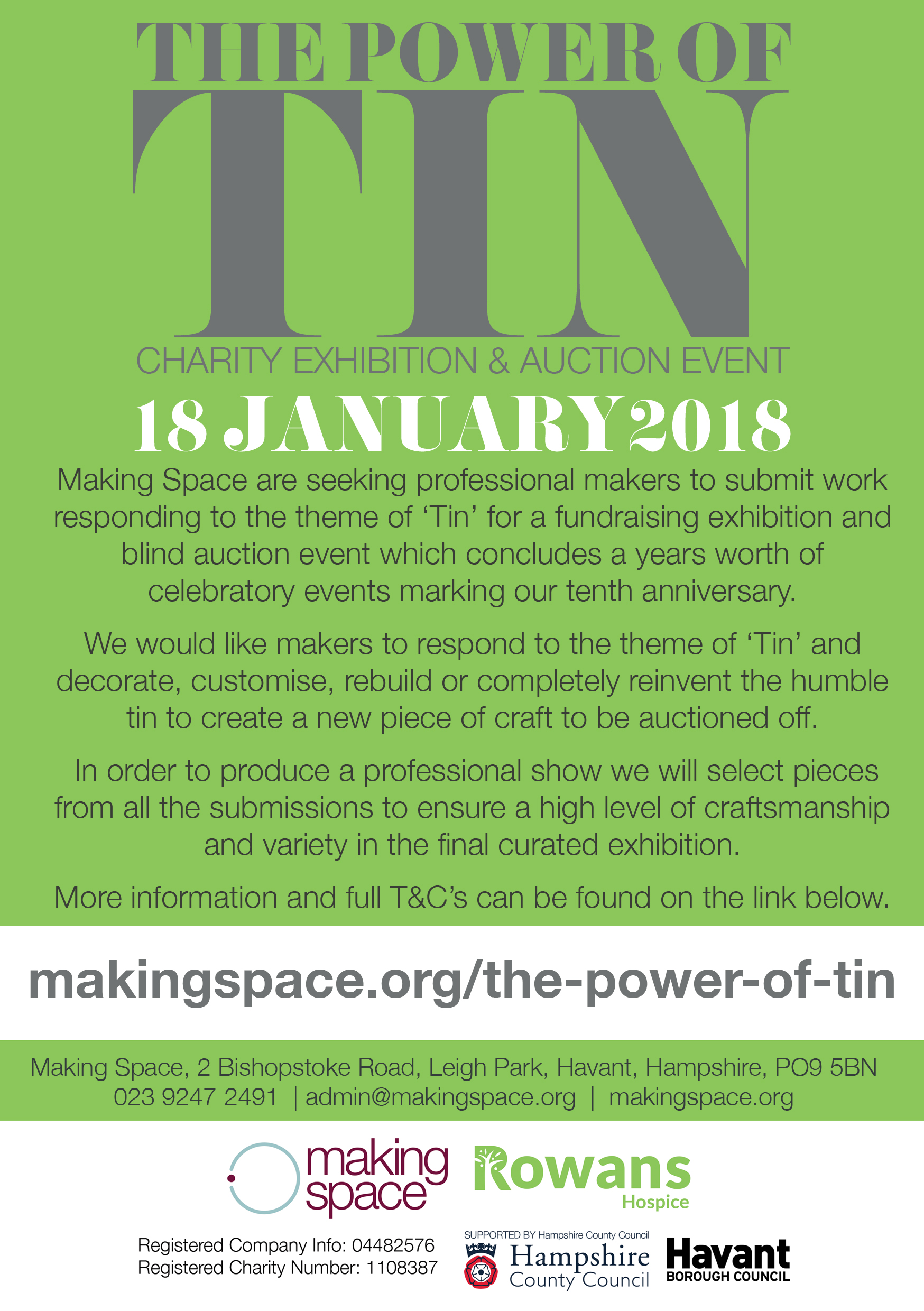 ---