This year, South Parade pier opened on the 14th April but since then has still been under works. Now, 4 months later, a vital piece of the puzzle has settled. On the 3rd August, Deep Blue opened their first sit down restaurant in Portsmouth on the pier. Their manager says they still have work to do but personally, I think they are already there.
Inside, you wouldn't believe that you have stepped food into a Fish and Chips restaurant. It's beautiful, light and airy with chandeliers, pristine floors and white tables. On the left hand side is their huge bar, boasting, ales, beers and spirits and on the right is their open plan kitchen where steam wafts up into the air.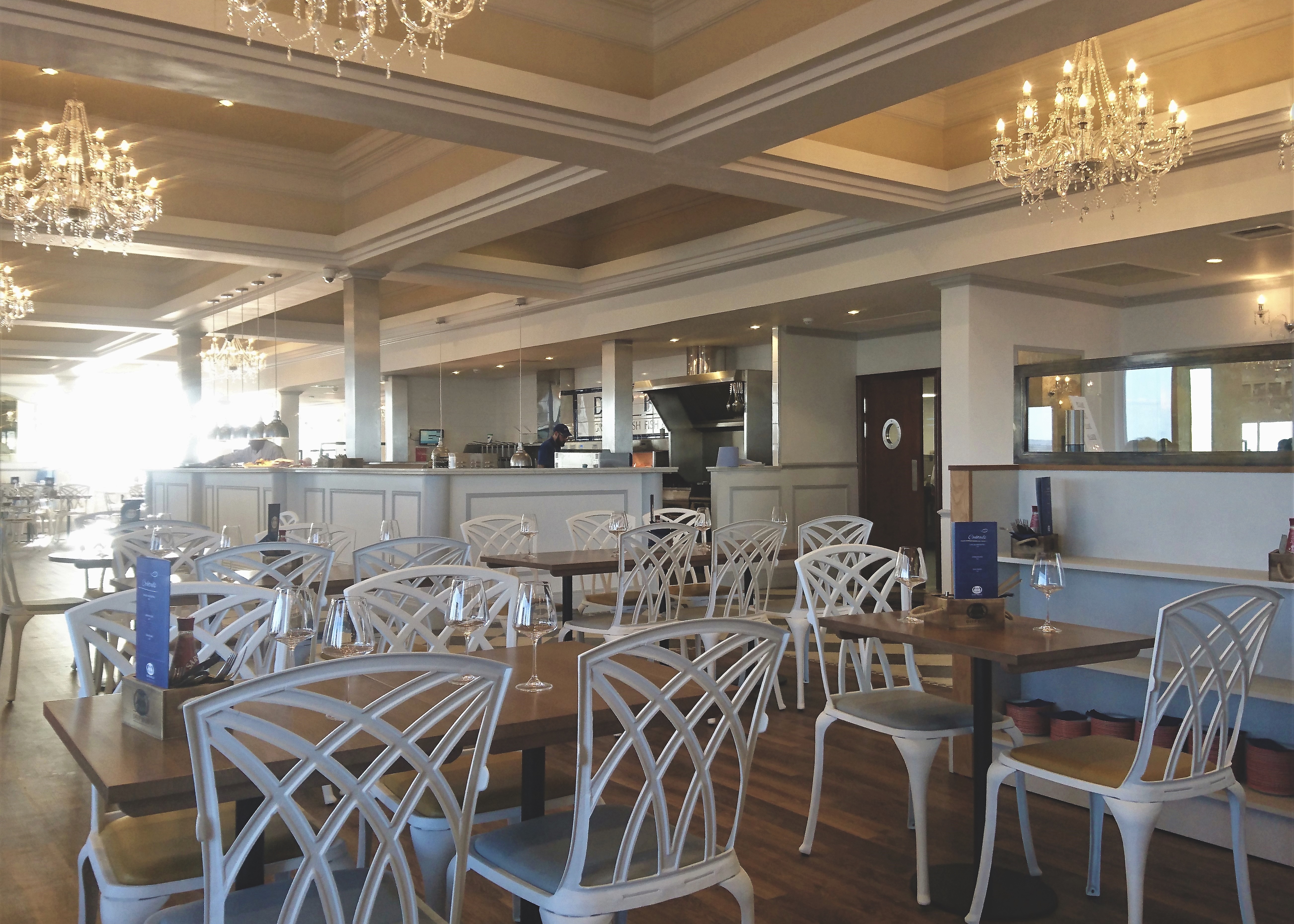 Their menu has plenty to choose from with tapas, grill and fish options including Breaded Mushrooms, Langoustine, a Rib Eyed Steak and a range of burgers. Their vegetarian options however are limited with only three options to choose including the Quinoa Salad and Halloumi Burger.
Their range of drinks is large with plenty of wines, spirits and even some cocktails. If you are unsure what to get then there is a helpful key to tell you which one compliments which type of dish. Or, you could always ask the helpful and friendly staff.
I ordered a glass of their Rugged Ridge Californian Zinfandel which was sweet and went down smoothly…too smoothly. As I stopped myself drinking all 175ml, I ordered my starter and main – Langoustine and then traditional Cod and Chips.
The Langoustine arrived with perfect presentation, an iron pot bursting with large prawns on a chopping board with chunks of sourdough and tools to help crack open the shells. They were covered in oil, garlic and herbs and the flesh inside was succulent and fluffy. I have never had anything quite like it and although there was not much meat on each one, there was plenty to make up for that.
The Cod and Chips was huge, especially when I ordered a 'medium'. Half of the plate was taken up by a slab of lightly battered fish and the other side had a pile of chip shop style chips. There was a pot of mushy peas and tartare sauce on the side. For £8.99 it was great value for money and tasted lovely. I cut open the fish to reveal the soft white flesh and unlike most battered fish, it wasn't greasy. Half way through the chips I had to give up as there was no more room in my belly. That's a lie. Of course there was room for dessert.
I was torn between their dessert options that included a Triple Chocolate Torte, Chocolate Mess and Sticky Toffee Pudding. I couldn't order all of them, even if that is what my brain was demanding, so I settled on the mess. It was a brick of moist sponge lathered with rich chocolate sauce and a dollop of melting ice cream. It was far too big for me but tasted amazing.
Deep Blue is such an asset to Portsmouth and I was impressed by both the setting and food. If they are this fintastic now, I am very excited to see how they are in the future, after they have made the changes they have in mind.
Website: www.deepbluerestaurants.com
Facebook: www.facebook.com/Deep-Blue-Restaurants
Twitter: www.twitter.com/DeepBlueGB
Emily Priest is a freelance writer and student in Portsmouth studying Creative and Media Writing (BA Hons). From Southampton, she moved to Southsea last year and since then has worked alongside countless local arts companies including Tricorn Books, Trash Arts and The Front Room. She has skills in social media marketing and events management and currently works as a reporter and editor for Star and Crescent. Emily is also the creator of The Southsea Food Tour where she endeavours to sample every eatery in Southsea. You can read these articles and many more at her website emilypriestwriter.com. Emily is very keen to get more involved with the community so if you have a project you want to bring alive or you have a company or product to review, then get in contact with her now at emilypriestwriter@gmail.com.
---