I have finally managed to fight my way through the traffic back home after welcoming the HMS Queen Elizabeth into Portsmouth Harbour. The new £3bn aircraft carrier has docked at Portsmouth's naval base.
In preparation for the arrival, the Ministry of Defence used dredging vessels which removed 3.2m cubic metres of sediment (about the equivalent of 1,280 Olympic swimming pools) to deepen the harbour mouth to enable the HMS Queen Elizabeth to enter the naval base. Earlier this month BBC South reported that 20,000 items ranging from a human skull to sea mines, cannons and a large number of anchors were dredged up from the Harbour.
In anticipation of the large crowds, Clarence Esplanade and parts of Old Portsmouth were closed to traffic. Isle of Wight, Gosport and cross-channel ferry services were also required to alter their timetables to accommodate Lizzie's arrival. The airspace around the area was also declared a no-fly zone to prevent the flying of drones around the harbour. It is a shame but I'm sure that there will be some official shots circulating soon, if not already.
"This is a seminal moment of the history of the Royal Navy." First Sea Lord Philip Jones Admiral Sir Philip Jones
The 65,000-tonne ship has been undergoing sea trials since setting sail from Rosyth dockyard in Fife (where it was built) in June. The 900ft (280m) long carrier is currently not able to deploy planes but flying trials are due to begin next year using F-35B Lightning fighter jets. The ship's five galleys will be serving a staggering 3,000 meals a day for the 700 crew and additional contractors on board.
Stephen Morgan MP for Portsmouth South was one of those greeting the ship from within the Dockyard, he said "HMS Queen Elizabeth and the HMS Prince of Wales to follow next year – are a rebirth in our nation's naval aviation capabilities. Not only will these carriers provide crucial war prevention work, but also hugely important humanitarian aid and disaster relief across the globe. It was an absolute pleasure to welcome HMS Queen Elizabeth to her home berth, our great city of Portsmouth, the home of the Royal Navy. On this historic day, the people of Portsmouth can be proud of the welcome they provided today and proud of the contribution the city makes to the defence of our nation." 
Members of the 700 strong crew were on deck as the ship came in. The geek in me felt that the ship was a little Death Star like and the 'Imperial March' wouldn't have been out of place in the background.
How accessible it will be during its time in Portsmouth I don't know, but let's face it you can't miss it so you must be able to get a good view when visiting the Historic Dockyard.
Website: www.royalnavy.mod.uk/queenelizabeth
Twitter: www.twitter.com/HMSQnlz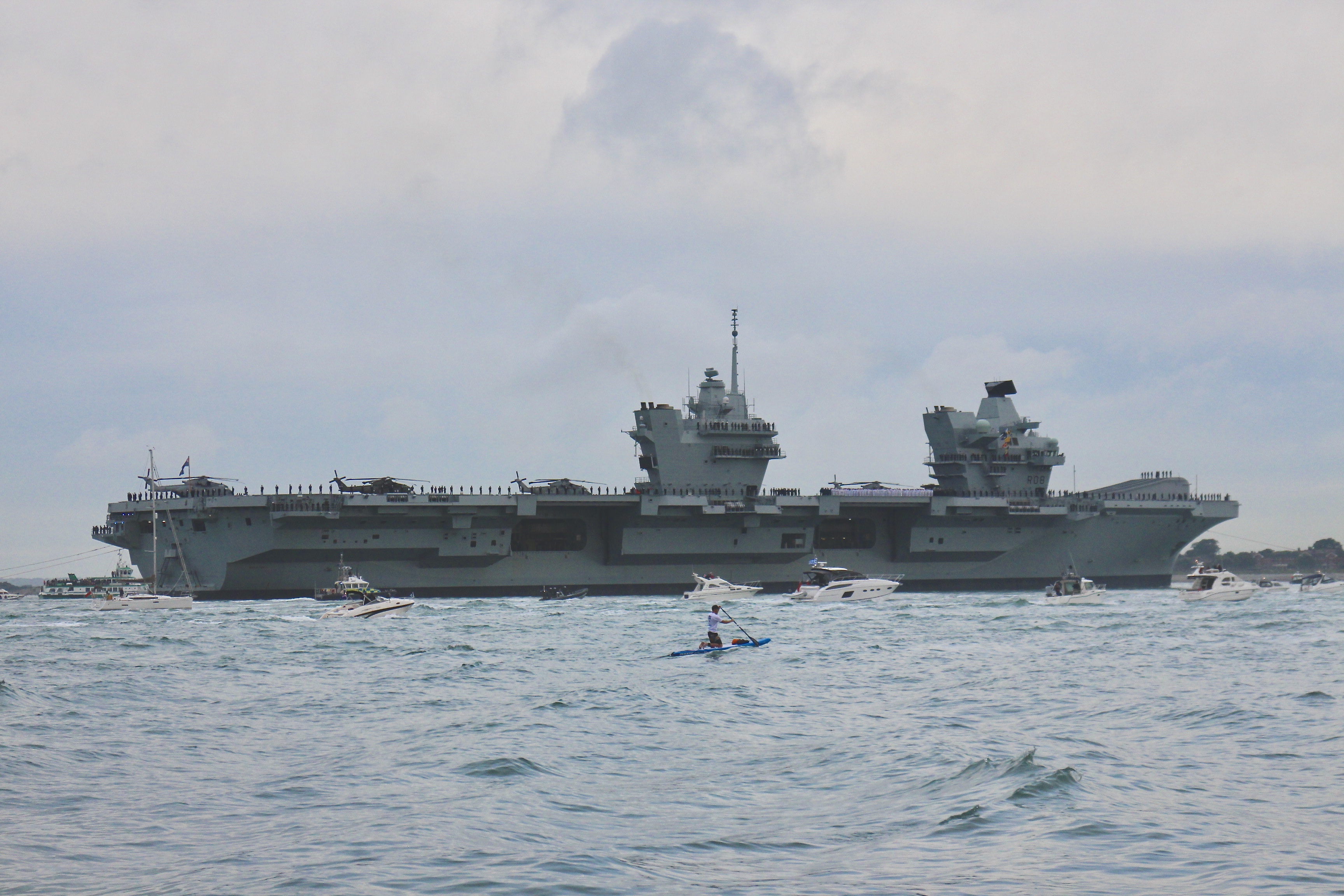 Kudos to the paddle boarder who took to the water to get a closer look. 👍🏼
---