I only arrived back into Portsmouth from a holiday in Greece at 8pm on Wednesday evening, which left me very little time to unpack my holiday gear and re-pack my Bestival essentials. After minimal sleep myself and a couple of friends made it to the Wightlink ferry port for our 6:30am ferry. There reason we left so early being that I like to be one of the first to arrive on site and to set up camp ahead of all of the tent-erecting chaos!
It is fair to say that it took quite a while to get through the gates as security staff were very thorough with their bag searches, more so than I remember in previous years. I recall plenty of disappointed festival-goers as they were forced to give up their fragrances, mirrors and bottles of booze upon entering the country park. Despite the slow moving lines everyone was in good spirits and why wouldn't they be? After all we were about to enter Bestival!
Once my friends and I were set up we went off to explore the site and quickly discovered that it was very different from recent years. As a Bestival veteran it brought back memories of when I started coming to the event back in 2007.
Something that also caught my eye were the fashion choices adopted by many of the teenagers there. I'm only 33 years old but I kept spotting the younger Bestival goers wearing the sort of gear I was wearing back in my teens. Now that these trends have come full circle, does this now mean I am officially old?
Sadly there was no Club Dada this year but returning again was Lovebot as well as the Bollywood tent, Caravanserai, Temple Island and Invaders of the Future stage. Adding to their previous achievements of the world's largest fancy dress party and world's biggest disco ball, Bestival also introduced the world's biggest bouncy castle that literally had people jumping for joy. 
The party doesn't officially start until Friday but with the likes of Hot Chip, Shy FX and Glass Animals performing in the Big Top there was still plenty for everyone to see and do. Personally found it a bit too much of a squeeze in the Big Top during Giggs so I left my pals to explore the site.
Whilst at the Invaders of the Future Stage I bumped into Robin from Breaking More Waves music blog. It was nice catch up and find out a few of his tips for the weekend and he didn't let me down with Alice Jemima. It was Alice who opened the Main Stage on Friday morning and I based on this performance I can tell you that Sunday Best's latest recruit definitely has a bright future ahead of her.
Over at the brand new Spaceport stage Bestival founder Rob Da Bank and the Morning Gloryville team officially opened the festival. After that I took a short walk passed the Bollywood tent and headed to the Main Stage to see Kitty, Daisy and Lewis. I caught them last year playing the Big Top where they also had the unenviable task of competing with the Jackson 5 over on the Main Stage. The Durham siblings were their usual awesome selves rotating between instruments and lead vocals.
Later on the Main Stage were Years and Years. I'd never really heard a great deal of their music before but I was anticipating something special as a large crowd gathered in the run up to them taking to the stage. To be honest they were not really my cup of tea but lead singer Olly Alexander controlled the stage and the crowd were loving it. I watched from quite near the front but made my way back three songs in, while I left I noticed I was the only one in that crowd who wasn't sporting glittery make up on my face. This was a common theme of the whole festival along with vintage football shirts. I saw so many that I could have been forgiven for thinking that the theme of the festival this year wasn't the future but vintage Match of the Day. I did managed to spot a few Southsea Bronx tees in the crowd over the weekend which was good to see.
On Friday evening there was an unfortunate clash between Major Lazer and Odesza but in that contest there was only going to be one winner and that was Major Lazer. I sadly missed them when they performed in 2014 and wasn't going to make that mistake again. I wasn't left disappointed as they were excellent. Their collaboration with Ariana Grande is probably the most played song on my iTunes at the moment. It was great to see Major Lazer and their dancers wearing Portsmouth football shirts on stage. PUP!
Saturday morning saw the arrival of the scourge of all festivals, the rain! After my sodden experience of Bestival 2008 and the forecast of brighter weather in the afternoon my friends and I decided to wait it out and remain in our tent. We had plenty of booze and food so we were safe for a while. When we did venture out of the tent I could see a sprinkling of futuristic costumes although sadly it was mainly it was wellies and raincoats still.
With a small patch of blue sky we made for Craig David on Main Stage. Craig described in the programme that if he could be back in time he'd go back to 1999 and the height of his fame as it all happened so fast. Since his collaboration with Kurupt FM and Big Narstie he's seen a resurgence and he was clearly humbled by the crowd's love and support.
Wolf Alice followed on the Main Stage and they were a bit of a rarity at the festival as there weren't too many rock bands to be found on the line up.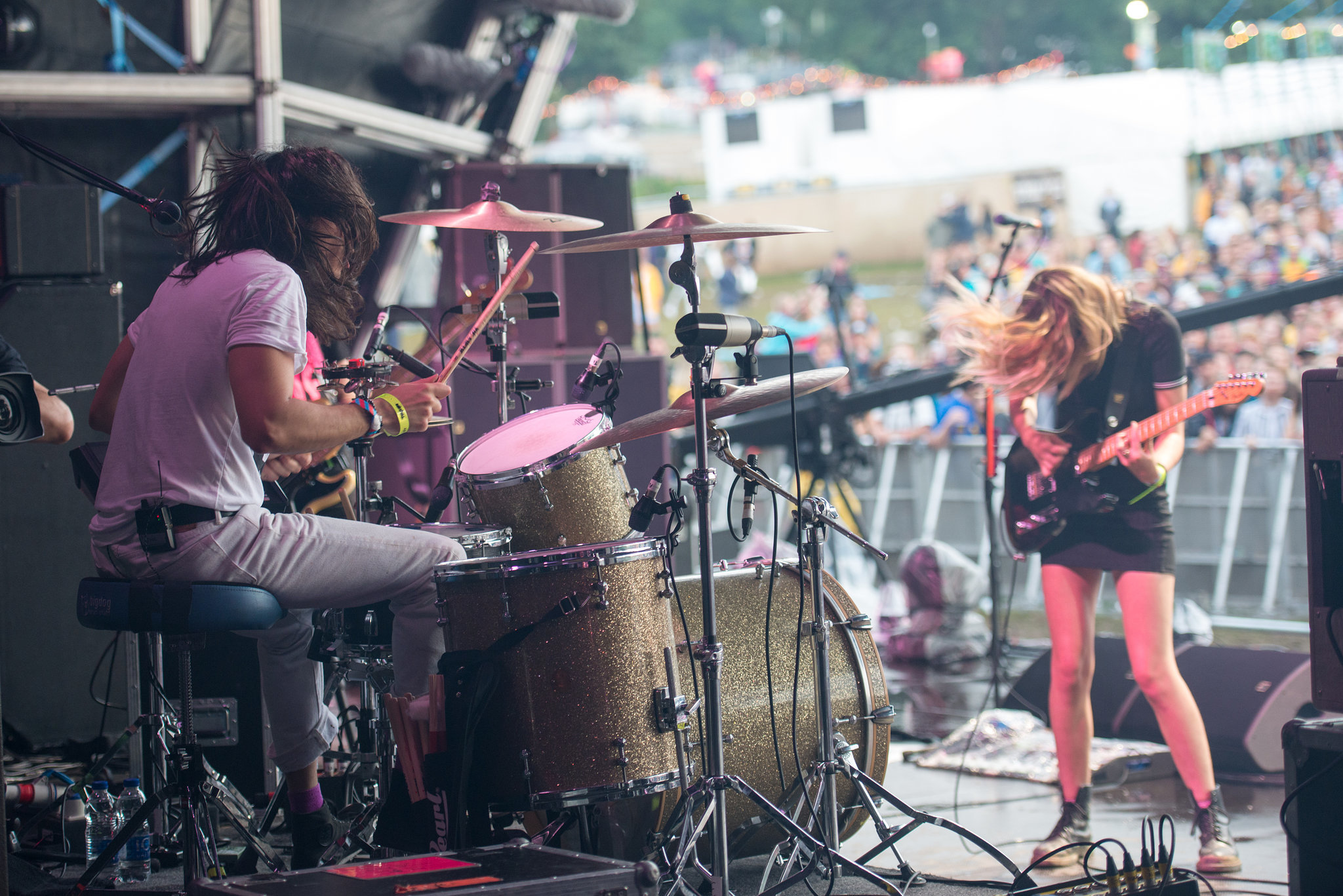 I wasn't looking forward to The Cure as I'd left their previous Bestival performance after about twenty minutes as I got a bit bored. I can't pinpoint why it was so different this year as I stayed for the full two hour long set and loved it all, especially their renditions my favourites 'Friday I'm In Love' and 'Close To Me'.
I am not really a raver so the Caravanserai was a god send. I danced the night away to gypsy rock, sipped cocktails and was entertained by various acrobats, a trapeze artist and a tightrope walker.
Sunday morning saw the return of the sunshine and with the ground quickly drying up I wanted to try and squeeze in as much Bestival as I could as there was still so much I hadn't seen. I needed fuel and I found that thanks to Le Rac Shack where I devoured the Toulouse sausage poutine topped with raclette cheese, washed down with a pint of Bestivale. Easily my culinary highlight of the festival.
The first performance of the day for my friends and I were the Parisian electro swing specialists Caravan Palace on the Main Stage. In what was an urban/grime heavy line up Caravan Palace were a welcomed deviation. They had the crowd moving to tracks taken from their new album <I°_°I> (I have no idea how it is pronounced but due to it's likeness to Lovebot I think we can call it the Lovebot album).
If I am honest until Wiz Khalifa there weren't too many performances that I was desperate to see. The Purple Rave at the Spaceport in honour of Prince was fun but Bastille and Sean Paul were average and I wish I'd have given them a miss to spent time exploring the forest or checking out the Caravanserai again.
'Black and Yellow' apart I wasn't too familiar with Wiz Khalifa but as my girlfriend was so excited to see him I guessed that he must have something about him. I was quickly converted to the weed enthusiast who even shared a massive inflatable doobie with the crowd. The Taylorless Wiz owned the stage and treated to crowd to his tunes like 'Roll Up', 'Young, Wild and Free' and 'See You Again'. After the fireworks it was time to head home for me and recover from what was another exceptional Bestival.
Time to talk about the elephant in the room… this was a very different festival to what myself and most of the crowd was expecting to find and I have seen some harsh criticism online. Rob Da Bank has been honest enough to come out and say "Bestival was obviously a slightly different beast this year. Festival land has changed a lot, more competition, a wobbly economy etc, and for whatever reason many festivals have not sold as well. We did 40,000 which resulted in a more compact boutique vibe and back to our roots but by my own high standards sound and tent spec was not always what we would have wanted it to be – we can assure anyone coming back in 2017 that this will be rectified."
The theme of Bestival was the future however for me the scaled down version was reminiscent of my Bestival's past. I have always had an amazing time and have some cherished memories from each and every one. I have never felt like the festival has to grow each year in order for it to be a success. Fundamentally the festival is about fun and for me it captures that making it year on year the best of all the festivals in the UK. I can perhaps understand some of the frustration as people are paying more and more each year for festivals and when you are paying the same that you would for a small holiday expectations are bound to be high.
I do have one complaint though and that was the amount of rubbish around left lying around! I have no idea if there were fewer bins or people were just a bunch of lazy buggers there this year but I found the leftover cups, paella, pizza and noodles were left strewn on the ground made me slightly angry.
I will be back next year and I know the team behind Bestival will put on another amazing event. If you are reading this Rob then it would be great to see the likes of the Arcade Fire, Avalanches and the National on the bill. A bit more alternative rock would go down well with me.
---