SOUTHSEA BREWING CO. PORTSMOUTH'S NEWEST BREWERY
How many breweries can boast that they're based in a Tudor Castle? One built by Henry VIII, no less? Welcome to Southsea Brewing Company, located inside an old ammunition storage room at Southsea Castle – the south coast's hottest new brewery.
Local beer aficionado David Eastwood grew the business from humble beginnings (watch him create his original 18-gallon micro-brewery in his garage), while volunteering at several different breweries in his spare time. His innovative, all-natural beers have gone on to win local and regional awards after launching the first one (a sell-out) at the Portsmouth Beer Festival.
After persuading Portsmouth Museums that an artisan brewery was just what our favourite seaside castle needed, David and team opened the new premises at Southsea Castle today – complete with ribbon-cutting by the Lord Mayor, tasters, cupcakes, a pay-bar, sunshine and live music from the Dicey Riley Duo.
Early arrivers were treated to a choice of four flavoursome free samples – Search Light (smoked porter, 4.4%), Low Tide (pale ale, 3.8%), Lights Out (black IPA, 5.2%) and Casemate IPA (India Pale Ale, 5.4%). Or one of each, if they knew what was good for them. Rumour has it that they'd given away 500 pints and sold 500 by 4pm! Bottles were flying off the shelves of the shop, too.
…how many breweries can boast that they're based in a Tudor castle?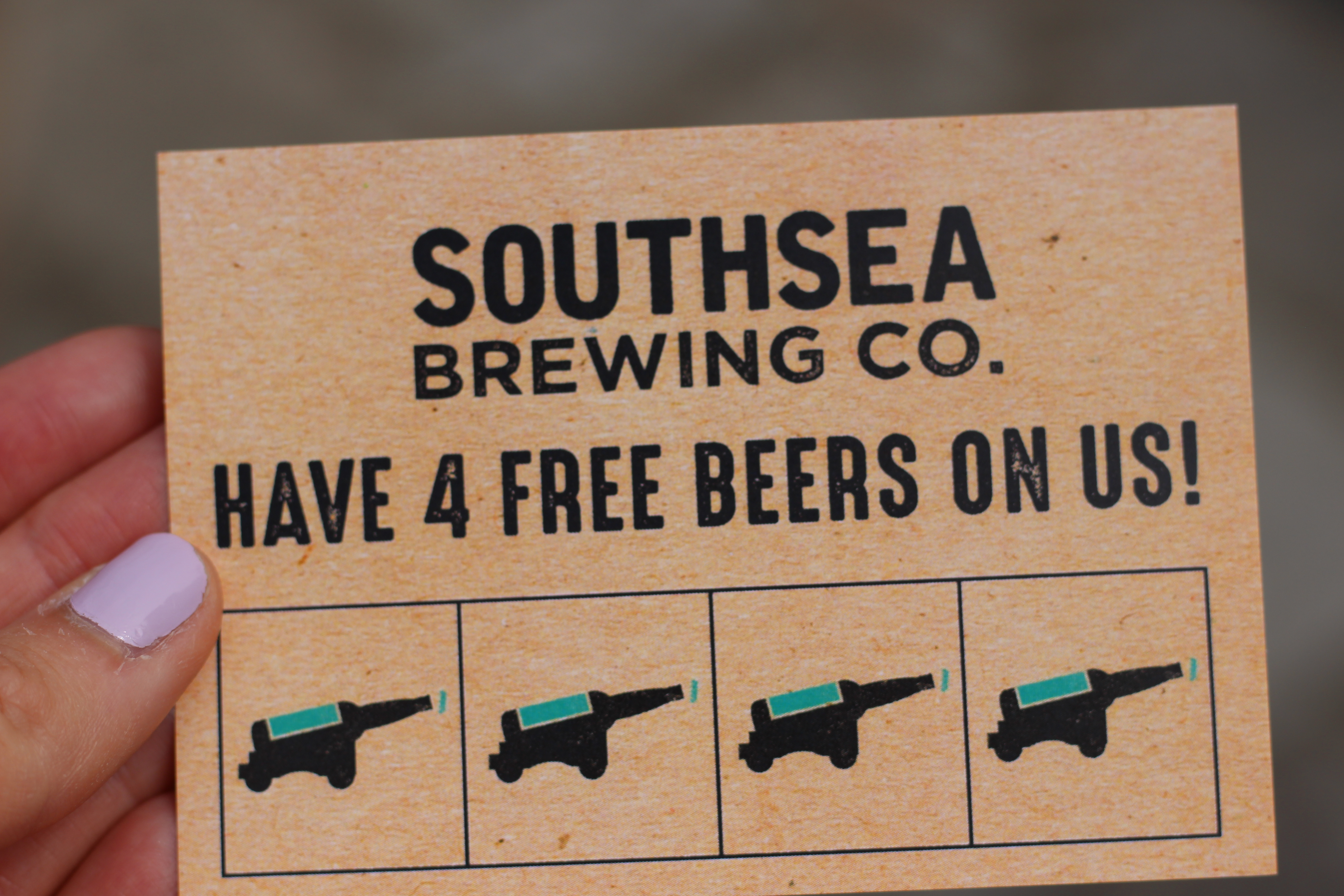 More delicious ales – in bottles, cartons and mini-kegs – are on sale in the Tap Room & Shop, which will be open every weekend between 12-4pm.  There were several beers advertised as 'coming soon', giving me a good excuse to keep coming back.
While you're there, take a look around the historic Southsea Castle; this not-so-hidden gem has loads to explore and offers stunning views across the Solent.
Portsmouth has a strong brewing history and is home to a growing number of local breweries, with Irving & Co starting off the resurgence in 2007 (makers of our very own ale). Southsea Brewing Company now joins Irving, Brewhouse & Kitchen, Staggeringly Good Beer and Urban Island Brewing Co in the city. A very nice state of affairs, too.
Give Southsea Brewing Co a like on Facebook or visit their website (currently under construction) for more info.
Written by: Louise Neville
Photography by: Louise Neville
Video by: Louise Neville
---