For the last few years the Photography course has produced some incredible exhibitions as part of the University of Portsmouth CCi Graduate Show, with young photographers tackling thought provoking subjects and showing an inspiring diversity of techniques and styles. This year saw some interesting developments with far more moving image projects plus the photographers exploring ideas with their exhibition spaces become part of the work itself with the use of wallpaper, props, colour and more.
Talking with course leader Dinu Li it was interesting to hear that the course looks to nurture a sense that photography falls within the arts, with work to move beyond the normal exhibition and project constraints of a panel of photos and in to the realm of fine art. The students are also challenged to make creative decisions with their cameras in regards to stills or film, with many cameras now easily incorporating both at a flick of a switch. Photography can be conservative in some ways and it was refreshing to see the course open to letting the students make considered creative decisions and explore beyond the boundaries of a fixed frame.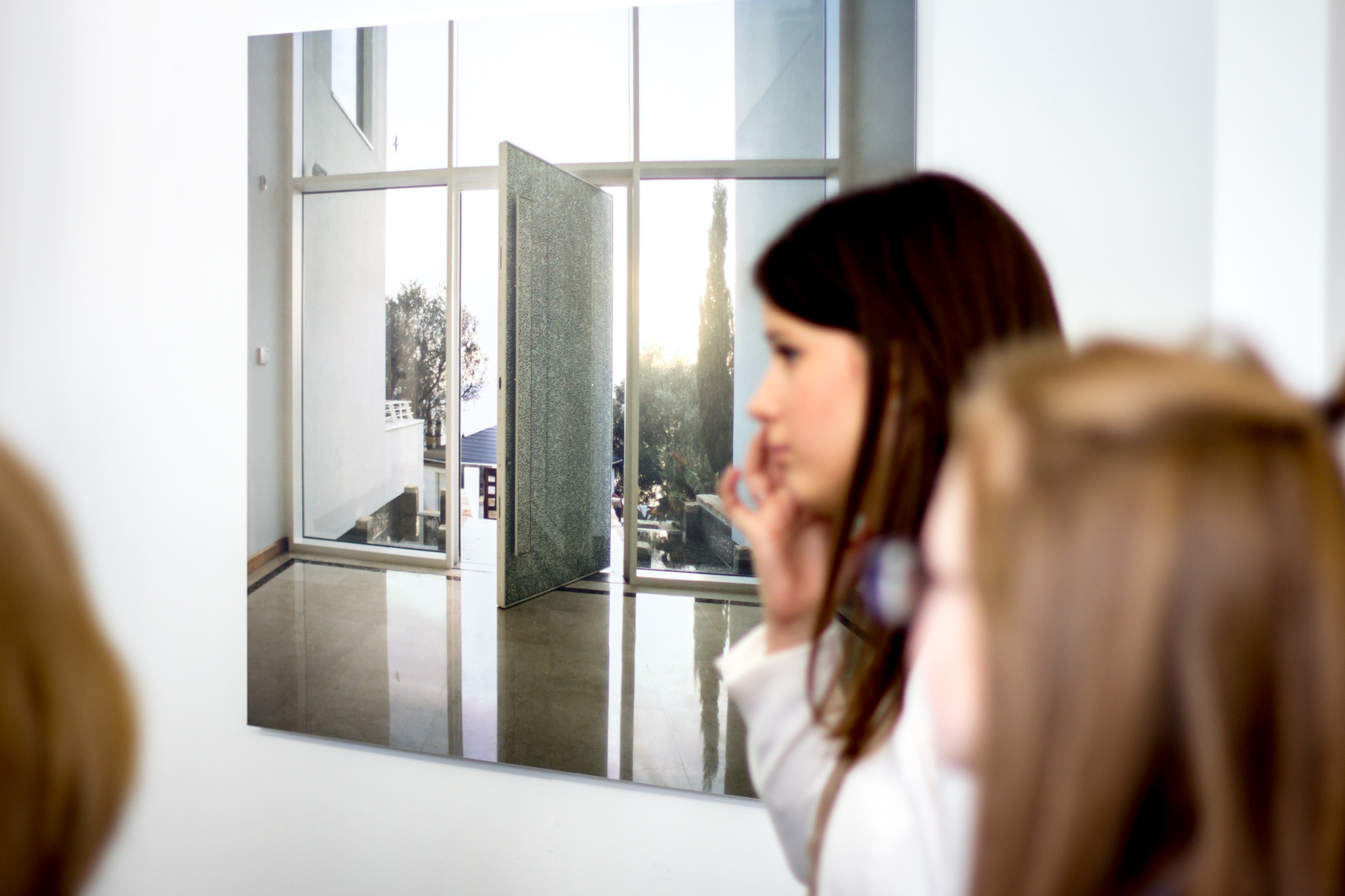 I could be here all day if I could focus a little time to talk about all the work I really liked at the exhibition, but there were some panels that I have to take a moment to share. First up was 'The Birds' by Emily Vistuer. Comprising of groups of Polaroid images inspired by Daphne Du Maurier's 'The Birds', the dreamlike fashion photos touched on memory and times past, all the while making the most of the format's aesthetic strengths. Not easy to produce a final piece of work using such a fragile, analogue technique. Praise due for that alone.
Next to catch my eye was 'Ndryshim' by Albina Leka, a series of self portraits looking deeply at the personal effects of cultural heritage. It was good to speak to Albina for a bit to find out how this series was an extension to a previous project, taking a concept and pushing it to new places. With hints of classic poses, a family treasure national dress and stark questions on discovering modern identity while still being connected to the past…the series of images got everyone talking and thinking.
The heavily reflective subject matter of personal identity in regards to cultural roots (particularly from outside the UK) was a subject tackled by a few photographers. In a polarised time on migration, it was good to see young photographers with diverse national and cultural backgrounds looking inwards and exploring and expressing what they discovered.
'Quantum Flux' by Faith Edwards took up a large wall with the monochrome, distressed portraits awash with colour. The multimedia piece aims to "illustrate the temporary change in energy in a space".
'Dead Flowers' by Bethany Judd comprised of a series of uniform, dark still life. The images of flowers had feel of academic, biological illustrations but with a darker undertone, exploring aspects of the transformative processes of decay: "'Dead Flowers' questions the notion that taking a photograph is the same as preserving the object itself".
Sadly impossible to go in to detail for all the work I enjoyed but below are just some more of the pieces worthy of your time if you are visiting the exhibition. As a footnote, it was great to see the whole course get together during the show, the course seemed to really bring all of these creative individuals together.
We'll be announcing the winner of the Strong Island Creative Graduates to Watch Award for Photography tomorrow.
---