I first discovered the house brick paintings of Lyndon Richards during last year's Portsmouth Festivities Spice Island Art Trail where a small street of bricks were arranged in Portsmouth Cathedral (you can see our article HERE). Each brick formed a painted building or house, with people able to commission their own home to be painted. The thing that caught my eye was the Old Portsmouth buildings, with much of that part of the city destroyed during the Blitz bombing raids aimed at the Dockyard, it was interesting to see this part of the city come to life through these brick paintings.
Aspex Gallery have a new exhibition opening today with Southsea artist Lyndon Richards with the Old Portsmouth houses on original house bricks on display in the Cafe from Friday 15 May – Sunday 7 June. This exhibition of eighteen works marks the beginning of a much larger project. Lyndon is planning to spend the next 2 – 3 years painting a brick portrait of every building in Old Portsmouth's High Street c.1860, with a view to this becoming a permanent external exhibition.
"My brick house portraits are inspired by my dual passions: Art & Architecture. When I paint, I seek to capture the very essence of a building, its beauty, character, history, and memories within. I am inspired by the complexity of architecture, its history and evolution, a collaboration of skills and trades producing works of art to be cherished and loved.
The brick houses — each of which feature a house on Old Portsmouth's High Street — are painted to scale, ensuring balance, integrity and preservation of the original architecture. I only use house bricks from the 19th century to ensure an individuality that compliments the uniqueness of each portrait."
Entry to this exhibition is FREE. A preview evening, open to the public and also free, will take place on tonight from 18.00-20.00h.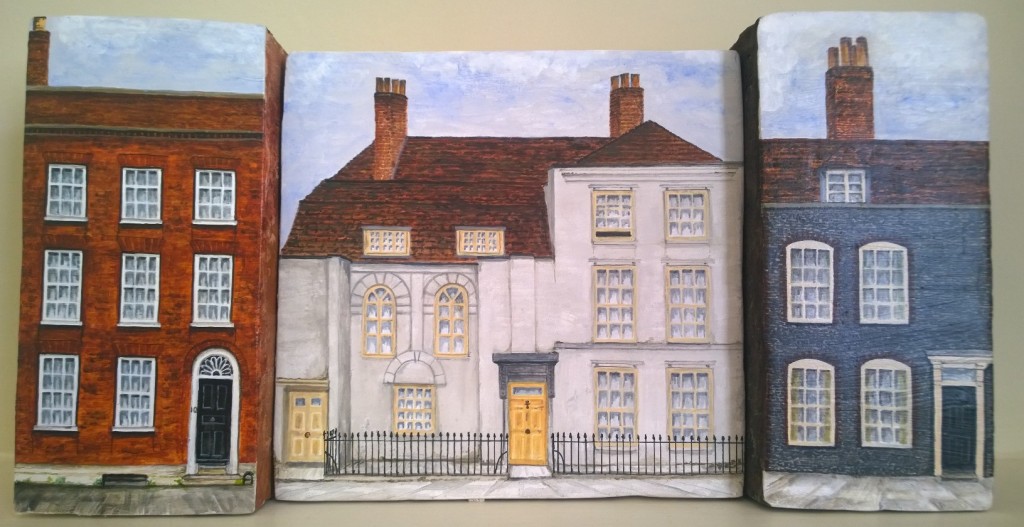 ---