If you haven't visited the No. 6 Cinema before then we highly recommend it, it is a mix of thoughtful art house cinema, vintage Hollywood classics and new blockbusters all within the historic blockhouse in the dockyard.
March is quite a special month as the team behind No 6 are giving you another chance to catch the big winners from last months Oscars on the big screen. Be sure to check their website to buy tickets and for their full listings www.no6cinema.co.uk.
Catch Me Daddy (15) | Thursday 9th April | 7pm
Daniel Wolfe's first feature film is a tough thriller set in West Yorkshire. Honour killings within the British Pakistani community come under an intense spotlight in this tale as 17 year old Laila flees her strict home life to live with her white boyfriend, Aaron. Laila's family enlist the help of family members and local white tough guys, the former driven by rage and the latter by cash, to find Laila and bring her back.
Bleak, brutal and tense, Wolfe's uncompromising take on modern tribal and gender politics presents a troubling view of British life in the 21st century.
The Second Best Exotic Marigold Hotel | Saturday 11th April | 7pm
In this sequel to 2011's smash-hit, the Marigold's co-manager Sonny plans to open a second hotel, but his impending marriage to Sunaina and the unexpected arrival of guests Lavinia and Guy – who may or may not be hotel inspectors – prove added strains. Meanwhile, permanent residents and hopeless romantics Judi Dench, Bill Nighy, Celia Imrie and Ronald Pickup pursue their own ambitions, both in the original hotel and amid the seething humanity of Jaipur, all under the watchful eye of Muriel, the keeper of everyone's secrets. Numerous intriguing subplots build up to the vibrant wedding ceremony and Lavinia and Guy's startling revelations.
Still Alice | Thursday 16th April | 7pm
Alice is a linguistics professor married to the wealthy, loving John and is secretly diagnosed with genetically driven Alzheimer's. The deterioration accelerates, and worse still, one of her children tests positive for the same gene.
Moore's powerful, Oscar-nominated performance as Alice holds great resonance as she tries to come to terms with her situation and remain positive, despite her fading personality. We see through her eyes and experience the disorientation she feels as the outside world slips beyond her reach. When the light of recognition dims, her family's determination to make her as comfortable as possible is heartbreaking and inspiring.
Bladerunner | Saturday 18th April | 7pm
With his adaption of Philip K Dick's novel Do Androids Dream of Electric Sheep? Ridley Scott created an iconic Sci-Fi classic that has gripped audiences, inspired passionate debate and influenced a generation of artists. Graced with extraordinary sets, ground-breaking special effects, stunning costumes and photography, Blade Runner brilliantly evokes a dystopian vision of the future. Breathtaking, glistening city vistas, rain-drenched, neon-lit streets and gloomy interiors combine with Vangelis' sweeping, sensual score to conjure an oppressive future Los Angeles. On the surface this is a cop thriller, but the real story is one that raises philosophical questions about the human condition in relation to technology and society.
Given complete artistic freedom to make The Final Cut in 2007, the 25th anniversary of the film's release, Ridley Scott created this final, definitive version, fully restored from the original negative. Blade Runner's re-release in cinemas in 2015 brings to a close the BFI's Sci-Fi: Days of Fear and Wonder, a nationwide celebration of film and television's original blockbuster genre.
The Theory Of Everything | Thursday 30th April | 7pm
Stephen Hawking is a brilliant scientist whose groundbreaking ideas came into popular consciousness with the bestselling A Brief History of Time but it's the dignified way he has lived with motor neurone disease that has helped to make him so widely admired by the public. Starting with his years as a postgraduate student in 1960s Cambridge, the film portrays his blossoming romance with Jane Wilde (Jones) who, as his disease progresses, he tries to reject in the hope of sparing her pain. Eddie Redmayne is Oscar-tipped for his stunning performance as Stephen in this profound and moving film.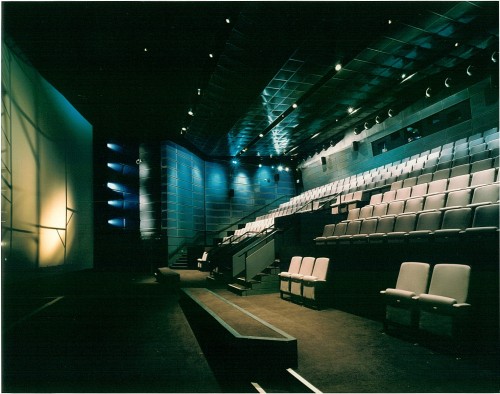 ---