If you haven't visited the No. 6 Cinema before then we highly recommend it, it is a mix of thoughtful art house cinema, vintage Hollywood classics and new blockbusters all within the historic blockhouse in the dockyard.
March is quite a special month as the team behind No 6 are giving you another chance to catch the big winners from last months Oscars on the big screen. Be sure to check their website to buy tickets and for their full listings www.no6cinema.co.uk.
Birdman (15) | 6th March | 7pm
Oscar Winner: Best Picture, Best Director,
Oscar Nominated: Best Actor, Best Supporting Actress, Best Supporting Actor, Best Original Screenplay
The winner of Best Picture in last months Academy Awards features Riggan Thomson (Michael Keaton) is a washed-up actor who made his name starring in an iconic Hollywood franchise about the Birdman. Now he longs to be taken seriously as a Broadway playwright and director but his theatre production is dogged by disaster. When famous stage actor Mike Shiner (Ed Norton) is persuaded to join the show at the last minute, Riggan's prayers seem to have been answered but instead Mike's raging ego threatens to destroy Riggan's dreams for good.
The Imitation Game (12A) | 7th March | 7pm
Oscar Winner: Best Adapted Screeplay
Oscar Nominated: Best Picture, Best Director, Best Actor, Best Supporting Actress
Benedict Cumberbatch masterfully portrays mathematical genius Alan Turing in his race against time to break Germany's Enigma code during World War II. Flashbacks following Turing's arrest for homosexuality chronicle his battles with the commander of Bletchley Park code breakers (Dance) before he wins the trust of an MI6 boss (Mark Strong) and the funding to build a huge electro-mechanical computer which will help him decipher the code. Cumberbatch's twitchy, savant-like Turing doesn't suffer the fools he initially has to work with but in Joan Clarke (Knightley) he finds an intellectual equal and friend. The result is both gripping and profoundly moving.
Whiplash (15) | 12th March | 7pm
Oscar Nominated: Best Picture and Best Adapted Screeplay
Oscar Winner: Best Supporting Actor
Damien Chazelle's second theatrical feature centres on the relationship between Andrew, an aspiring jazz drummer, and Fletcher, his ultra-demanding teacher. Driven almost to nervous and physical breakdown by Fletcher's bullying, Andrew sacrifices everything, including his budding relationship with fellow student Nicole, for his chance of greatness, leading to a shattering climax.
Teller and Simmons are both magnificent, Chazelle's directorial hand is assured, and the cinematography gives the film a decidedly noirish edge. Its exhilarating musical sequences alone justifying its many awards – which include both the Audience Award and the Grand Jury Prize at Sundance 2014.
Boyhood (15) | 14th March | 7pm
Oscar Winner: Best Supporting Actress
Oscar Nominated: Best Picture, Best Director, Best Actor, Best Supporting Actor, Best Original Screenplay
Richard Linklater follows a boy's life from the ages of 6 to 18, shooting periodically over 12 years. Ellar Coltrane plays Mason, the son of Mason Snr. and Olivia. As his divorced parents find new partners, Mason Jnr faces emotional and physical uncertainties with growing maturity.
Whether he's squabbling with his older sister Samantha, arguing STAR WARS lore with his dad, or having his heart broken by a first love, the film renders the apparently commonplace both unfamiliar and compelling. And while the changes Mason and Samantha undergo are obvious, they're subtly matched by those of their parents.
Inherent Vice (15) | 19th March | 7pm
Oscar Nominated: Best Adapted Screenplay
Private detective Doc Sportello is trying to track down his ex-girlfriend, Shasta Fay, and the property magnate she's been fooling around with in late '60s California. Involving a hippie-hating cop, a spaced-out snitch for hire, Sportello's uptight District Attorney lover, a philosophising lawyer, and a laugh-out-loud-funny Martin Short as a sex-addicted coke-head, the story becomes ever more complex and elaborate.
Based on Thomas Pynchon's picaresque novel, INHERENT VICE is director Paul Thomas Anderson's funniest work yet. An ensemble cast who are clearly having a ball, and the seedy authenticity of post-hippie La-La land, further enhance the film's immense entertainment value.
Love Is Strange (15) | 26th March | 7pm
Long-term New York lovers Ben and George embrace the new legality of gay marriage by getting hitched, only to find George facing the sack from his intolerant employer. Now unable to afford their apartment, they're obliged to live separately with friends and family, an arrangement that comes with pressures and discomforts that none of those involved could have imagined.
Writer-director Ira Sachs has strong form portraying the subtle nuances of intimate relationships; with LOVE IS STRANGE the middle-aged element adds both poignancy and unmawkish humour.
Big Hero 6 (PG) | 28th March | 4:15pm
Oscar Winner: Best Animated Feature
Set in the recognisably hi-tech but endangered city of San Fransokyo, Disney's latest, gently amusing offering is loosely based on a Marvel Comics tale. After his older brother Tadashi is killed in a mysterious accident, teenage micro-bot obsessive Hiro is befriended by Tadashi's creation – Baymax, a kind and unusually snowman-like robot. Hiro then successfully upgrades Baymax's operating system to turn him into a crime-fighting automaton that might help solve the riddle of Tadashi's death.
The relationship between Baymax and Hiro provides the core of this beautifully rendered animation from co-directors Hall and Williams.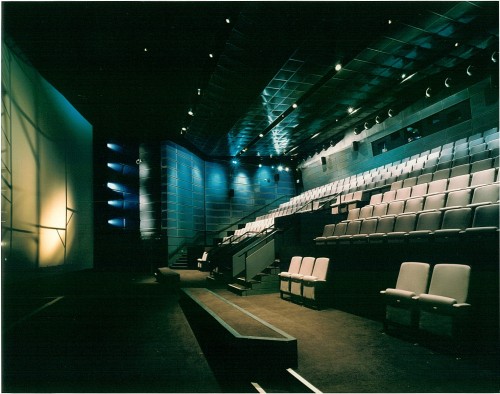 ---