Horny Goat Music Presents spearheaded by Zach Wiggins and Amrit Sondh as an outlet for putting on shows of acts they love returns this Friday at The Loft  and features some Strong Island favourites following on from successful, packed out nights that have included the likes of Rickyfitts and The Planes.
Headliners for the show are psychedelic-doom rock Gosport outfit The Unknown Soldiers. A sand storm of psychedelia,  the sonic journey of the quartet is like being dropped in the middle of a sun baked desert during a spaghetti western.On the other side of the psychedelic realm, support comes from NME & KEXP favourites PopoBawa bringing their sun tinted, tropical, jangly psychedelic pop. We love PopoBawa over here at Strong Island. They've played a couple of shows for our Strong Island Recordings label so we advise you get down early for them as they're certainly one of the most  unique bands to come from this part of the south-coast for a while. If you haven't seen them live yet, they're joyous, blissful, summer tinted goodness that for at least half an hour will make you forget we're in the midst of a bitter cold winter and instead will conjure up images of dancing in the middle of a field during the summer festival season. Also playing the  show is acoustic act Tamara Jane who shall be opening the night.
Tickets for the show are £4 in advance or £5 on the door. Wrap your ears around The Unknown Soldiers and PopoBawa below. More details including where to purchase tickets can be found on the Horny Goat Presents Facebook event page here.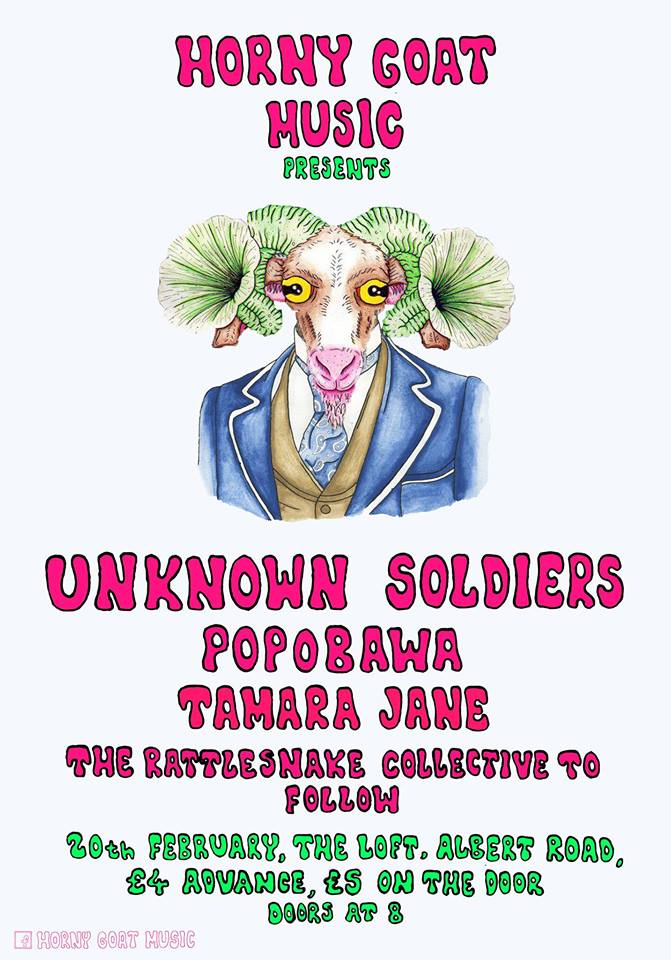 ---