Portmouth based art group MAMArt is a collective of mother artists organising pop-up exhibitions and events in Portsmouth, and encouraging women and male feminists to discuss current issues on parenthood in the studio. Created by a core of four raucous females who have reputations to upkeep both in the kitchen and on the Art platform, Charlotte Brisland, Penny Davis, Sadie Tierney and Kate Street.
Tomorrow sees the opening of MAMArt's debut exhibition entitled 'Pink is a Problem', located at Make & The Craft Kitchen. Tomorrow sees the preview night is from 5-8pm, free entry and everyone is welcome. The exhibition featurs the work of local artists Roo Abrook, Mike Bartlett, Sarah Bowker-Jones, Charlotte Brisland, Roy Brown, Kirsty Crout, Penny Davis, Minuit de LaCroix, Rachel Pennington, Kate Street, Charlotte Thrane and Sadie Tierney (Roo and Sadie both featured in the Creating Balance project in 2013/2014).
On the opening night Dr. Emma Barker will be giving a talk on the art historical context of Pink. Barker first gave this talk in summer 2014 at the National Gallery in London and is one of the leading contemporary Art Historians in the UK. Some of her publications are Greuze and the Painting of Sentiment, 2005, The Changing Status of the Artist, 1999, Contemporary Cultures of Display, 1999. MAMArt are very happy to welcome her to the opening of their first show.
The Craft Kitchen will be serving non alcoholic pink punch with a hotdog for £3 at the Preview. You can find Make & The Craft Kitchen in Fratton at 1 Cornwall Road, Fratton, Portsmouth. PO1 5AA. Get in touch by phone on 023 9282 2026 or check their website at: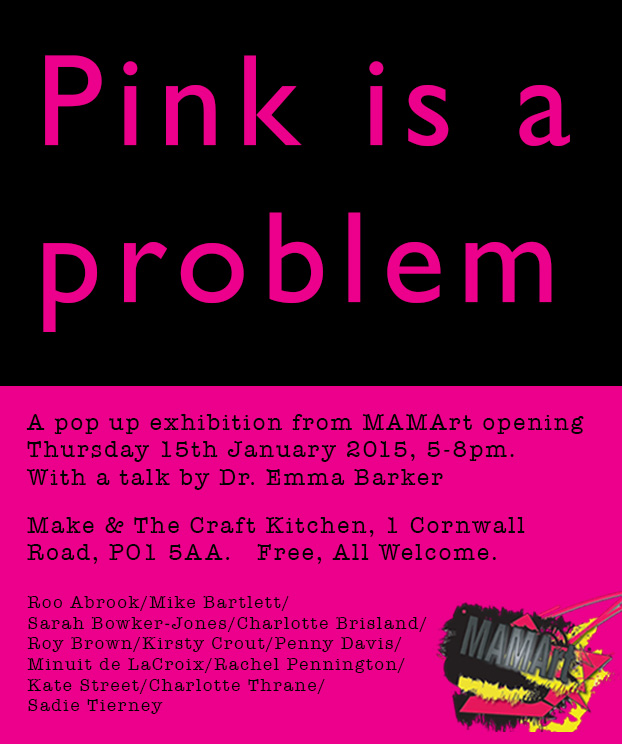 ---