Twelve of our local favourites have donated twelve awesome prizes for one lucky Strong Islander to win.
Over the next twelve days I will be asking a question each day which relates to the to the prize on offer. At the end of the twelve days you are invited to submit your answers to stuart@strong-island.co.uk. One lucky winner will win the whole package for themselves, just in time for Christmas!
The first prize is the awesome Portsmouth Illustration by Jennifer Burbridge from Made By Burbs. She created this map of Portsmouth as her submission for They Draw & Travel who recently held a competition to create a map of of the city where you grew up. Jennifer says to her "Portsmouth is generally known as place where nothing much happens, but to those that live there it's a treasure trove of things to do. So much so that I couldn't fit everything on".
You can see a larger version of the map HERE.
So the first question you need to answer is… The map shows Hilsea Lido but when did the Lido first open?
You can find out more about Made By Burbs on Facebook, Twitter @MadeByBurbs. You can even get yourself a copy as well as find her other work on her Etsy page HERE.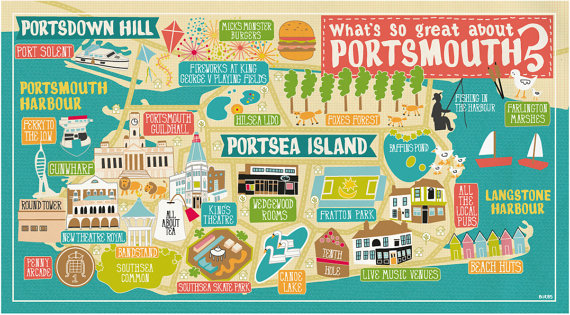 ---