We continue with our co-published history articles with aspex Gallery, researched by Laura McLean-Ferris who has recently been crawling through the Aspex Gallery archives and has produced a series of articles for aspex about their 33 year history. We're very happy to partner up and cross post their aspex history blog posts here on Strong Island, you can see the original aspex blog post HERE. This third article in the series today looks at aspex's programming engaged with politics issues and feminism during the mid-1980s. We will co-publish more aspex history articles in the coming weeks.
The aspex archive covering the 1980s is notable for a high number of shows by women, and an attention to feminist concerns is palpable during this period. In art schools, universities and in the national press, second wave feminism and other disciplines such as postcolonial studies, disability studies, and queer theory were suggesting a radical rethink of the power structures which remained steadfastly in place, and aspex's programming reveals its engagement with important political work based around photography and self-image at this moment.
'Surveying the Scene: Fifteen women artists from the Southern Arts Region' took place across a number of public galleries across the south of England in 1986, and was closely followed byMyself, Ourselves, a photography show that took place at aspex, and which centred around the work done by Jo Spence (1934-92), accompanied by two emerging photographers Lea Andrews and Rebecca Finch. The exhibition was concerned with the politics of image making, and were experiments with using photography and images to construct identities (as a concurrent example from the time, in 1986 the Labour MP Clare Short raised a bill to ban the topless photographs of women on Page 3 of The Sun, and the newspaper retaliated with a media storm, meaning the issue was being seriously critiqued and discussed in public. The Daily Mail at this point decides to abandon images of topless women as 'degrading to women').
This exhibition featured artist who regularly photographed their own bodies as a way of asking questions about representation. As the exhibition handout explains, the show took as its starting point the work by Jo Spence with her partner Terry Dennett, who during the early 1980s had set about examining what they called the 'broad institutional base of photography', making 'a conscious move away from the (autobiographical) idea of images of self into the more psychoanalytic and poststructuralist –based disciplines which have examined self as image.' Included in the exhibition was Spence's Picture of Health project, during which she documented her body, and in particular, her own breasts, following a lumpectomy treatment for breast cancer.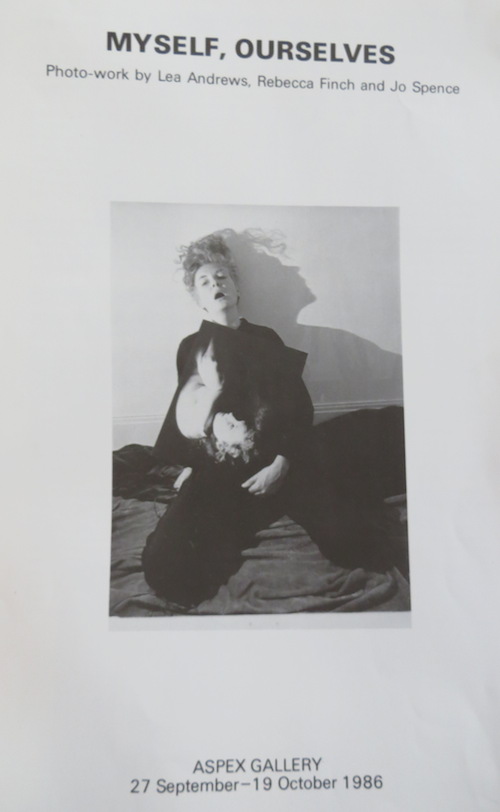 Spence's photographs were joined by Andrews and Finch's: a self-portrait taken by Andrews around this time shows the genitals of Michealangelo's David superimposed over his own, mocking the heroic and erotic standards of the male body in art and visual culture. Andrews photographed his own naked body, sometimes accompanied by his parents, whilst Finch contributed claustrophobic photographs of herself in a mirror. In their separate ways the artists included in the exhibition examined the way in which all types of images, from those taken for the family photo album to those taken in professional studios, are involved in the creation of self-image, foreshadowing the contemporary rise of the 'selfie' that has been ushered by smart phones and drawing attention to the politics of representation at a crucial moment.
Below: A cutting of a review by Andrew Hughes, courtesy of the author. Read more reviews from 1985-89 here.
---