If you haven't visited the No. 6 Cinema before then we highly recommend it, it is a mix of thoughtful art house cinema, vintage Hollywood classics and new blockbusters all within the historic blockhouse in the dockyard.
Here are a selection of movies we recommend you check out. Be sure to check their website for full list of all the movies this being shown www.no6cinema.co.uk.
Thu 5 at 19:00 – 20 Feet From Stardom (12A)
Morgan Neville's Oscar-winning film lovingly salutes those unacknowledged heroines of the music business, the backing singers. Neville combines extensive interviews with stars whose careers wouldn't have succeeded without them – think of the Stones' Gimme Shelter or David Bowie's Young Americans – and profiles of some of the greatest talents, including Merry Clayton, Darlene Love and Claudia Lennear. The films finest moments spring from the archives with studio and concert performances from Bruce Springsteen, Sting, Ike and Tina Turner's Ikettes and Phil Spector's Crystals (in reality, Darlene Love and the Blossoms). Wonderful characters, fantastic voices. A marvelously uplifting movie not to be missed.
Fri 6 at 19:00 – Blue Ruin (15)
Dwight (Blair) is a vagrant living in his car and dumpster-diving to survive. When he learns that the man who killed his parents years earlier has just been released from prison, he locates the person he thinks is the murderer and dispatches him in an amateurish and gruesome manner.
Now finding himself in a brutal game of cat and mouse with the family of the man he's killed , the carnage mounts towards a bleakly gratifying conclusion. This dazzlingly original film balances grubby realism with genre thrills and a midnight-black humour. The results are as funny as they are grisly.
Sat 21 at 14:30 – The Wrong Trousers / A Close Shave – International Wrong Trousers Day
This special Wallace & Gromit double bill to celebrate the fantastic Aardman animation duo and raise money for their charity, the Wallace and Gromit s Children s Foundation. Take part in Wrong Trousers day by wearing your daftest pair of trousers to the cinema and making a donation of £1 on top of your ticket price. A proportion of your ticket will also go to the charity.
The Wrong Trousers, 30mins When Wallace rents out a room in their house to raise some extra cash, Feathers McGraw responds to the ad. A mysterious penguin with a dubious past, Feathers gives Wallace a little more than he bargained for in a lodger…
A Close Shave, 30mins Wallace & Gromit get tangled up in a sheep rustling conspiracy in this brilliant claymation caper.
Sun 22 at 14:00 – The Godfather Part II (Re 2014) (18)
A rare instance of a sequel being more than equal to its predecessor, THE GODFATHER II relates the growth and consolidation of organised crime to the immigrant experience in the New World. We shift between Pacino defending his interests before Senate investigative committees and eliminating rivals in the Eisenhower era, and the fortunes of his father (De Niro), trapped in the slums of New York in the early years of the century and turning to crime in a last effort to defend family honour. A brooding, stately epic of corruption and disillusion, amplifying and extending the events of Part 1.
Thu 26 at 19:00 – The Wind Rises (PG)
Visionary director Miyazaki delivers his farewell masterpiece and once again defies the conventional limitations of animation in depicting the life of Jiro Horikoshi, the engineer who designed the Mitsubishi A6M Zero. Young Horikoshi is fascinated by flight, and dedicates his life to building flying machines but with Japan's entry into World War II he begins to feel a terrible guilt because of the machines he has devised and the deaths they have caused. This profound and beautiful film deftly combines Ghibli's mesmerising style with an achingly beautiful love story and asks hard questions about humanity,
Please note that we will be screening the dubbed version (not the subtitled one).
Sat 28 at 19:00 – Frank (15)
The history of rock 'n' roll is strewn with eccentrics, none more so than Chris Sievey, whose alter ego, Frank Sidebottom, wore a giant papier-mâché head and sang songs about football in a nasal voice. For Sievey Frank wasn't just a stage persona but a gateway to a whole new dimension and this film – co-written by former Sidebottom bandmate Jon Ronson – takes us on an exploration of the twilight world between brilliance and madness. Fassbender gives a superbly judged performance as the enigmatic but adorable Frank in an offbeat, touching story about a different kind of genius.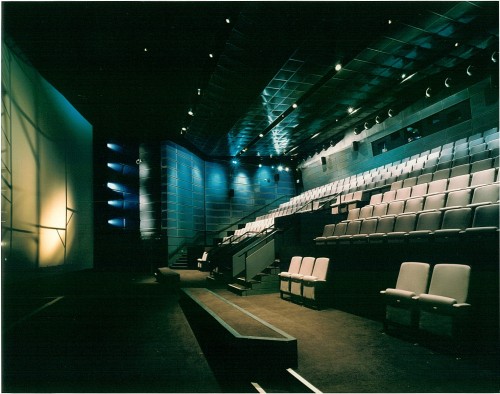 ---